Majors Fair introduces fields of study
Last Tuesday at Reid Campus Center the Academics Major Fair took place. This annual fair gives first-years and sophomores the chance to interact with upperclassmen who major in any given field of study.  Many believe this to be a productive way to introduce students to the vast variety of major possibilities on campus, while others critique its inability to really demonstrate what each major is like.
Sophomore Colleen Boken talked about how the fair is a good chance to see all the different possible majors at Whitman.
"I came last year and it allowed me to see what majors there are and explore what I can reasonably do during my time here…" Boken said.  
However, there is dissent amongst some students. Junior Kendra Winchester, while acknowledging the good opportunity that the fair presents for students to find out about majors, voiced some criticism of the fair.
"I went to [the fair] my freshman year, and obviously everyone tries to make their majors sound really cool which they all are in their own aspects, but they are going to be cooler to some people than [they are to] others," she said. "I think ultimately taking a class in whatever field you find semi-interesting is the best way to go," Winchester said.
Another aspect of the fair that struck Winchester as strange is the absence of IPMs (Individually Planned Majors.) Winchester has her own IPM in neuropsychology, and although she finds IPMs' absence at the fair odd, she also believes that there may be good reasons for that.
"I think it would be cool if they could [advertise IPMs], but I don't think there is enough people to give a broad spectrum of what's possible … I wish more people did know it was a possibility, but then again I don't want it to be a waste of time for anyone … because it is a hard process," Winchester said.
People who plan to create their own major must find three faculty members willing to be their advisers, as well as, have all their courses be approved by their advisers, the Board of Review, and the Curriculum Committee before their major can be approved. For Winchester, it took about eight months to officially declare her major.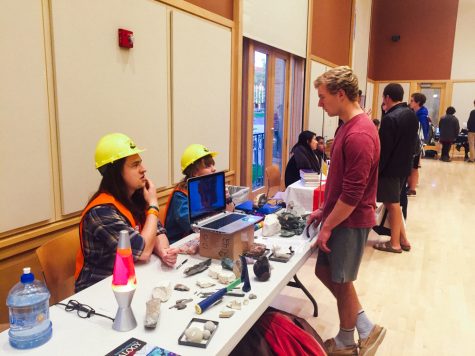 "They make it very, very hard for you to plan your own major, and you have to go through several long steps. It gets tedious after a while … Now that I have it, it is great but it is a really long drawn-out process." Winchester said.
According to Gayle Townsend, Assistant Director of Career Development, major choice is all about picking something you are interested in.
"I think it is important for students to find something they are passionate about to be able to study it for two if not four year," Townsend said.
Recently, there has been research to suggest that major choice may not be so important as many people believe it is. One study from the Association of American Colleges and Universities suggests that over 90 percent of potential employers care more about applicant's ability to critically think, communicate well, and solve complex problems than about the applicant's major choice.
"Whatever area of study you go into in your undergraduate years, particularly at a liberal arts college, you are going to get critical thinking skills, research skills, and the ability to define a thesis or an argument and build a defense," Townsend said.
Townsend agrees with this idea and added that sometimes extracurriculars will be what launch students' careers.
"As you build your narrative and connect it up with your academic world and the skills you're learning in the academic world and all these other opportunities it is going to give you lots of different experiences about what career opportunities [you] can go into," Townsend said. "You can be a psychology major with a good GPA and take those general science classes and if you do well on the MCATS you can go to medical school. If that's what you're passionate about."
For the students still struggling with their major choice, Townsend recommends reaching out to others for advice and to focus on discovering what you are passionate about.
"Don't panic you'll figure it out. There are lots of people on campus who'd be happy to help as you go through that process," Townsend said.