Whitties At Work
Make A Difference Day introduces students to community partners in a national day of service
This week Whitman students volunteered during Make A Difference Day, an annual event that Whitman has participated in for over fifteen years. Make A Difference Day is a national organization that holds an annual day of service. The organization's mission statement is to "inspire the nation to make a difference." On the morning of Saturday, Oct. 15, 95 students volunteered on over thirteen different community service projects around Walla Walla.
The morning began with a kickoff event where Wade Smith, the superintendent of Walla Walla Public Schools, spoke to millennial's hardworking dedication to serving. Students then went to their project sites, and after returned to Reid Campus Center for a reflection program.
Community partners designed projects and proposed them to the Make A Difference Day staff. This year there was a wide variety of projects. Students volunteered across town, doing everything from designing posters for the Health Center at Lincoln High School to community gardening at Walla Walla elementary schools.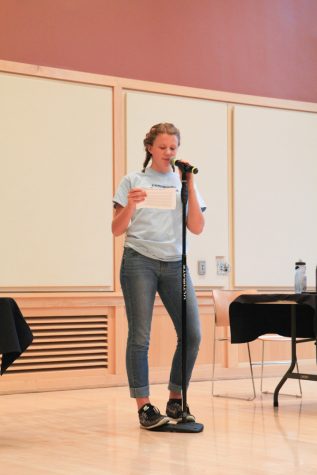 Sophomore Liza Briody-Pavlik is the Student Engagement Center's Events and Reflections Intern, and she helped organize Make A Difference Day. For her, Make A Difference Day is a great opportunity for students who are not already involved in community service to try it out.
"My hope is that more people who aren't involved in individual [volunteer] programs will get involved in big events like this," Briody-Pavlik said. "It's a great way to bring in people who aren't already involved and get them excited about it."
One of the largest projects was at the Blue Mountain Humane Society (BMHS), where around twenty students volunteered. Sophomores Ella Patch and Rachel Price both spent their Make A Difference Days volunteering at the Humane Society. Both were very excited to spend their day working for BMHS.
"The Humane Society does so many amazing things for the community, for the animals that people love and maybe can't take care of…so I want to make sure that they can continue," Patch said.
Price has volunteered multiple times while at Whitman, and she was looking forward to using Make A Difference Day to connect with the community again.
"What I always aim for whenever I am doing service work is just to see that you are making some sort of impact," Price said. "I am sure that having 20-30 college students all dedicating some effort to cleaning up the Humane Society is going to make an impact in some way."
Students at the Humane Society washed windows, scrubbed floors, folded newspaper, decorated cones for post-surgery animals and played with adoptable cats and dogs. For non-profits like the Blue Mountain Humane Society, having the extra help makes a big difference.
"It's very helpful [to have students volunteer]. We are a non-profit, so volunteers make who we are.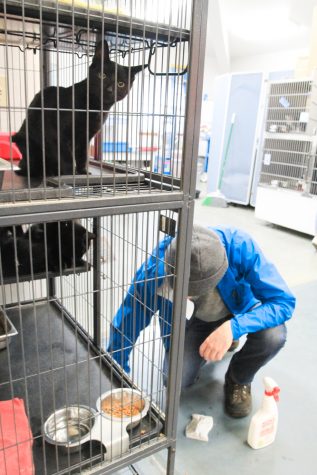 We count on volunteers to come and help us…when these huge groups come in it is very helpful," Zhanna Stone, AmeriCorps volunteer and adoption specialist at BMHS, said.
Melanie Medina, the Student Engagement Center's interim Community Service Coordinator, also hopes that Make A Difference Day will give students the opportunity to form connections with the Walla Walla community.
"Having Whitman student get exposure to an organization and then getting to actually talk to someone who works there about their organization–that's what we hope for all of the projects," Medina said.
Briody-Pavlik agrees that Make A Difference Day is a great chance for students to get involved in service and maybe try out working for an organization.
"Our hope is that there will be more of a connection between community service at Whitman as a whole with those partners and also individual volunteers. Maybe some of them will make a really good connection with their partner and continue on that," Broidy-Pavlik said.
The Community Service staff hopes to see Make A Difference Day become an event where younger Whitman students can see the opportunities that are available to them in the community.
"There is so much out there in Walla Walla that can be super great for people to grow and learn as students during their college experience outside of the classroom," Medina said.