Lu'au and Makahiki Games Bring Education, Fun to Campus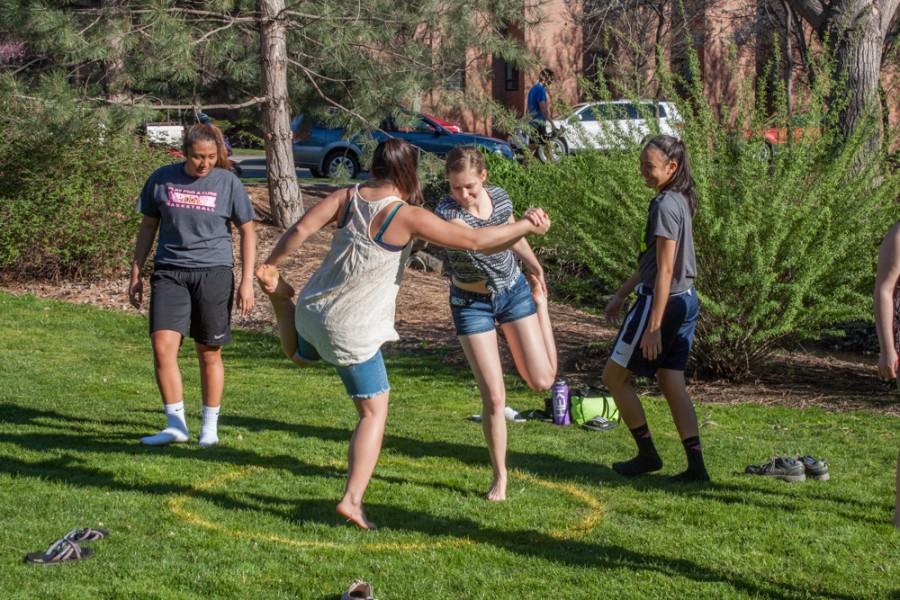 "E ho'omakaukau?" I ask. "Ae," the wrestlers respond, already in position with one foot held behind their back and their right hands clasped. "A oia!" The signal is given and the haka moa begins. It's April 1 and instead of celebrating April Fool's Day, a group of Hawaiian students have partnered with WEB and IPECC to bring Makahiki games to campus.
Makahiki games include a variety of activities initially designed to increase strength and agility. They were scheduled to precede the traditional Hawaiian lu'au, which featured Hawaiian food prepared according to authentic recipes.
"Makahiki is a time of fun and of fertility, harvest in Hawaiian thought," said Indigenous People's Education and Cultural Club (IPECC) President Tehani Louis-Perkins, a sophomore who was instrumental in bringing the Makahiki games and Lu'au to campus, "It's a little past the time of Makahiki but I figured it'd be fun to bring that aspect to it, so there will be traditional Hawaiian games, because most people just think of surfing as Hawaiian, which it is … but these are other aspects that are very traditional and deeply rooted in our culture."
These traditional Hawaiian games include haka moa, literally "standing chicken fighting," as well as another type of wrestling, pa uma. Other games include koanane, a game similar to checkers; huki huki, tug of war; and, ulu maika and moa pahee, both games involving sliding objects through a pair of close wickets. Traditionally these games encourage mental and physical acuity, but Hawaiian students also saw the games as an opportunity to make learning about Hawaiian culture fun.
The Makahiki games are only half the story, however. The students also partnered with Bon Appétit to bring traditional Hawaiian food to campus in the form of a lu'au. All dining halls closed Saturday night to create an incentive for students to try the traditional cuisine.
The idea for the Hawaiian lu'au grew out of conversations that started by junior Sean Terada and Louis-Perkins while they developed a presentation at this year's Power & Privilege Symposium entitled "He Hawai'i au, Mau a Mau. 'I am Hawaiian Forever.'"
"I think our goal in that was just kind of to change the mindset of the way people approach and think about Hawaii," said Terada. "It's not just a tourist destination, but there's a lot of rich history and tradition there, that's starting to die out but also the native Hawaiian population is trying to bring that back up as well."
Some Hawaiian students, who represent a growing population on campus, are frustrated by the lack of awareness that many visitors to the islands express. This includes a variety of misconceptions, from the idea that putting pineapple on a dish makes it Hawaiian to the appropriation of Hawaiian shirts.
"A lot of times people wear Hawaii T-shirts, and back home those are considered formalwear, it's not a joke and people make a joke of it, so I understand there's not that same meaning behind it," said senior Hailey Maeda, who was part of the team who organized the games and lu'au. "A lot of times when people think about Hawaiian T-shirts they think of old white guys in their retirement but back home people wear it to funerals, to weddings, it's so integral to our culture."
Ultimately, the Makahiki games and the lu'au were both attempts to include more students into conversations about Hawaii. Those conversations, however, are not all fun and games.
"A big [misconception] that's more personal is that Hawaii is seen as a paradise and it's like, 'Oh, this beautiful place and the people here are so lucky and there's no struggle,' and that's not true, anywhere that's not true especially in the paradise places," said Louis-Perkins, "People are living paycheck to paycheck … It's important for people to know that we're not just happy and dancing Hula and singing in flowers all the time."