Whitman's orchestra prepares for a note-worthy concert
A peek into any practice room in Chism Recital Hall reveals a student hard at work, whether it be in a solo practice session, or a lesson guided by Whitman faculty. On Feb. 18, the Orchestra Winter Concert will give the community a glimpse into the commitment music students have to their craft.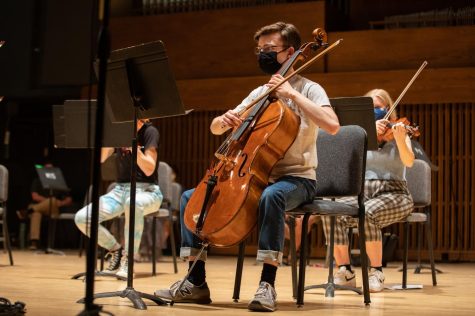 This concert will be particularly memorable as the orchestra strives to uphold its new mission statement by centering student leadership and diversifying the music selected for programs. 
"[Orchestra's core values are exemplified through] how we treat each other, how we interact with our audience, and also the music that we play," said Director Paul Luongo. 
This year the program will feature the music of William Grant Still, the first African American composer to conduct a professional symphony orchestra in the United States. Luongo explained that the themes explored in Still's compositions can help Whitman students to understand the natural world from a new perspective. The other half of the concert will recognize the three winners of the Concerto Aria Competition that was held during the fall semester.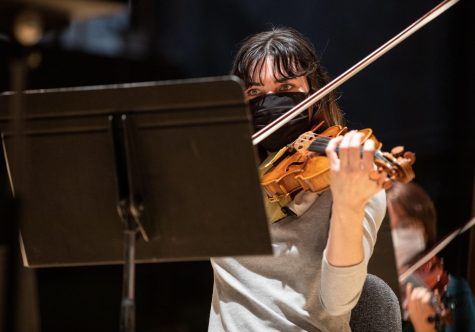 For the soloists, playing with an entire orchestra to back them has added a new dimension to performance and created a unique experience unlike any they've had before. 
"I love the nuance and depth that is added by the various timbres of instruments. The biggest difference is that I am working with an entire ensemble. That is a lot of musical communication happening to make every part of the piece come alive," singer Leisha Casimiro said. 
First-year bassoonist Elizabeth Huang mentioned the opportunity to work with other students as a highlight of their experience in the orchestra. 
"I'm really excited for the violinist [Joshua Meling]. I love that I get to support him and play alongside him. I'm proud of him," Huang said. 
Junior violinist Joshua Meling mentioned how his decision to recommit to music led him to perform a piece that he has been working on casually for years. He discussed his gratitude to those who have supported him musically, both his family and the other orchestra members. 
"It's a different collaborative experience… it has this kind of foundation that you just have to experience," Meling said. 
Senior vocalist Noah Dunn agreed, mentioning how under the guidance of Luongo, he has been able to explore new dimensions of vocal performance. 
"I've never sung solo classical music with an orchestra before. What a trip. Funnily enough, it gives me the freedom to focus even more on my own 'instrument,' so to speak," Dunn said.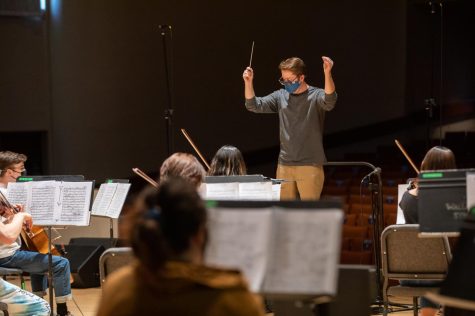 Performers continually mentioned support from teachers and professors as a guiding force during the semester. The ability to perform in person for the community again is a source of joy for all the orchestra members. The energy within the weeks leading up to the concert has been positive, with everyone eagerly putting in the work to have a top-notch performance. 
"I'm really glad and grateful to be sharing music. I hope that those who watch the concert will find it meaningful in their own way, and that it can provide some sort of respite, especially during this time," Casimiro said. 
Thankfully, this concert has made attendance easier than ever, with both virtual and in person options for listening that ensure the safety of everyone involved.
"Even just clicking on the livestream and showing your support really means a lot for the orchestra," Huang said. 
By communicating musical messages with striking vulnerability through performance, the orchestra has crafted a concert that everyone will be able to take something valuable away from. 
"It's a really fun experience for the audience to see these student soloists, and it's also a really wonderful experience for the orchestra to get to perform with their colleagues," Luongo said. 
As student voices take the spotlight, this concert will be memorable to all involved and is sure to strike a chord.