"Western Epiphanies" embraces the gray area
Zac Bentz, Campus Life Editor
December 9, 2021
Mops of wild, sun-bleached hair and faces luminous with months of hard-earned wisdom filled the front row of Maxey Auditorium on Tuesday, Nov. 30. The 2021 Semester in the West participants had just returned, and after bouncing up and down on the damp grass to greet long-lost friends, they settled in and prepared to tell their stories at the first of a two-part "Western Epiphanies" event.
Semester in the West, according to junior Ellie Van Gorden, sophomore Reya Fore and junior Neave Fleming, is a semester-long environmental field studies program held every other fall semester. Participants spend three months traveling across the western United States, speaking with indigenous communities, conservationists, ranchers and other "guests," and disrupting Whitman's typical theoretical learning style in favor of a much more on-the-ground approach.
At the event, each "Westie" read two pieces—a brief, poetic "impression" and a longer, more in-depth "epiphany." Over the course of the semester, each of them had written three distinct epiphanies, drawing on their shared experiences and using people and landscapes as the texts they referenced and drew connections between.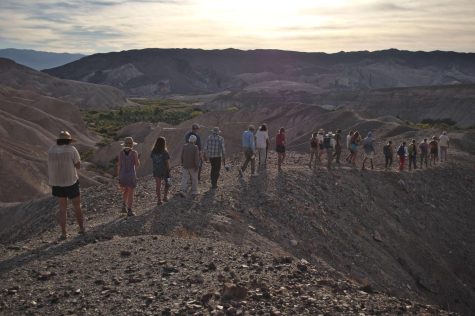 For Van Gorden, an environmental politics major, Semester in the West not only served as a catalyst for radical shifts in understanding but also a space to ruminate on their own definition of home and what it meant in the context of a much more nomadic lifestyle.
"That was kind of the first big idea that I was seeing," Van Gorden said. "This strong, strong theme of, like, what is home? Where is home? … How do you ground yourself in something, and how do you bring yourself into that without feeling like you're intruding on a place, because it's not yours at all … and how do you let it speak to you?"
In writing their epiphany, "Home Beneath My Feet," Van Gorden drew on the conversations they had had with those who had taught, engaged or shared their stories with the group over the course of the semester.
"The people that we meet are our texts. That's what we're studying, that's what we're listening to and that's how you draw connections … You're trying to run a string through things, you're trying to see, how are people that are wildly different actually saying the same thing?"
Part of what makes Semester in the West so conducive to this style of critical reflective writing is what Fore (whose epiphany was entitled "Cycles Unspun") referred to as a "shared mental cloud of learning." Both Fore and Fleming expressed that because Westies experience everything together and spend a significant amount of time discussing and debriefing those experiences, the thoughts and feelings attached to them become quite communal.
"A lot of people end up writing about similar ideas, and being in conversation with each other's essays about those same ideas. So often I would write about things that were present in our group discussions, and what was keeping us up at night," Fore said.
This extended to the actual process of writing the epiphanies as well. Fleming (who recited their third epiphany, "A Desert At Odds") recounted how, each time they finished a round of epiphanies, the group would gather around in a chair circle and read their pieces out loud to one another.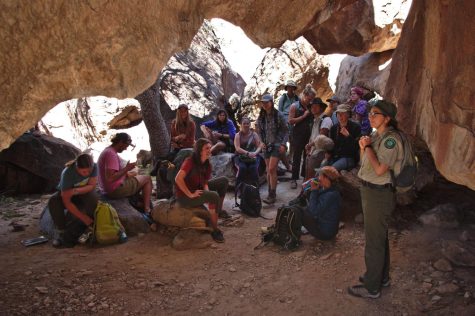 "It's not just an essay that you're writing and then is going to go into one person's hands—your professor, likely—and be read and then graded and then given back," Fleming said. "And with these, they were living pieces, in that they were constantly being read out loud, and constantly being revisited by yourself and talked through with your peers."
This distinct brand of community extended beyond the realm of the epiphanies as well. For example, Van Gorden found themself feeling radically accepted, seen and valued in a way they had never felt before.
"Going in, I was very unsure of how, as a trans person, I was going to fit into this," Van Gorden said. "You're meeting people who are very conservative, and how was I going to feel safe? And having this group of people who's got my back … I mean, I could not have asked for a safer environment. Like, I went weeks without being misgendered! That's ridiculous! It was so special."
For Van Gorden, Fore and Fleming, an overwhelming takeaway from their time as Westies was the illumination of the sheer amount of gray area that tends to be disregarded for the sake of more binary arguments, especially within the realm of academia. Each of them expressed this in their own distinct way:
"It's so wildly confusing, because by the end of all of that, at least for me, I don't even have a strong opinion anymore," Van Gorden said. "I'm overwhelmed by the amount of understanding that I've been able to develop from listening to people who are, like, cattle ranchers, that are actually doing things that, before I went on this program, I was completely against, and now I have great sympathy for what they're doing and how they feel. You're wanting to use those people because that's how you are developing yourself in the context of where you are."
For Fore, this complexity manifested as allowing herself to step back from the role of value judge.
"One thing it has meant to me personally is letting go of any sense of trying to find out what is right and what is wrong, and being in a space of receiving other people's knowledge and ideas and opinions," Fore said. "And not sitting as scorekeeper within myself, and saying, I agree, I disagree, that's wrong. Allowing them to hit me and be, like, that doesn't feel right, but … allowing ideas to be nuanced, and not value-judged."
Fleming plans to confront the gray area head-on and turn it into an opportunity to reframe her approach to her own education.
"I think I'm coming back to learning refreshed and re-inspired," Fleming said. "I think I'm going to come at my education from more of a perspective of, what can I learn from this? And understanding that there's maybe not ever a clear answer to anything. There's so much gray space, so kind of existing and working with that gray space is what we need more of."
In a sense, it is fitting how Van Gorden, Fore and Fleming each found their own way to interpret a shared takeaway. It appears the shared mental cloud still drifts above those sun-kissed heads, perhaps ready to start a new water cycle.