For cake and honor: Renfaire Club hosts foam sword-fighting tournament
Renfaire Club's foam sword-fighting tournament
Zac Bentz, Campus Life Editor
October 21, 2021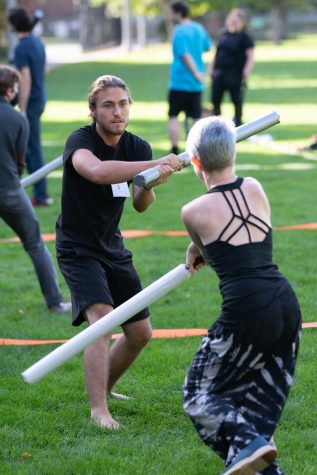 As afternoon fell over Walla Walla on the warmest day of the week, the club behind Whitman's annual Renaissance Fair gathered in the amphitheater with an arsenal of foam swords for their inaugural boffing (foam sword-fighting) tournament.
The event kicked off with a bang—or, rather, a series of martial arts demonstrations, including a choreographed knife fight performed by members of the Martial Arts Club.
After the demonstrations, those who had signed up to participate in the tournament were paired off and instructed to take their positions in a series of roped-off arenas on Ankeny. Matches in the first round occurred simultaneously, with judges positioned near each partition keeping track of points—which could be earned by hitting opponents in the chest, abdomen or back, or by striking three limbs.
After the initial matches, the crowd made their way back to the amphitheater for the semi-finals and finals, which occurred one by one on the main stage. After a series of heated duels, a winner was finally crowned—sophomore and "Slim Jim Swordsman" Jack Ray.
"I've done martial arts for a while, so I sort of loosely knew what I was doing, and I just decided to see how I would do, just have some fun," Ray said upon claiming his hard-earned prize—a hefty Safeway chocolate cake.
According to Lauren Yumibe, the budget manager for the Fencing Club and one of the tournament judges, collaborations between the Renaissance Fair Club, Martial Arts Club and Fencing Club are frequent. There is a lot of member overlap between the three groups, as well as the Tabletop Games Club, and generally when one club holds an event, members from the other three will pitch in and offer help wherever possible.
"I was asked, hey, do you want to choreograph a demo? And I was, like, yeah, sure! It seems like it will help you out, that sounds fun," Yumibe said.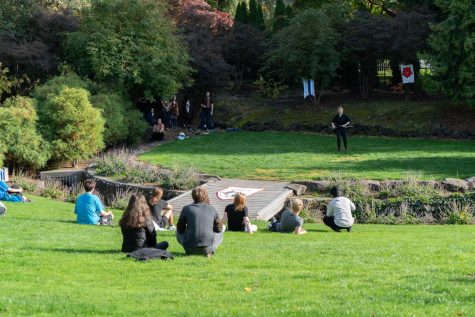 After the tournament's resounding success, members of the Renaissance Fair Club are looking forward to putting on more community events in the coming months. Club member Olivia Wing, who also served as a tournament judge, is specifically looking forward to bringing back the annual Murder Mystery Dinner.
"I've gone to a lot of Renfaires before…and it was actually one of the reasons why I chose Whitman, because, you know, we have a Renfaire! That's just such a cool, weird thing to have, and I really admire that it's been going on for so long."
As afternoon turned to evening, the Slim Jim Swordsman was granted not only the cake promised to the tournament's victor but also the honor of the Renfaire queen, dressed in a lavish emerald hoop skirt, who knighted him with the only sword at the event not designed for boffing. The crowd dispersed, the banners were torn from the trees and those who lost still left proud, alive to fight another day.