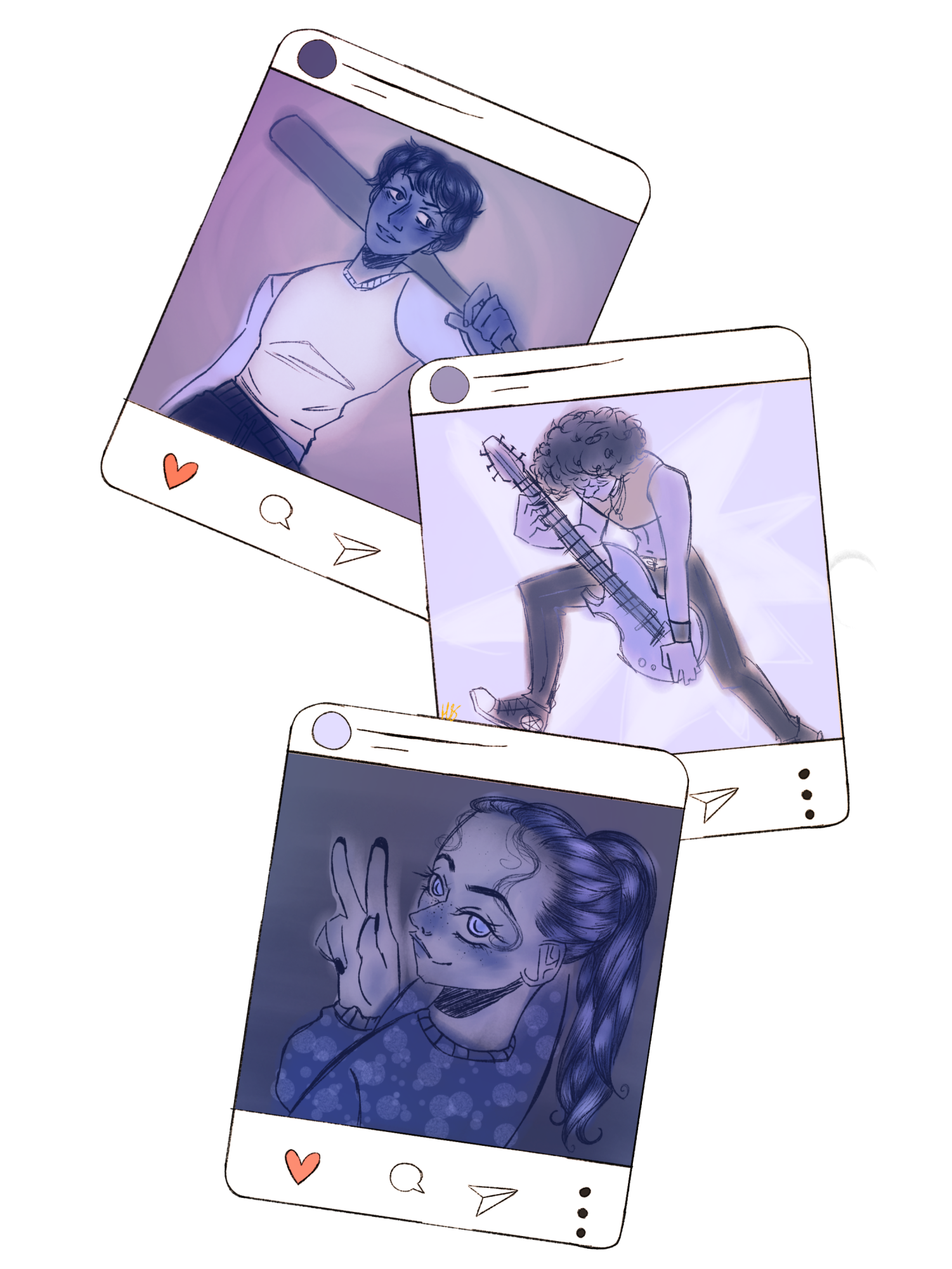 Type 'whit' into your Instagram search bar and you're bound to find dozens of non-Whitman College affiliated accounts. Some of these pages, including @whityak_, @whittiebluesclues and @whitman.memes.for.class23teens have follower counts nearly the size of the student body. Others, such as @whitman_ducks, @sitman_college and @whitman_bad_parking have much smaller but equally dedicated fan bases.
Social media has seeped into several facets of our lives and become increasingly unavoidable. From world news to social connectivity, it is one of the main ways information spreads. But politics and relationships aside, social media profoundly influences culture and humor. In an age where many people check Instagram more frequently than their email, the aforementioned student-run Instagram accounts play a pivotal role in shaping campus culture by providing entertainment through clever community-specific references. 
Fifth year senior Conor McGreevy, inspired by a different meme page that has since become inactive, created a first year bingo meme, which kick-started his journey to becoming a campus micro-influencer. 
"I didn't really have friends yet, so I needed a way to share it, so I figured I'd make a meme page myself and see where it went, and obviously it worked out," said McGreevy. 
Back then everyone took the same first year seminar class, then known as Encounters. In Encounters, freshmen read the same texts, which led to a plethora of shared references McGreevy could use to generate amusing content for first-year students (at least those who did their readings). He also incorporated existing campus references, such as former Whitman College president Kathy Murray's slogan, "Your business here is to learn." 
This meme was particularly successful in spreading throughout campus and became a classic aspect of Whitman lore.
"I think generally Whitties are kind of pompous enough that they want to agree with [the slogan] but also disaffected enough that they're kind of ironic when they do it, but that creates a vortex of post irony that is perfect for creating a new meme," McGreevy said.
This slogan and McGreevy's memes about it, as well as other relatable content, did wonders to unite campus in the virtual realm. McGreevy's account quickly gained popularity, and people even started sending submissions via direct message. 
"If there's something really traumatizing or really hilarious going on, like finals week for example, the submissions ramp up during those times. The peak of the peak was when Justin Ferland stood in a box in front of the Penrose Library for three days," McGreevy said.
Now, if McGreevy hears people talking about things on campus he thinks everyone would appreciate knowing, he'll make a meme. New Duo two-factor authentication will likely be the next thing he focuses on; the hassle of pulling out your phone whenever you log into Canvas affects all of us, becoming a collective focus of campus-wide frustration. 
Memes have the power to create a community when enough people see them and relate to them. McGreevy's account is the perfect example. With over 1,000 followers, McGreevy's memes reach a wide swath of students who see their own struggles, pet peeves and Whitman-related inside jokes reflected in the context of a larger online community.
Similar to meme pages, niche Instagram accounts that add humor to mundane and familiar things on campus also shape campus culture. @Sitman_college is a perfect example. 
The premise of @Sitman_college is simple, and this simplicity is part of the charm. Sitman reviews vessels for sitting around campus. I say vessels because the account reviews much more than just chairs; he's also reviewed a chairlift at Bluewood, couches and benches and a kayak to celebrate his 100 follower milestone. 
"I would very much hope to be similar to the meme page. I don't think I play on pop culture as much but if anything, I hope that I'm adding culture and background to any chair on campus," Sitman said.
The inspiration behind this unique idea was simply that Whitman kind of sounds like Sitman. The typical post features photos of a particular chair from various angles, accompanied by a lengthy caption, always passionately detailed and deeply thought out. An example post reads as follows:
"Disgusting Olin Hallway Chair (second floor).
Today's chair is a unique one. All previous chairs provided me a sort of excitement to sit in; a type of exhilaration that only chair enthusiasts get.
Today, however, I was not only frightened to sit in this chair, but was met with a most unpleasant sensation upon doing so. Never have I encountered a chair that left me with such a strong notion of acrimony. Immediately I felt that I was about to receive horrible medical news about my mother, or that I'd been diagnosed with Narcissistic Personality Disorder. Yet, the worst part about this chair is not necessarily its own qualities, but how every option in the near vicinity is considerably finer. This chair is deplorable. If it goes missing it was me.
1.6/10" (@sitman_college, November 17, 2022) 
Strongly worded captions like this one often spark heated debate in the comments, and that's not accidental. Sitman's vision for the account is for students to find the chairs he reviews and leave their own thoughts, whether it be agreement or disagreement with the original review.
"I don't think any post is non-controversial, and I think that's the beauty of the account. I've been verbally violent towards some chairs – I never physically engage other than sitting. I think that's also part of the appeal; I get to spark outrage at some people's favorite chairs for better or for worse," Sitman said.
In the comments, people banter about the honor and value of a chair, going beyond discussion of its appearance. These passionate interactions highlight how its emotional effects can create an unexpected community of sitters. It sparks an inclusive conversation because anyone can participate in this ridiculous, goofy dialogue; everybody sits. 
While Sitman aims to be provocative with his content to please his followers, McGreevy tries to steer clear of potential drama. He has a separate private story for people he knows personally to post edgy memes that could get him in trouble. Memes about Greek life, ASWC and specific administrators almost always fall under that category.
"There are always conflicting sides and it just kind of makes me uncomfortable. It's a lose, lose situation where no matter what you do there are people who are mad at you," McGreevy said. "I feel like toxicity has a way of really compounding itself online, and I like to avoid that."
While Sitman and McGreevy can both cause controversy – sometimes friendly and sometimes tense – their accounts share the core goals of uniting Whitties and making people laugh. 
"I think humor is so important, it's a big part of my personality, if I can improve my own day or anybody else's day by calling a chair disgusting or talking about it in specific ways then that's something anybody can gain from, whether it's a meme account or something else, it's playing off of stuff that everyone sees, and it's like, 'oh, I've never thought about it like that before' or 'I've never found humor in it before' and I just hope to, like, brighten somebody's day and I think that a lot of accounts have that capability," Sitman said.
Another account with this capability is @whitman_bad_parking. The account holder asked to remain anonymous to continue their posting undisturbed, and contribute to the mystery culture that anonymous pages provide.
They noticed a lot of bad parking around Whitman, and thought back to an account that featured particularly atrocious parking jobs from their high school. They thought it would be funny to replicate the concept at Whitman. 
"It's also just silly and goofy and funny. I will say, since I started the account I've gotten increasingly less and less submissions, so at the very least people are more keen to park well," the admin said. 
So, in addition to building community through jokes and shared experiences, perhaps the Instagram account led to an improvement in the overall quality of campus parking. The account featured sophomore Lucy Collins for two separate bad parking jobs within a short time frame, which led the account to label her a serial bad parker. People suspected they'd see a third post criticizing Collin's parking, but since then, she's had a notably long streak of not being featured. However, as we know, correlation does not equal causation.
"I don't feel that public shaming is a way to create change on campus. It depends what you're being publicly shamed for though. With something like bad parking, it's like, I'm just a girl, I can't help it. This is what happens when you put women behind the wheel," Collins said.
Collins wasn't embarrassed, and found the posts rather funny, but is adamant that the account must be run by someone who doesn't know how to drive.
"Only a person who can't drive would be focused on other peoples' parking," Collins said.
There's no way to know for sure though, as they're serious about anonymity, just like Sitman. McGreevy was also anonymous for years, only deciding to do an admin reveal this past May. All of these influencers have their own reasons for wanting to keep their identity secret. 
"It's really silly to be an anonymous admin of an account and observe what Whitman students are doing. It's like a form of people-watching," said Whitman_bad_parking.
Sitman is anonymous purely because he feels it adds to the bit and enhances the comedy of it all.
"Anonymity is part of the Sitman motif. It's like Batman, it's way funnier to create a character that loves chairs. I think it's comical to be like, Mr. Sitman is out there. He could be anyone you know," Sitman said.
McGreevy also felt it was just more fun and interesting that way until last May, when he decided to do an admin reveal. He thought this would be the perfect time for the reveal, as his class was graduating. The reveal garnered extra clout for his account. He's not sure who he will pass the page down to when he graduates, but is likely to consider someone who regularly sends high-quality submissions (something to keep in mind for interested Whitties).
Sitman also has no intentions of letting his legacy die until every chair at Whitman College gets reviewed. Whitman_bad_parking, on the other hand, will never have a lack of content.
Whether it's anonymous chair enthusiasts, meme creators or parking vigilantes, these Instagram micro-influencers are the unsung heroes of Whitman College, bringing humor and a sense of togetherness to the campus.