Scootin' through campus: Students get around on funky wheels
During October break of his first semester, junior Ethan Treadwell made a purchase some might call unusual for a college student.
"I bought a purple, light-up-wheel Razor scooter," Treadwell said. "Purple's my favorite color, and I liked the light-up wheels."
Now, over a year later, scootering remains intertwined with his identity on campus.
"I was like, oh yeah of course, this is just my thing now … my entire identity became the scooter," Treadwell said. "I still by many folks am referred to just simply as 'Scooter."
Treadwell bought his scooter at the recommendation of an upperclassman who claimed the scooter was the best way to get around campus. Since then, Treadwell has evaluated other options, but determined the scooter's dexterity and size make it the most efficient mode of transport, especially compared to the more traditional option of a bike.
"With a bike… you kinda have to like navigate around people, and then you have to lock it up, so it ends up being the same amount of time to get from one place to another," Treadwell said.
Additionally, the scooter's leanness allows for a much smoother ride.
"You can just like, swerve through people, you just weave through everyone," Treadwell said.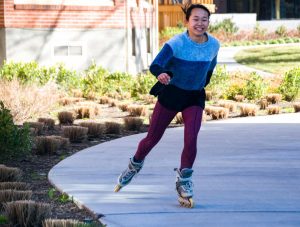 Traditionally, scooters have been marketed as a kid's toy, leading some college students to disregard the lifestyle altogether. Treadwell said he's happy to have seen the social acceptability and prevalence of scooters on campus increase.
"In the general public's eye, scooters have become cooler in recent years. Previously it used to be, like the non-bicycle mode of transport; the cool one's the skateboard," Treadwell said, "but I think it's definitely shifted, at least in the social paradigm, more towards scooters, especially on college campuses."
Another student who's found ease through scooter life is sophomore Penelope Boone. For Boone, the appeal is the speed it offers her — especially when it comes to getting across campus on time for 8 a.m. classes.
"It's sometimes hard to get up in the morning, so I like to zoom there pretty fast," Boone said.
Boone has found it's a practical way to travel. In the morning, she can allot half the time to get from Stanton to Olin if she's riding.
"It's just a way to get around campus, and it's easy, and it gets fast and it gets me to class on time," Boone said.
The scootering community at Whitman has helped Boone embrace what could be considered an unusual choice.
"It's just kind of a fun thing that I've adopted since coming to Whitman, since Whitman is very open to fun things," Boone said.
Sophomore Pete Schadlich has also embraced Whitman's openness to seeing surprising modes of transport. He prefers one wheel to two; passers-by frequently do a double take when they see him unicycling down the sidewalk.
"I spent like five hours outside of Stanton, sweating, trying to get good at the unicycle," he said.
He picked up the hobby in the fall, but has always been drawn towards alternatives for walking. One of the first things he noticed about campus is how wheel-friendly it is.
"It's so flat, and the hills that are here, you can just ride them down, all the way from the top of campus to the bottom," Schadlich said.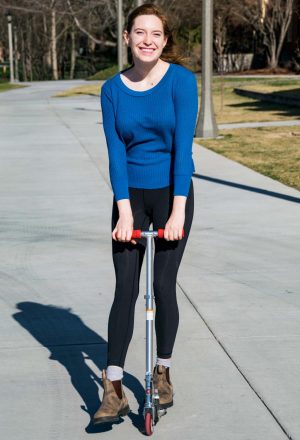 Schadlich started eyeing a unicycle, his friend's, after his bike and longboard were stolen.
"It's not like it's gonna get stolen. I mean, maybe. I don't think anyone's gonna be searching for a unicycle," he said.
Even though the unicycle is less risky as a possession, there are pros and cons to such an attention-grabbing accessory.
"I take it to class, cause it's so mobile, so easy. But bringing it up the stairs is kinda silly, and then wheeling it into class … it's like you kinda have to own it; it's a confidence thing," Schadlich said.
Schadlich says the unicycle probably takes the longest to master of all the campus transport options.
"I think it's an embarrassing skill, because it's something you have to practice at," he said. "I think unicycling has the steepest learning curve, it's kind of the dumbest way to get around, it's not very fast, it's not very efficient. You have to put time into getting good at it to even be able to go class to class."
Still, though, Schadlich has a fondness for the unicycle.
"Scootering is ridiculous," he said.