The man who brought us Uber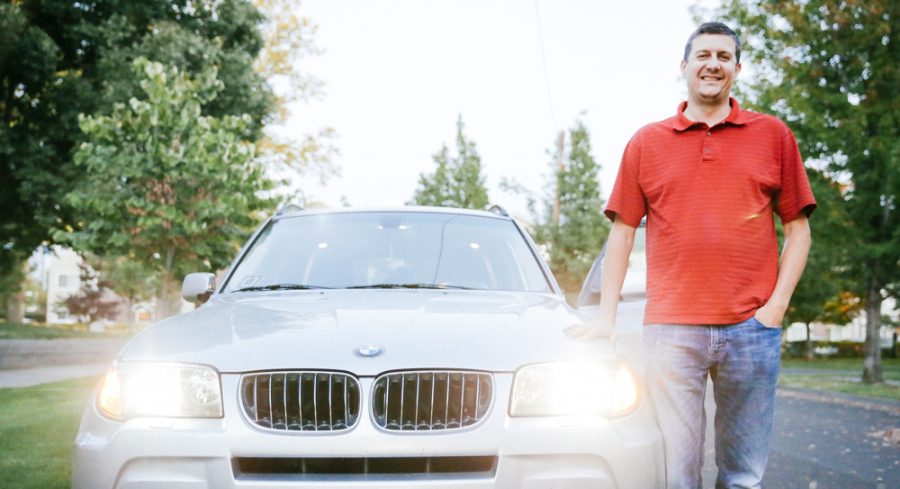 Katharine Gillen
October 11, 2016
Now, I'm from just outside NYC, so when I was assigned an article about Uber in Walla Walla, Washington, I was a tad skeptical. Uber? In Walla Walla? I've called Uber's to the bustling streets of Manhattan, but the wheat fields of Walla Walla are another story entirely.
Nonetheless, on Oct. 1 I decided to put it to the test. I opened up the dusty app and called an Uber to pick me up at Reid Campus Center.
Not even three minutes later, Mike Siegenthaler pulled up in a white BMW, complete with the sleek black Uber decal on his windshield. I hopped in and soon discovered that not only is Mike an Uber driver in Walla Walla, but he was also the first Uber driver in Walla Walla, ever. We start driving (I tell him to go in circles around town–The Wire is paying for the ride, after all) and he explains his journey to Uber.
Mike has been a Walla Walla resident his whole life, but he is well-traveled.
"I've known about Uber forever," Mike said. "I've used it in other cities like Phoenix, Vegas and Paris."
This past April, Mike contacted Uber to see if the company could bring its services to town.
"Not that I necessarily needed to do it for the money, but it seemed like it was something that the town could use," Mike said.
The company told him that Uber was only available in Seattle and Spokane, but Mike continued to contact them every month and finally, they caved. All he needed to do was fill out some paperwork and he could get started.
He sent the company a photocopy of his driver's license, insurance and registration. He brought his car to the mechanic and got his headlights, brake lights and seat belts checked.
"They basically just want to know that your car isn't a total piece of junk," Mike said. "The whole process is really quite simple."
One day in early August, after he was cleared to drive, Mike opened up the app and drove into town, unsure of what would happen next. He was driving toward Home Depot when he got his first request for a ride and he's been giving rides ever since.
"The first month was about eight rides a night, and now I do probably about fifteen to twenty," Mike said. "Last night was kinda slow, I only did nine."
During his first few nights as an Uber driver Mike drove around waiting for rides, but he soon realized that just ate up gas. Now, he parks in a central location (normally somewhere on Main Street) and listens to ESPN, checks Facebook and texts friends while waiting for ride requests.
Michael chuckled and added, "Sometimes I'll look at my Uber stats…as of right now I have 82 trips with five-star ratings. I'm a 4.98 out of 5 on the app because on my first night someone gave me four stars, my only under five-star rating. So it's like, I'll never be able to get that perfect five ever again, thanks!"
The majority of Mike's customers are middle-aged and he said he rarely drives college students.
"I picked up a few Whitman students last week and took them out to the Verizon store," Mike said.
Mike isn't complaining though, because middle-aged people give him better tips. An Uber driver is unlike a cab in the sense that tips are not expected, and while the younger generations know that, he occasionally has some older riders who give him twenties because they are unfamiliar with the system.
Mike only works as an Uber driver on Friday and Saturday nights, as he also has a day job at Cost Less Carpet, where he has worked for about a year doing flooring and granite countertops. Prior to that, he was a kitchen designer for Home Depot and prior to that, he sold high-end plumbing online for nine years.
"Driving Uber does not pay the bills, in a bigger city I'm sure it can. I've heard of people in San Francisco making like six-hundred dollars a day," Mike said. "For me to pull in two-hundred dollars on a weekend is not bad, but it's obviously not going to pay the mortgage."
Although some Uber drivers choose to get an Uber debit card that deposits money instantly after each ride, Mike opts to get paid every Tuesday by direct deposit. He says he is definitely happy with that business model.
"It's just some extra cash, and it's fun to drive around," Mike said. "It's better than having a second job where you are stuck somewhere. Here, it's kinda like I'm my own boss. You can work your own hours. You can turn it off and on whenever you want."
We have all heard horror stories of riders throwing up in an Uber or being belligerent during a ride, but Mike said that he hasn't encountered that yet.
Some of his funniest memories include people falling asleep in the back of his car ("I got to the Whitman Hotel and I was like…'Uh… we're here now…do I push them out of the car?'"). Or squishing six Pendleton Whiskey reps in his car (two in the trunk).
"They said, 'We'll sit in your trunk' and I was like 'That's kinda against the rules…but okay.' So I put them in my trunk. They gave me a tip," Mike said, smiling.
But having good riders does not mean that he hasn't received weird requests.
"I did drive a woman through the Taco Bell drive thru…we were driving back to her hotel and she was like 'Can we stop at Taco Bell for a minute?' and I was like 'I guess…' so I pulled in there and she got her Taco Bell." Mike said.
Mike does well in sales during his day job, and those people skills are reflected in his ubering.
"Being an Uber driver is definitely not for someone who doesn't like people," Mike said.
For the most part, his riders are just as social as he is.
"I've only driven a few people who wanted to drive in complete silence," Mike added.
Most of Mike's customers are visitors from out of town and seeking restaurant destinations. According to Mike, the most popular attractions are Whitehouse-Crawford, T Maccarone's, Saffron and Brasserie Four. Typically, the furthest he'll get from downtown Walla Walla is Basel Cellars and the airport.
"I do, later in the evening, take a lot of people to Ming Court for karaoke," Mike said.
Although most of his customers are from Seattle, Boise, Spokane and Portland, being an Uber driver has given Mike the opportunity to meet some pretty neat people, such as ladies from Atlanta who flew out for wine tasting, or even a group of people from Ireland. According to Mike, a fun part about being an Uber driver in such a small town is that often he will drive visitors several times over the course of their stay in Walla Walla, so he and his customers get to know each other.
Since the majority of his customers are from out of town, they are often used to the accessibility of Ubers in larger cities.
Mike explained, "I've picked people up and they've been like 'Where were you earlier in the day?!' And I'm like…'I have a day job' and they're like, 'Well I needed a ride this morning!' and I'm like 'Sorry…do you want my personal number so that you can text me and I can leave work whenever you need a ride somewhere?'"
Although Mike has plastic rubber floor mats to protect his car from vomit or dirt or whatever may come his way, he has nothing to protect him from some of the rider's attitudes.
"Some people are like 'Just wait out here, we have to run into the hotel and get something. And I'm like come on, I'm not your personal slave. The worst is when you get to a bar late at night and the person says 'There are two more people on their way, give us a second!' And you're sitting there and sitting there…," Mike said.
He remembered one night he showed up at a restaurant to pick someone up and after calling and texting them multiple times they still didn't come out.
"So I declined the ride and charged them like six bucks," he said.
Although people can be annoying, Mike keeps a positive attitude, saying that he's never given anyone a bad review.
For the most part, Mike just hopes he is making everyone's lives a little easier. He remembered one of his birthdays here a few years ago, when he tried to go bar hopping by calling cabs. "It felt like we were waiting 40 minutes for a cab that would drive us 10 feet," Mike said. "Now, someone requests a ride from me and I'm there in under 15 minutes."
"I hope that Uber gains more recognition in Walla Walla. I'm friends with the owner at the Public House so I tell him that when people ask him to call a cab, to mention the fact that there are Ubers in town as well," Mike said. "I try to let people know and spread the word about Uber here whenever I can. Because it's not really advertised."
So whether you need a ride to Target because your mini-fridge broke and you can't go without milk for your lucky charms, or you need a ride to the airport to visit your family for Thanksgiving break, remember Mike is out there ready to meet your needs. You are bound to have a great conversation as well.