Exploring language, song and dance with visiting speaker Fred Hill Sr.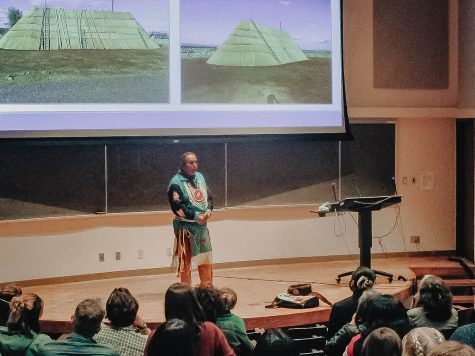 On March 8, 2022, Whitman hosted Fred Hill Sr., a language educator and frequent master of ceremonies for powwows, as part of the sequence of speakers that have been invited in preparation for the Long Tent ceremony this April. The experts hosted as part of this series add crucial context that engages the community in discussions about Indigenous Plateau Culture and work to strengthen the connection between CTUIR and the college.
Hill held his presentation in Olin Auditorium and filled it with a mix of wit and rich storytelling.
Noah Leavitt, director of the Community and Career Engagement Center and member of the Long Tent Working Group, attended.
"For me, a lot of Fred's presentation was about how the relationship between Whitman College and CTUIR is becoming richer and more complex and more intensive… part of what made his visit possible is the growing connections and trust that we have with elders, experts and leaders at CTUIR," Leavitt said.
Hill emphasized the connections the Long Tent is working to grow, both on and off campus, as well as the value that ceremony, song, dance and language hold in building community.
"I enjoyed how I learned a lot in a really relaxed atmosphere… where I was invited into a conversation about his life and language and community that helps me better understand what putting a Long Tent up on campus opens up," Stan Thayne, lecturer in environmental studies, anthropology, religion and politics and Long Tent Working Group member said.
Hill's demeanor and casual speaking style stood out to listeners because of the way it created an intimate and touching atmosphere. Family stories about growing up on the Umatilla Reservation were followed by a performance of original music led audience members through nuanced discussion of familial bonds, the Sahaptin language and the arts.
"By tying together personal information with educational details about the culture, Hill gave a really amazing account of what it is like growing up [on] the Umatilla Reservation. My favorite part was how engaging and personable Hill was," first-year Katie Parker said.
Hill emphasized the weight and meaning names passed through generations hold in Indigenous communities and how his drum performance merged cultural and linguistic traditions from different tribes to create new ways to honor tradition. Being a lifelong speaker of Sahaptin, Hill expressed his gratitude for the chance to grow up immersed in the language and pass on knowledge of it to others through his role as an educator.
"I really liked how much of his presentation focused on family and language; that really seems central to ways of thinking about ceremony, song and prayer," said Thayne.
As the date of the Long Tent event inches closer, the community anticipates opportunities for education and growth that will be accompanied by a celebration of the artistic, linguistic and cultural value that Indigenous people bring to the Walla Walla region and to Whitman.
Long Tent programming will take place on Ankeny April 18-26 and is open to members of the Whitman and Walla Walla communities.