Theatrical clubs return to campus
In fall of 2019, Varsity Nordic had nine members, consistently attracted major crowds and—according to Matthew Triplett, a senior and member for the past three years—"were all working together to create some incredible comedy." 
Junior Natalie Traw, Secretary of the Drama Club, said that her club had around 150 members at the time, providing students who wanted to put on their own productions a stage. The club was also in the process of planning a spring break trip to Ashland to the Oregon Shakespeare Festival.
By February of 2020, Harrison Lurie, senior and co-president of the Renaissance Faire Planning Community, said that they had just put on their annual murder mystery dinner, and were in the midst of making preparations for their annual Faire.
All of that was suddenly put on hold in March, and over the course of the last year and a half, these theatrical clubs have struggled to hold on to their traditions and membership. With no live performances and no opportunity to spend time together in-person, these clubs had to overcome many challenges to hold on to their communities.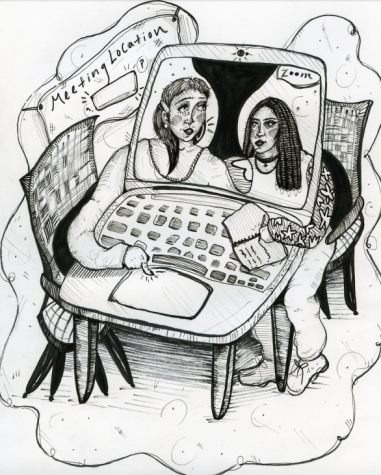 According to Triplett, V-Nord's membership has dropped to five performers from spring of 2020 to this fall, as they were unable to audition for new members as other graduated. Improv was proving to be a challenge with Zoom lag, and Drama Club couldn't put live productions into play or hold large student gatherings.
Lurie mentioned the challenges that came with having the Renaissance Faire Planning Committee's annual murder mystery dinner over Zoom; despite handing out the traditional "feast" to students who were watching it, he said it "wasn't anything close to what we would be able to do in person." 
Despite the challenges, these clubs persevered—even if it wasn't quite the same.
RenFaire's murder mystery was well attended, and V-Nord held a murder mystery of its own, to better success than they expected. Triplett said the murder mystery dinner was a "real breakthrough," adding that they "delivered some really funny stuff to a pretty sizeable crowd."
Drama Club, while unable to put on any student performances, still held its end-of-year banquet in a virtual format, exchanging stories about the theatre and bidding farewell to the seniors.
With this fall semester ahead of us, clubs are now shifting back to a mostly in-person format, meaning there's lots to look forward to this year. Traw encourages students to join Drama Club for the large community and the opportunity to put on entirely student-run productions, like the annual Summer Shakes, seen earlier this month. 
"I am so excited [for] all of the new members we have in drama club this year," Traw wrote in an email to The Wire. "I hope that we will be able to build a strong community and make a lot of theatre."
Lurie is especially excited for the prospect of large outdoor gatherings again, and is hopeful that the Renaissance Faire will be able to happen this spring.
"The day of the [Renaissance] Faire is the most incredible thing," Lurie said, praising the "tight-knit community."
In the meantime, his club is working on some new ideas—Lurie also hinted at the possibility of an upcoming live-action sword fighting tournament this fall, open to the whole school. 
V-Nord is already back in full swing—their first performance was earlier this month, and they are in the process of holding auditions for new members.
"There's nothing like telling a joke, on the spot, that really hits and hearing the room erupt into laughter," Triplett said. He thanked everyone who attended last week's show. "It means more to us than we can even say. It's an honor to perform for you."
As these clubs and others return to meeting in-person, they will continue to deal with new challenges, but these students have made it clear that their communities will continue to support them—even after a break.