"Q: Into the Storm" in review: Whitman alum Cullen Hoback investigates the QAnon conspiracy theory in new docuseries
What is the true identity of the person behind the elusive QAnon, the cult responsible for the Capitol Riots on January 6? This mystery is the guiding question for Whitman alum and filmmaker Cullen Hoback 02' in his recent documentary "Q: Into The Storm."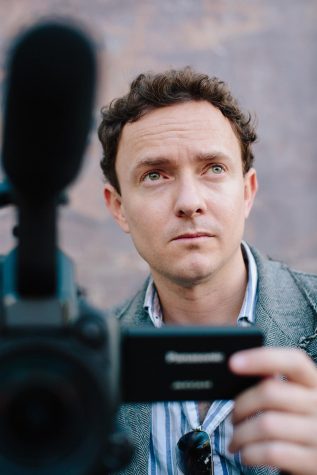 On Saturday, April 3, the final episode of the six-part documentary series on HBO, "Q: Into The Storm," premiered. The series provided an in-depth exploration of QAnon conspiracy theories and was directed and produced by Whitman college alumni and graduate of the film and media studies program Cullen Hoback. 
Hoback's filmmaking interests center on the impact of media and technology on our lives, and his IMDb page lists him as an "investigative filmmaker." 
His film, "Terms and Conditions May Apply" (2013), explored the intricacies of internet privacy and how the government and corporations use our data. This film received significant praise; it was the New York Times Critics Pick of 2013. 
"Q: Into The Storm" is Hoback's fifth major directorial project. It is also his longest and consists of six hour-long episodes. The series explores the origins of the powerful group of conspiracy theorists, born from internet chat rooms on websites like 8chan, 4chan and Reddit. 
The film explores the birth of the Q phenomenon, a movement following the anonymous posts of a user under the username "Q" on online messaging boards. These posts contain cryptic messages meant to rally individuals towards far-right ideologies and conspiracy theories that portray liberals in positions of power as the enemies of American ideals.
The documentary series was a refreshing take on QAnon conspiracy theories. It did not sympathize with the conspirators nor did it demonize QAnon supporters. Rather, Hoback took a critical approach to the cult and its followers. 
Hoback inserts himself into the documentary series as someone who is merely interested in QAnon. The documentary shows many images of Q's various social media posts, individuals with Q merchandise and other sources from the internet. After showing each image, there is the sound of a click, prompting a cut to another image. This choice provides the viewer with the feeling that they are watching Hoback's screen as he dives into the internet to learn about Q. We are on this journey "Into The Storm" together with Hoback. 
The documentary series also interviews Q followers and critics alike, while also including expert perspectives on Q's role in online communities. 
It's interesting to consider the critical approach that Hoback takes for his exploration of the internet. Hoback's documentary is concerned with what the success of such a movement could mean in respect to the ever-growing influence of the media. 
Hoback will return to Walla Walla this summer to participate as a juror for a film festival of short films called MovieCrush, which will be held July 9 – 11. 
For anyone interested in Hoback's work, his past films can be found on the Whitman Penrose library website. The docuseries "Q: Into The Storm" can be streamed on HBO Max.