Labyrinth installation behind Marcus House invites thoughtful meditation
After 15 years of consideration and compromise, Whitman's Interfaith Chaplain Adam Kirtley and the Office of Religious and Spiritual Life's diversity and inclusion intern first year Merry Cockroft successfully rallied the college's administration behind the installation of a rock labyrinth on campus. 
On March 5, the Office of Religious and Spiritual Life hosted an installation event to commemorate a new sacred space on campus located behind Marcus House. Junior Alex Pratt attended the event and reflected on its potential to instill a sense of stability and oneness with the Whitman community.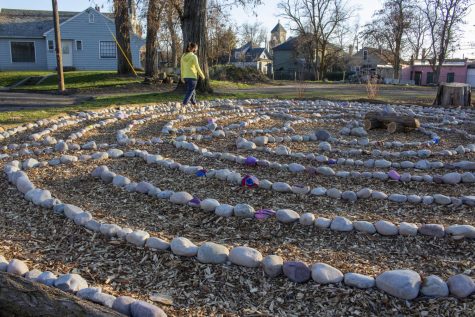 "I think it is important to keep in mind the amount of thought and work done by Adam and everyone else who helped put everything together. It warms my heart to see these dedicated individuals go through so much for the sake of the mental health of the Whitman community," Pratt said. 
A labyrinth contrasts itself from a conventional maze in that there are no dead ends or choices that one needs to make while walking it. There is one single path that meanders into the middle of the space then works its way out. The walking of a labyrinth is meant to invite quiet meditation.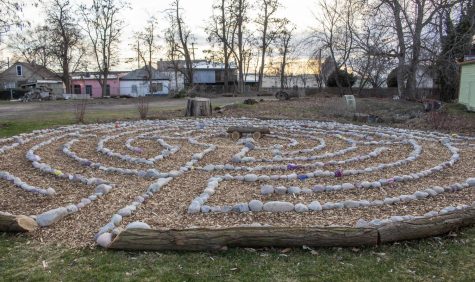 Kirtley finds this kind of structure to have quite a lot of significance, and he sees that a central place of spirituality and worship is important to facilitate wellness on campus. This is especially true given the heightened stress and anxiety during the COVID-19 pandemic.
"[The labyrinth] is analogous to our lives in some ways. We cannot necessarily predict all the twists and turns, and we might even be somewhat overwhelmed by thinking about all of them. But, if we focus on the next step in front of us, that can be a really useful and powerful reminder for how we can navigate moments in our lives," Kirtley said. 
Labyrinths are also inherently interfaith. They are found all over the world, predating many organized religions. Nonetheless, they are considered to be a powerful tool for facilitating spirituality and wellness. 
The Whitman labyrinth is semi-permanent, meaning that it is made of rocks and logs that can be moved or shifted. While it is important for the labyrinth to be a continuous path, the mobility of its rocks is advantageous. On the day of the labyrinth's installation, the Office of Religious and Spiritual Life asked students to paint a rock in order to instill a sense of communal ownership over the space. Additionally, students can walk with a rock and meditate on an idea or theme. In the middle of the space is a cairn, a stack of rocks drawing from Celtic tradition. Visitors can add their rock to the cairn. 
The Office of Religious and Spiritual Life hopes to host many events and encourage other clubs and organizations to use the space as well. Cockroft detailed their next event, which will be on the evening of March 27, when the office host a Walking with Loss and Hope event.
"Whitman community members will be invited to drop by the labyrinth to place tea lights along the labyrinth path to acknowledge the immense losses that this world and our community has faced this year and to look forward with hope to the light that still shines in our broken world. Faith communities on campus will also hold scheduled times for reflection, which anyone is welcome to participate in. More information about this event to come soon!" Cockroft said.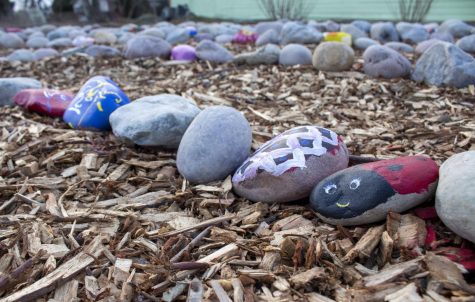 Kirtley also wanted to make sure acknowledge the help given by the Physical Plant staff during the labyrinth's installation. The staff set up the space by cutting logs — taking advantage of their natural curves and adjusting their shape to create a circle — inside which they filled with wood chips. Kirtley mentioned that this setup was crucial to making the labyrinth.
Kirtley and Cockroft look forward to having an outdoor sacred space on campus. Look out for communication from the Office of Religious and Spiritual Life for events and other information about Whitman College's new labyrinth.