La Maison Française brings community back to the movies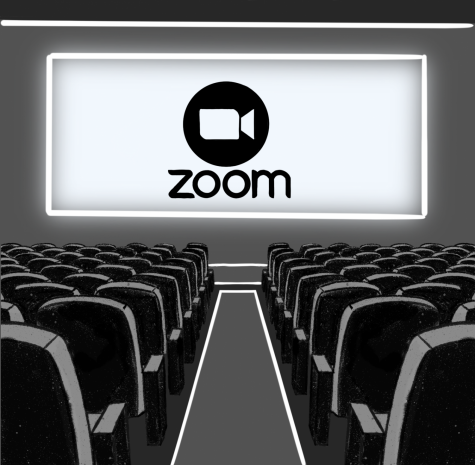 If you were to draw your blinds, pop some popcorn and tune in to La Maison Française's virtual Samedi Soir Cinéma (Saturday Night Cinema),  you might be able to convince yourself that movie theaters had never been forced to shut their doors. By adapting its traditional weekly movie night for the COVID-19 era, Whitman's French interest house La Maison Française is seeking to bring community back to the movies.
A long-standing La Maison tradition, Samedi Soir Cinéma met the same tragic fate as brick-and-mortar theaters when COVID-19 closed Whitman's campus in March 2020, but since students have returned, it has managed to find a new footing.
The event kicked off on Saturday, Feb. 20 with a screening of  "The Intouchables" (2012). With the exception of some minor technical difficulties, the shift to a virtual environment went smoothly and boasted decent student turnout.
Sophomore Sile Surman thought the event was a great success and is excited to return in the coming weeks. 
"I think it was a really cool event, especially because I don't know any French, and I'm not familiar with, I don't think, any French films, like not off the top of my head, so it was really interesting to watch a foreign language film when that's not what I usually gravitate towards," Surman said.
For Surman, one of the biggest drawbacks to watching movies since the pandemic began has been the lack of community. "Sometimes having the audience react in real-time to something is just a really special experience, especially if it's a really moving moment, or just something shocking . . . And, of course, it feels like much more of an event to go out and go to the movie theater. So I miss that part too. That's why I sort of appreciate that they did this, because it's like, 'Okay, we're kind of in a movie theater, not really, but this is as close as we'll get."
Also in attendance on Saturday was junior Olivia Lipson, who is the RA at the Community Service House. She said she thinks virtual events such as Samedi Soir Cinéma are a persuasive alternative to the theatrical experience, at least for the time being.
"I like how safe they are," she said. "Some of my housemates and I actually watched it together, so I think it brought me and some of my housemates together, which was nice. And also folks were talking in the Zoom chat bar when it was happening, and that was cool, and something I guess that you wouldn't experience when you're watching a movie in a big group setting, like seeing little comments. That was honestly kind of nice."
Another perk for Lipson was the added attention required when watching a film not in one's native language. "I really had to pay attention, which was, honestly, probably good for me," she said.
Sophomore Ella Veljovich, a resident of La Maison, is excited to see where they are able to take the event going forward. The virtual environment poses new challenges, but she is hopeful they will be able to return to some semblance of in-person in the coming months.
"It would be fun in the spring . . . maybe we could do some sort of outdoor movie night. I know that they've done that before on, like, the grass next to Reid [Campus Center]. They used to do outdoor movie nights, so that could be fun, if that's allowed. I think that would be safe with COVID-19, as long as it's outdoors."
The films screened in the "Cinéma" vary wildly in age, genre, and country of origin. Veljovich said they try to show films from French-speaking countries around the world, and are even considering showing French dubs of English films with English subtitles.
Veljovich recalls that when the event used to be held in La Maison's living room, students from all across campus would fill the floors and couches each Saturday, and it would generally be organized by the Language Assistant. Though because COVID-19 has temporarily suspended the Language Assistant program, the "Cinéma" has found new leadership in the house's RA, Lee Thomas.
For students in the French department, Veljovich said, attendance comes with the added bonus of fulfilling the cultural activity requirement mandated by most 4-credit French courses. "I think we get a lot of participants for that reason, too," she said.
"Samedi Soir Cinéma" will be held Saturdays at 8 pm. If you would like to request a film or TV show, you can do so using this Google Form.