A Meditative Sitar Performance
Sounds of the sitar resonated through Kimball Theatre as Whitman professor J.J. Gregg gave a performance on Friday, Feb. 23. The concert, part of the Whitman Music Department's "Fridays at Four" series, brought an excellent opportunity to hear such an instrument to campus, and audience members expressed enjoyment at the music.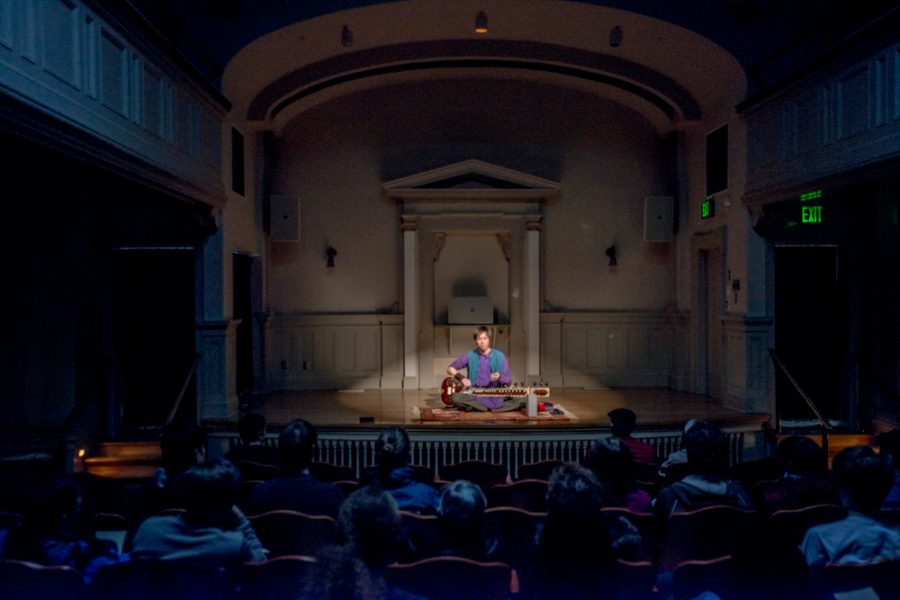 Whitman alumnus Alexander Johnson '14 currently takes sitar lessons from Gregg. He spoke to the atmosphere Gregg's sitar-playing created.
"I thought that the concert was great, especially the meditative quality that J.J. brought to the stage," Johnson said.
The concert gathered a crowd of about forty people. Yana Miakshyla '21, who takes music lessons at Whitman, spoke highly of the performance.
"I absolutely loved it," Miakshyla said. "I had learned a little bit of information about Indian classical music and it was really nice and unexpected to finally see it on stage, especially at such a small school like Whitman."
The sitar is an instrument used frequently in South Asian music. According to Gregg, the sitar is classified as a Hindustani classical music instrument, but he thinks of it as South Asian because it is played also in Bangladesh and Pakistan.
Prior to the concert, Gregg gave some background on the music he plays.
"I've played quite a few shows here in Walla Walla, and I have been playing a different set of ragas every time I play here just to experiment," Gregg said. "One way [to define raga] is to just say that if you place some criteria on a group of notes, those notes become a raga. It's not that simple, but that's a starting point."
Gregg explained that a raga is a sort of framework for a person to play their music in, and they may improvise within that framework.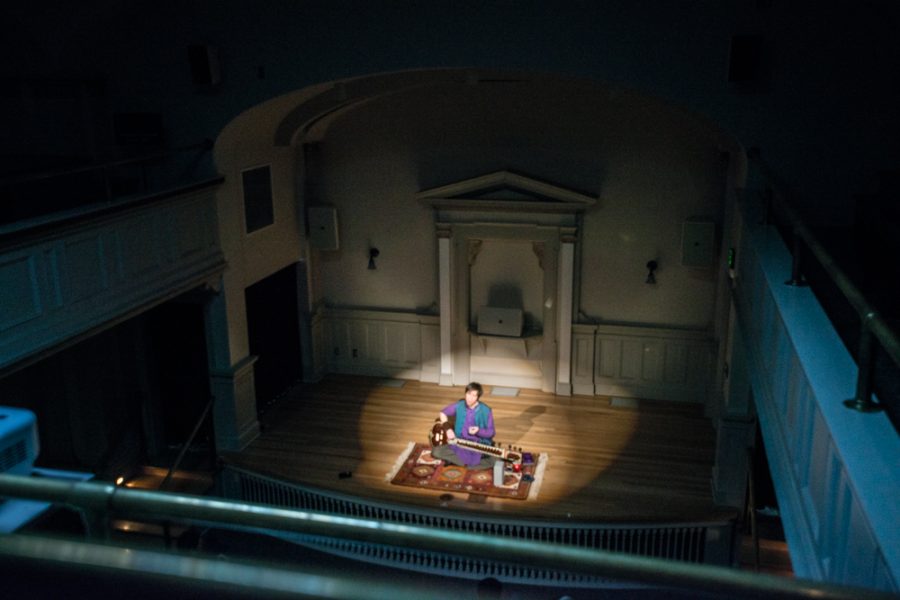 Chloe Carothers-Liske
"I usually have an educational component to my concerts," Gregg said. "This provides the audience a bit more context with which to approach the listening of South Asian classical music. At my last solo concert [at Whitman], I played two sets of ragas (Bhopali and Bhoopeshri, Bairagi and Madhumad Sarang) which differ by only one note to show that a raga can sound completely different by changing just one note. Maybe you're writing a piece of music or something and it doesn't sound right. But when you change just one note, it sounds completely different and more interesting."
Interestingly, Gregg's interest in Indian classical music was sparked by the western band the Beatles, who used South Asian instruments in some of their songs. Intrigued by this style of music, Gregg eventually continued his journey of South Asian classical music by moving to India for study abroad, after taking sitar lessons at Carleton College.
"My classmate Janelle and I each took two months of private sitar lessons with David Whetstone at Carleton College before we went to India," Gregg recounted. "At Carleton, I wasn't super into South Asian classical music then and wasn't really focused on sitar before I went to India. I would practice the sitar for half an hour and then maybe play the piano for an hour after that. Once in India, Janelle suggested we take sitar lessons together.  I hesitated, but when she played me a cassette of her recommended teacher, Ustad Usman Khan, I found I really enjoyed his playing.  When Janelle and I first met my sitar teacher of the last 17 years, Ustad Usman Khan, she was better practiced than me.  She played him what we learned at Carleton and he said, 'OK, we'll start over.  This meant that we would learn technical things on the sitar first (scales, left and right hand exercises), before playing any music on the sitar.  Though I had been a self-taught musician for the five years prior to my first India visit, when I met Ustad Usman Khan I recognized I needed a skilled teacher to make me a better musician."
Gregg continued, "After a month and a half of lessons in India, I tore a tendon in my finger.  Because I could not play the sitar for six weeks, this forced me to learn my first raga through the traditional method of singing the composition first.  I found this very significant because it showed me the power of 'sing first, play later' as a learning tool."
Johnson also found himself in love with Indian music in a surprising way.
"Although I studied abroad in India during the spring of 2013, I had no intention of studying ragas or learning to tune a 19-stringed lute," Johnson said. "I started lessons just for fun, but now I can't imagine living without the sitar. Lessons are challenging, but I love the dynamic nature of Indian classical music."
Overall, the concert had a dynamic yet mesmerizing quality and brought a piece of India to Walla Walla, helping to expand the worldliness of the art scene on campus.
"It is nice how there is so much happening on campus," Miakshyla said. "I think it is important for people to know that there is a music beyond Western music and we should focus on that too."