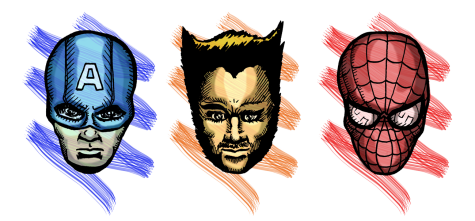 Nathan Fisher

April 1, 2014
After a (hopefully) adventurous spring break, it will be prime time to buckle down as spring semester ends and finals loom.  This means the books really need to be cracked open, but those still in denial and in need for continued procrastination will welcome the spring crop of movies Hollywood is offering...
Tags: a million ways to die in the west, amanda seyfried, amazing spiderman 2, asa mease, blockbuster, breaking bad, bryan cranston, captain america, Charlize Theron, chris cooper, Circuit, circuit 10, Comedy, days of future past, fantasy, Fisher, fist class, godzilla, hollywood, Humor, ian ckellen, illustration, jaime foxx, Liam Neeson, magneto, monsters, Nathan, neighbors, neil patrick harris, pacific rim, patrick stewart, paul giamatti, peter parker, pineapple express, professor, reboot, Review, rose byrne, sarah silverman, seth mcfarlane, seth rogen, spiderman, spring break, steroids, super hero, superbad, ted, this is the end, villains, Walla Walla, winter soldier, xavier, xmen, zac effrom
Nathan Fisher

August 23, 2012
MMMMOOOVIES were my great escape from working a zillion hours at two minimum-wage jobs lifeguarding and scooping balls at the golf-driving rang. Thankfully, this summer was filled with great flicks. Here's my arbitrary grouping of movies that I saw this summer. Enjoy! Risqué (Shakin' your junk!):...
Tags: abraham lincoln, alien, andrew garfield, back to school Circuit, batman, bernie, best exotic marigold hotel, bill murray, brave, bruce willis, channing tatum, Christopher Nolan, Circuit Issue 4, dark night rises, English, Fisher, ice age, jack black, king julien, madagascar, magic mike, mathew mcconaughey, men in black, midnight in paris, moonrise kingdom, movie, Nathan, penguins, pixar, prometheus, reviews, Ridley Scott, risky business, rock of ages, sacha baron cohen, seth macfarlane, shirley maclaine, sigourney weaver, spiderman, Steven Soderbergh, stripper, Summer, ted, teddy bear, to rome with love, tobey maguire, tom cruise, tommy lee jones, vampire, wanda sykes, will smith, woody allen
Loading ...
Trinity University (Texas)

5

Feb 16 /