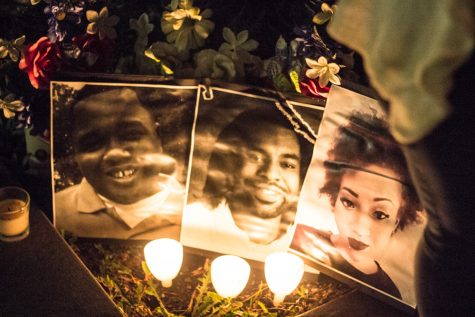 Christy Carley, News Editor

October 13, 2016
On Thursday evening the words of "We Shall Overcome" echoed across the steps of Penrose Library, while candles flickered in the dark. Members of the Whitman community gathered together to mourn the black lives lost to police brutality. The vigil, sponsored by Whitman's Black Student Union (BSU) inclu...
Eric Anderson, A&E Editor

October 10, 2016
Shaun King: Civil Rights Today: A lecture on racial politics, police brutality, and modern social justice. 7:00 p.m., Thursday, October 13th. Cordiner Hall. Walla Walla Balloon Stampede: A hot air balloon festival featuring a wide variety of ballooning activities. 7:15 a.m. and beyond, Thursday-Su...
Loading ...
SPORTS SCORES
Wednesday, September 25

Whitman College 3 - Whitworth 2

Wednesday, September 25

Whitman College 0 - Whitworth 3

Sunday, September 22

Whitman College 5 - Linfield 0

Saturday, February 16

Whitman College 96 - PLU 78

Saturday, February 16

Whitman College 73 - PLU 62

Saturday, February 16

Whitman College 4 - Trinity University (Texas) 5

Saturday, February 16

Whitman College 1 - Boise State University 6

Saturday, October 6

Whitman College 1 - Linfield 3

Saturday, October 6

Whitman College 2 - 1

Sunday, April 16

Whitman College 8 - Pacific University 1

Saturday, April 15

Whitman College 1 - Linfield 4

Saturday, April 15

Whitman College 15 - Linfield 5