Sara Rasmussen

March 13, 2012
"We're here because we love Harry Potter, but we're not here for Harry Potter. We're here to celebrate the stuff being created around Harry Potter." So spoke Hank Green, an entrepreneur perhaps best known for the VlogBrothers project, in reference to the vibrant fan community that surrounds the...
Tags: Circuit Issue 2, Draco and the Malfoys, fan culture, Fan Fiction, Hank Green, Harry and the Potters, Harry Potter, Harry Potter Alliance, HPA, Internet, J.K. Rowling, KWCW, Leaky Cauldron, LeakyCon, livejournal, LJ, Magazine, Mugglenet, online, Quidditch, the Remus Lupins, The Witching Hour, tumblr, vlogbrothers, We are Wizards, Wizard rock, wrock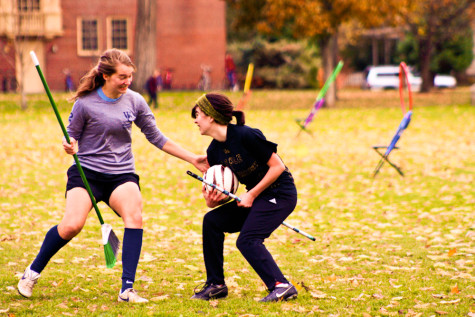 Sylvie Luiten

November 17, 2011
For those of us who thought our childhoods were over after the last "Harry Potter" book came out, fear not. During Whitman's annual Week of Wizardry, students can participate in Harry Potter-themed events including the annual Quidditch Tournament. Last Sunday, this event took place on Ankeny with five...
Loading ...
Trinity University (Texas)

5

Feb 16 /