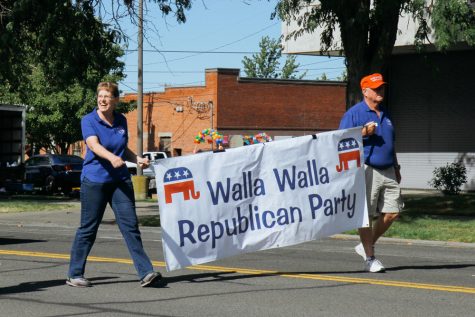 Olivia Gilbert, Feature Editor

September 8, 2016
If you walked by the Walla Walla County Republican Headquarters in the red brick building on Second Avenue last week, you would not have found a soul there. Travel about a mile south though, and you would have found, amid the smell of fried dough and the mechanical whirs and jerks of a dozen carnival r...
Tags: Bill Bryant, Cathy McMorris Rodgers, Chris Vance, county fair, Dan Nims, Election, election 2016, Emily Strode, Gary Downing, gubernatorial race, Jared Frerichs, Jay Inslee, Jim Johnson, Joe Pakootas, Nancy Monacelli, patty murray, Rebecca Francik, secretary of state, Steve Schmidt, Tina Podlodowski, Todd Kimball, voting, Walla Walla, walla walla county, Walla Walla County Democrats, Walla Walla County Republicans, washington, Whitman College, Whitman Wire
Patricia Vanderbilt

March 7, 2012
A group of around 20 Walla Walla Democrats gathered in the First Congregational Church tonight, March 6, to meet with John Culton, the Eastern Washington Director for U.S. Senator Patty Murray. The meeting was moderated by Walla Walla city council member Barbara Clark. Culton traveled to Walla Walla...
Loading ...
Trinity University (Texas)

5

Feb 16 /