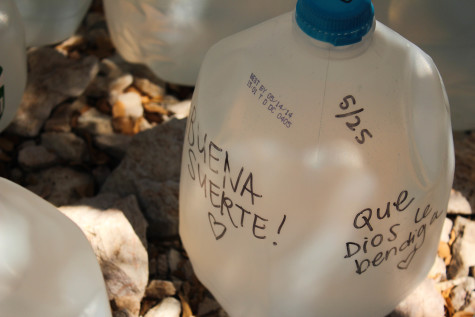 Julia Stone

August 29, 2013
We met Manuel at the Juan Bosque Migrant Shelter, the only shelter open at night on either side of the border. Earlier that day, he had been dropped off by old school buses that had been converted by the U.S. Department of Homeland Security (DHS) to transport deportees from federal detention center...
Tags: Aaron Bobrow-Strain, Afghanistan and Iraq, Arizona, Border, border patrol, Circuit 8, circuit back to school, Customs and Border Protection, Immigration, Jose Antonio Elena Rodriguez, Lockheed Martin, Middle East, Nogales, Operation Streamline, Real ID Act, Secure Border, Texas, Tucson Arizona, Tuscon, U.S.-Mexico Border, Whitman College
September 8, 2011
Article written by Madelyn Peterson. Javier1 carries his height with humility and smiles easily. He grew up near his grandparents' ranch in Sonora, Mexico, riding horses and fighting roosters. He made his living and formed his family in Arizona, where he's resided for 10 years. He calls his family...
Loading ...
SPORTS SCORES
Wednesday, September 25

Whitman College 3 - Whitworth 2

Wednesday, September 25

Whitman College 0 - Whitworth 3

Sunday, September 22

Whitman College 5 - Linfield 0

Saturday, February 16

Whitman College 96 - PLU 78

Saturday, February 16

Whitman College 73 - PLU 62

Saturday, February 16

Whitman College 4 - Trinity University (Texas) 5

Saturday, February 16

Whitman College 1 - Boise State University 6

Saturday, October 6

Whitman College 1 - Linfield 3

Saturday, October 6

Whitman College 2 - 1

Sunday, April 16

Whitman College 8 - Pacific University 1

Saturday, April 15

Whitman College 1 - Linfield 4

Saturday, April 15

Whitman College 15 - Linfield 5