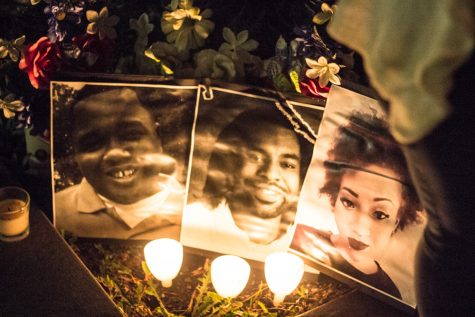 Christy Carley, News Editor

October 13, 2016
On Thursday evening the words of "We Shall Overcome" echoed across the steps of Penrose Library, while candles flickered in the dark. Members of the Whitman community gathered together to mourn the black lives lost to police brutality. The vigil, sponsored by Whitman's Black Student Union (BSU) inclu...
Hannah Poukish and Tyler Warren

October 28, 2015
Videographers Hannah Poukish, Tyler Warren, and reporter Eric Anderson explore the recent Dia de los Muertos Festival in Walla Walla, WA and investigate the relationship of Whitman College to the greater Walla Walla community.
Hannah Poukish

September 30, 2015
Did you know that the Pioneer has a weekly podcast: The Pio Hour? Videographer Hannah Poukish interviews Andrew Schwartz and Anna Middleton, two of the show's four hosts. To listen to the Pio Hour live, tune in to KWCW 90.5 FM Mondays at 10 a.m., or visit The Pio Hour Podcast. ...