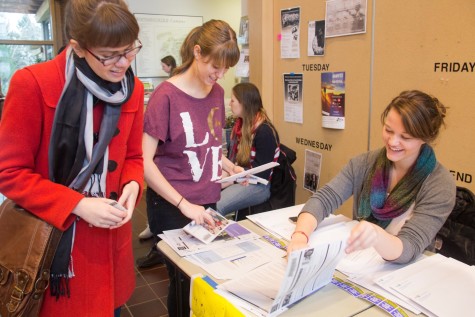 Jacqueline Rees-Mikula

January 21, 2013
This Monday, Jan. 21, students lined up in Reid Campus Center to donate their time and spit to the National Bone Marrow Registry. Sophomores Rachael Barton and Shannon Blair organized "Give a Spit," a campaign to encourage Whitman students to sign up for the national registry. "I feel like if I'm a healthy person and if I could ...
Jacqueline Rees-Mikula

December 19, 2012
It's the Holiday Season––a time to be grateful for what we have, large or small. For many students, it's also a time to give. It's true that college students can barely strangle an extra penny out of their wallets when buying coffee at Reid; nonetheless, Whitties are actively spreading the Holiday...
Tags: Adopt-a-Family, blue ridge, charity, Christmas, community service, donate, Faculty, gift, Holiday, shoes, staff, students, Whitman
Loading ...
Trinity University (Texas)

5

Feb 16 /