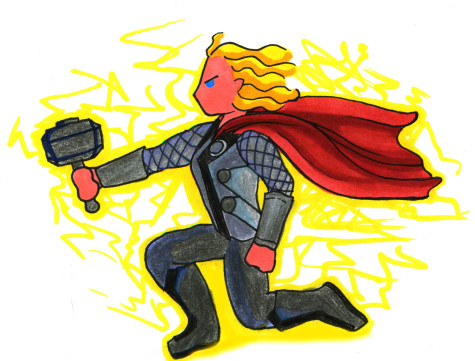 Nathan Fisher

November 14, 2013
Think about the formula for some of the most successful movies in recent history: a little humor, maybe a touch of violence and throw in a superpower or two and I'm sold. Add in Marvel's magic and the whole world will line up to see the movie. This past week I donned my Avengers t-shirt and headed do...
Tags: avengers, chris hemsworth, damsel in distress, Dark, dark world, evil, fend, fight, Fisher, illustration, iron man, Issue 10, Loki, Lya Hernandez, marvel, marvel univers, movie, natalie portman, Nathan, nathan fisher, physics, power, Review, sequel, THoR, tom hiddleson, universe, women
Dana Thompson

October 31, 2012
My skepticism of modern-day Gothic novels has been, if not shattered, at the very least thoroughly roughed up. It's difficult not to play the old geezer card by insisting, "Back in my day, Gothic novels were written by the Brontë sisters! I want my hauntings in the English moors!" Because, let's be...
Loading ...
SPORTS SCORES
Wednesday, September 25

Whitman College 3 - Whitworth 2

Wednesday, September 25

Whitman College 0 - Whitworth 3

Sunday, September 22

Whitman College 5 - Linfield 0

Saturday, February 16

Whitman College 96 - PLU 78

Saturday, February 16

Whitman College 73 - PLU 62

Saturday, February 16

Whitman College 4 - Trinity University (Texas) 5

Saturday, February 16

Whitman College 1 - Boise State University 6

Saturday, October 6

Whitman College 1 - Linfield 3

Saturday, October 6

Whitman College 2 - 1

Sunday, April 16

Whitman College 8 - Pacific University 1

Saturday, April 15

Whitman College 1 - Linfield 4

Saturday, April 15

Whitman College 15 - Linfield 5