Danielle Hirano, Senior, Class of 2019

May 16, 2019
On April 25th, the Whitman Wire received "We Need to Thrive: a Manifesta," collectively written by nine women of color faculty members. In a revolutionary spirit, they voiced their grievances about the "exodus" of women of color faculty members in 2018-2019 and the reasons for their departure. ...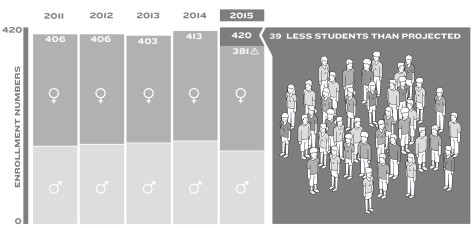 Georgia Lyon

September 17, 2015
Whitman's class of 2019 is smaller than expected because the yield from the main applicant and waitlist pools was lower than anticipated. The group of 364 first-years and 17 transfers fell well short of both the goals and expectations of the Office of Admissions given past trends, resulting in more space in residence halls this year.
Jeremy Alexander

March 12, 2015
The Office of Admission at Whitman College has closed the application period for the 2015-2016 school year. The college experienced a spike in the number of first-year and transfer applications in the last two years. The college is committed to improving diversity and expanding the number of international...