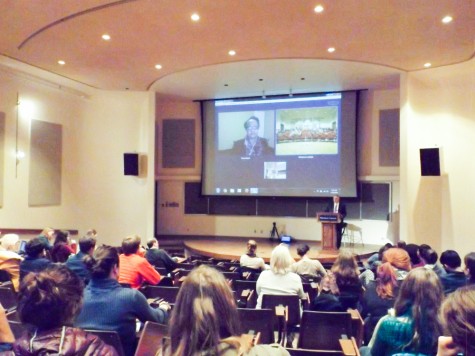 February 4, 2016
Human rights lawyer Brian Concannon visited campus for a course and sessions on human rights advocacy.
Katy Wills, Columnist

February 4, 2016
Brian Concannon is not what I expected him to be. I envisioned the most prominent U.S. lawyer for human rights in Haiti to be big and loud and oozing with self importance. I expected someone who schmoozes–or at least has an obvious ego. That's not Brian. Brian Concannon is quiet, hard to crack, rarely...
Loading ...
SPORTS SCORES
Wednesday, September 25

Women's Soccer

Whitman College 3 - Whitworth 2

Wednesday, September 25

Volleyball

Whitman College 0 - Whitworth 3

Sunday, September 22

Mens Soccer

Whitman College 5 - Linfield 0

Saturday, February 16

Women's Basketball

Whitman College 73 - PLU 62

Saturday, February 16

Women's Tennis

Whitman College 4 - Trinity University (Texas) 5

Saturday, February 16

Men's Tennis

Whitman College 1 - Boise State University 6

Saturday, February 16

Basketball

Whitman College 96 - PLU 78

Saturday, October 6

Volleyball

Whitman College 1 - Linfield 3

Saturday, October 6

Mens Soccer

Whitman College 2 - 1

Sunday, April 16

Men's tennis

Whitman College 8 - Pacific University 1