Hall of Fame Showcases Whitman's Finest
May 4, 2017
In the foyer of Sherwood Athletic Center sits Whitman College's Athletic Hall of Fame. 58 athletes, coaches and supporters from over a 100-year span have plaques in the Hall of Fame, celebrating momentous athletic events, from Olympic time trials to multi-decade coaching careers.
The Hall of Fame was started in 2003, which is surprisingly late. "We have over 100 years of history of athletics at Whitman College and we only started our Hall of Fame less than 15 years ago, which is quite remarkable," Athletic Director Dean Snider said. A new class was inducted every year from 2003-2013, until it was decided to have an induction every other year, so more time could be spent researching nominations.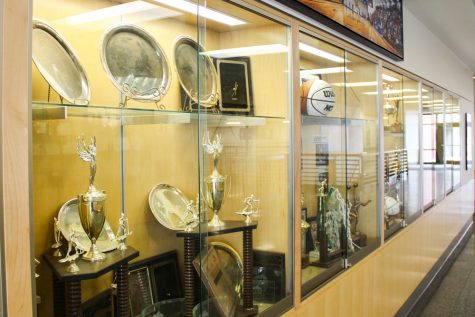 In 2006, the College decided to start hosting a Hall of Fame banquet where the athletes would actually be brought to campus and inducted into the Hall. "Usually we have somewhere between 80-100 people out to those events," Snider said. "This switch was the start of making it really meaningful to the people that we've inducted."
Decisions on Hall of Fame members are made by the Hall of Fame Committee, a select group of alumni and coaches. On any given induction year they are generally looking for 3-5 inductees, and any inductee must have been out of school for 10 years to be eligible.
A closer look at those featured in the Hall of Fame reveals the fascinating athletic accomplishments of Whitman's past athletes.
The first induction class in 2003 started things out on a high note, with five Whitman legends being inducted. This class featured Raymond Borleske, perhaps the most prominent figure in the history of Whitman athletics. Borleske was a member of the Whitman Class of 1910, and dominated in both football and baseball. Borleske was hired in 1915 by President Penrose to coach football, basketball and baseball, and led Whitman to 17 conference champions in a coaching career that spanned more than 3 decades.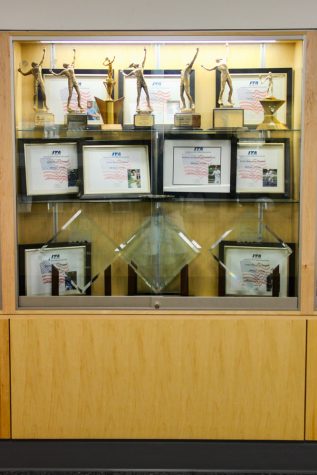 Also inducted in 2003, Charles William "Bill" Martin's sprint times in 1911 earned him the title of "world's fastest human" as he set a world record in the 100-yard dash at 9.6 seconds and tied the world record in the 220-yard event at 21.1 seconds. Though he did not compete in the 1912 Olympics, Martin was the top U.S. qualifier, and two of those whom he beat ended up winning gold.
Another 2003 inductee was Susan Hubbard Sakimoto, class of 1989, who was one of the greatest three-sport athletes Whitman has ever seen, leading Whitman to a conference championship in basketball and a shared conference title in volleyball, as well as competing in the NCAA national championships in track & field.
One of the athletes inducted in the class of 2004 was Lynn Greer McKelvey, class of 1988, who is perhaps the greatest women's tennis player the school has seen. Over 3 seasons, McKelvey held a 87-10 singles record, including a 34-2 senior year campaign. Those only two losses came in the national championship tournaments after she suffered a back injury.
This induction also featured Guttorm Berge, Whitman class of 1953, a world-class skier. Berge earned a bronze medal in the 1952 Winter Olympics, finishing only 1.7 seconds behind the gold-medal winner.
Whitman clearly had skilled skiers in that era, as Dean Lodmell, inducted in 2013, also appeared in the national spotlight. Lodmell finished 7th nationally at the slalom and went on to the 1955 Olympic team trials, where he finished 21st in the giant slalom and 30th in the alpine combined final results.
A new class will be inducted in the spring of 2018, and every two years following that. As Whitman's athletic accomplishments continue to grow, so will the Hall of Fame.