Runners Clash with Administration Over Varsity Track
April 13, 2017
Frustrations have risen among Whitman's top runners as the push to return the track team to varsity status has met strong resistance from administration.
The track program currently functions as a quasi-club sport, competing in various spring meets and invitationals but barred from Conference and Regional competitions by the lack of the varsity label.
It is common for college runners to compete in both cross country and track and field in order to continue training and competing at a high level year round.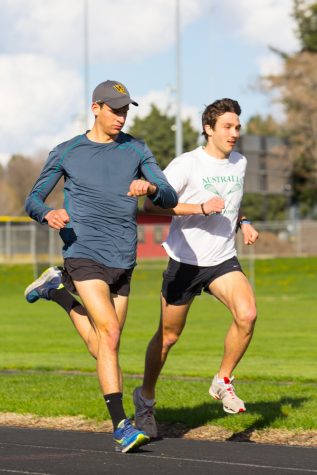 "It's incredibly difficult to be successful in one without the other," Ian Bania said of the two sports. Bania is a former Whitman student and member of the cross country team who transferred to Colgate University, which has Division I cross country and track and field teams, this year.
Being a varsity sport comes with major perks, including direct funding from the school through equipment, coaches and facilities to create a competitive program. The cross country program at Whitman is a varsity sport, but the track and field team is still at the club sport level. According to athletes inside and outside the cross country team, this has limited the program's competitive ability.
The Whitman track team's spring work is considered cross country off-season training by the NCAA, meaning the number of weeks training with head coach Scott Shields and the number of competitions the team can compete in are restricted.
Senior and former cross country captain Allie Donahue cites these limits in her case for a varsity track team. She added, "Simply being recognized as a varsity program would also allow us to compete in the Conference Championships, which in itself adds a higher level of intensity to our training."
The desire of the cross country team to continue pushing for a varsity track and field program is strong, with reason.
"Almost any cross country program in the country also has a track program. Many other students competed in track and field in high school and are looking to compete at Whitman as well. We are the only conference school without a track team and without that part of the competition, our teams aren't seen as a big competitor in the league," first year standout Whitney Rich said.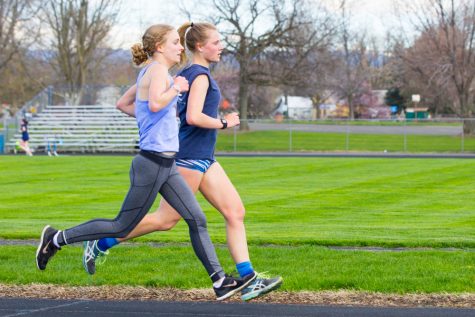 The possible repercussions if the quest to get a track and field program fails are also a concern to the cross country program's future.
"It was a hard decision for me to choose Whitman because I didn't like the idea of not having a track team. It affects our recruiting because many cross country athletes also look for a complementary track program," Rich continued.
Some of the repercussions have already started to affect the team. The lack of a track team factored into Bania's decision to transfer. 
"Personally, the absence of track and the inability to compete consistently influenced my decision to leave Whitman in favor of a school with a fully funded program. Track definitely wasn't the only factor that pushed me to transfer, but all else fixed, had we had a full program, it is very possible I might've stayed at Whitman," Bania concluded.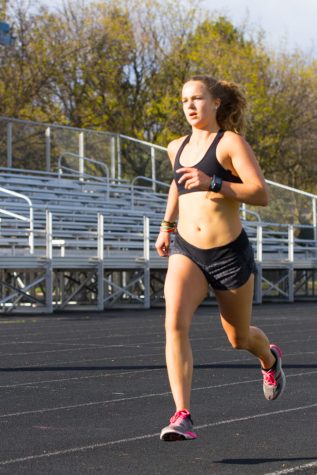 Ever since the varsity track program was nixed 15 years ago, multiple unsuccessful attempts have been made by the cross country program to reinstate varsity status from the Whitman administration.
"About four years ago, there were some efforts made, but there was resistance from the administration, as it was during the transition phase of the president of the college, so we were told we would be heard after the transition," senior runner Charlie Thimesch said.
Another appeal was made by the team this year. In a November email exchange between members of the cross country team and Provost and Dean of Faculty Alzada Tipton, acquired by The Wire, Tipton cited a number of reasons for not offering the team track status: that the number of spring practices allowed the cross country team "is generally equal to the participation in non-traditional season opportunities for volleyball, soccer, baseball and tennis." She also included that the college will work to cover more track expenses so athletes do not pay out of pocket; that the roster is consistently full, so recruiting concerns are not an issue; and that making track a varsity program would lead to calls for hefty investments in a new track facility and additional staff.
"We are not yet fully meeting the budget needs of our current varsity programs, requiring us to raise funds for them each year. We should not start another sport while we are unable to totally fund the sports we have," Tipton concluded.
While members of the cross country team would certainly appreciate the level of support implied by Tipton, their demands are not nearly as heavy.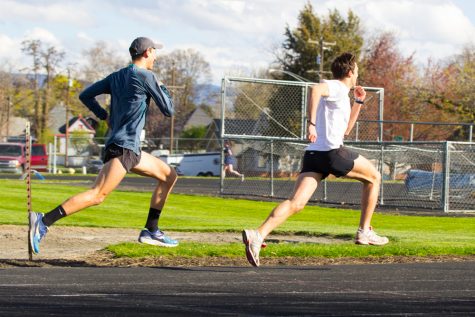 "We are already doing the work and are essentially running a track program but we just want the bare minimum of recognition as a varsity track team. They are saying we can't afford to fund a whole program, but that's not really the case to just support what we are already doing," Donahue said.
"The most frustrating thing is that not only are we not recognized as a varsity sport, but we are a club sport without the benefits (ASWC funding). We are in this weird limbo between a varsity sport and a club sport, but without the benefits of either," Thimesch added.
The Wire contacted Athletic Director Dean Snider for comment on the issue. In addition to expressing his empathy and understanding for the students who want a varsity track program, he wrote that, "We are working to better support our Cross Country students in their non-traditional season but a full track program is not possible for the college at this time."
Some college-rooted funding does appear to have been given to the track team this year to help cover travel expenses, but this still falls short of the varsity status the runners are asking for.
The issue has no clear resolution, but it remains a painful point of contention for these athletes. "There has been a lot of frustration. It has been a bitter pill," Thimesch said. "At this point I just feel like I should give up. It became clear that there would be no change while I was here," concluded Donahue.