Residence Hall Construction: Cleveland Dining Hall Delayed by Local Dispute
March 2, 2017
For the past seven months, Whitman College has been making progress on a new Sophomore residence hall and dining hall; the latter named after outgoing Dean of Students Chuck Cleveland. These new facilities will be located behind Anderson residence hall and are predicted to be completed by the summer of 2018. However, the construction of the new dining hall was delayed after an issue between Whitman College and local community members living in the planned construction zone.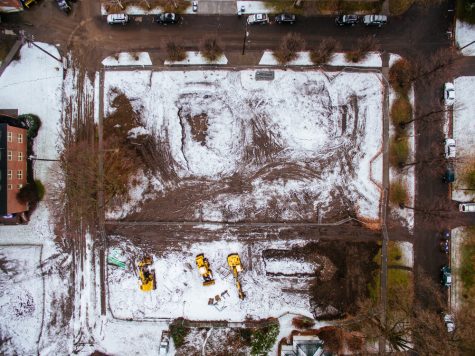 The construction and preparation of the land is already well underway. The College has cleared and fenced the construction zone in preparation, but one owner of a house the school planned to buy and remove has not yet finalized the sale.
Whitman College's Treasurer Peter Harvey largely dismissed the problem. "As you have seen there is still one house sitting there that we haven't removed," he said. 
Harvey continued, "That's a house that the College has an agreement to buy, it was supposed to close in December, but for personal reasons for the seller they weren't able to close in December–we think they are going to close in March. That slows us down a little bit, but we think its getting resolved.
The construction of a new residence hall takes a lot of time, effort and money. "We did focus groups in the summer of 2016," Nancy Tavelli, Associate Dean of Students and Director of Residence Life and Housing said. "Our Director of Institutional Research did a cohort study. The universal message we got was that sophomores were very scattered, they're all over."

                            Photo by Tywen Kelly.

This study led administrators to conclude that Whitman's sophomores needed more collective housing.
"One thing that we noticed was that students talked about how in their first year all their friends lived on their floor," Neal Christopherson, Whitman's Director of Institutional Research said. "If you look at where people live as sophomores, it's much more scattered."
When it comes to living arrangements, freshmen tend to have pretty consolidated housing. However, come sophomore year, many students find that they no longer live in close proximity to their friends and classmates.
"What people would tell us is that they had a hard time finding where their friends were, and they felt more isolated than they had the year before. Or there were people that they saw a lot their first year, but had to make special accommodations to see them the next year," Christopherson continued.
With this new residence hall, sophomores will be able to feel more unified as a class, and Whitman will be taking steps towards better sustainability standards.
"It will be a very sustainable building. Better insulation, better windows and it's going to be LEED (Leadership in Energy and Environmental Design) certified," Tavelli said.
Whitman's Sustainability Coordinator Brandon Bishop said, "It will be substantially more sustainable than our older structures. Building technologies have come a long way."
Clearly this project will benefit the Whitman community–however, there is more than just the Whitman community to think about. The construction of the new residence will undoubtedly affect locals as well.