D.I.Y. Porn
A Whitman student's sex-work
November 9, 2017
One afternoon, during her first months here at Whitman, Kate Lawrence changed into a "cute" outfit, repositioned her computer's webcam in her dorm room in Jewett hall, and went live. For the first half hour, she familiarized herself with the website's interface, giggled, messaged flirtatious interlocutors. Some users told her she looked young, another that she was "the best new face I've seen on here."
Then she started getting requests for private one-on-one sessions. "I gave it a go," she said. "And that was the first time I started taking anything off or doing anything sexual. And I raked in a boat load of cash."
Lawrence, who asked that her real name not be used for this article, has been webcamming on chaturbate.com — "like a mix of chat and masturbate" — on and off ever since. Chaturbate is a lucrative and accessible platform where amateur sex-workers like Lawrence perform live for users, in exchange for tips, often incentivized by specific sexual acts performed upon receipt of said tips. A two hour session can bring in upwards of a hundred dollars. Lawrence, for her part, has made around $2000 through webcamming.
The hustle is not uncommon among college-aged women looking for extra cash. The proliferation of the internet – and pornography with it – has created opportunities for all variety of do-it-yourself sex work.
While Lawrence says that said that she actually finds the work to be empowering, many question how exploiting one's own body for money, often in ways that do not model pleasurable sex, in fact furthers the cause of feminism.
But others who have studied the industry say such independent work can subvert the insidious gender dynamics that mainstream porn enacts and evermore models for contemporary American youth, often well before most have themselves personally experienced the realities of sexual activity.
If porn is going to be America's sex-education, they say, we might as well do it right.
Lawrence got into the world of sex-work at the end of high school, via the panty market on reddit.com. The market exists among a wide array of like-subreddits in which, typically, women offer sexually-natured services for money or notoriety. Lawrence described it thus: you take a picture of yourself "wearing a cute pair of underwear, put it up on there and say, 'For this amount of money, I'll wear it for this many days, masturbate in it this many times, work out in it this many times, etc. etc."
She said add-ons are available, but they cost extra.
Payments, which averaged around $35, were made via Paypal, which she said is a little "sus" because if Paypal were to learn of the nature of the activity, they could shut down the pending transaction. "Legitimate" Reddit forums for this activity require proof that vendors are 18, though Lawrence said this would be extremely easy to overcome with a fake ID.
She learned about the panty market in "the depths of the internet" and thought is sounded easy: "You literally walk around doing your deal." It was also in the depths of the internet that she discovered webcams, and Chaturbate in particular. "I was like, 'You know what, this could be a lucrative business,'" she said, and with the added benefit that she would be making money doing "something that – let's be real – I do everyday anyway."
The structure of Chaturbate, one of innumerable websites with monetizable webcam services, is composed of public and private chatrooms. Viewers message with the performer, who responds verbally, or through messages herself (it tends to be a her). Usernames are color-coded according to the amount of virtual coins users have in their account. Roughly speaking, 100 coins equal $10. The way Lawrence described it, the tone is almost like that of a video game: ten coins, I'll set the vibrator to this level; 20 coins, this level. "I'll only go to this level, if I make this much money," she'll tell her viewers.
Discourse in the chat room is … un-church-like. Initially, Lawrence preferred to stick to messaging for communication, but "you will get a lot more attention if you're verbal, and obviously if you're like – not that they know – faking noises and all that."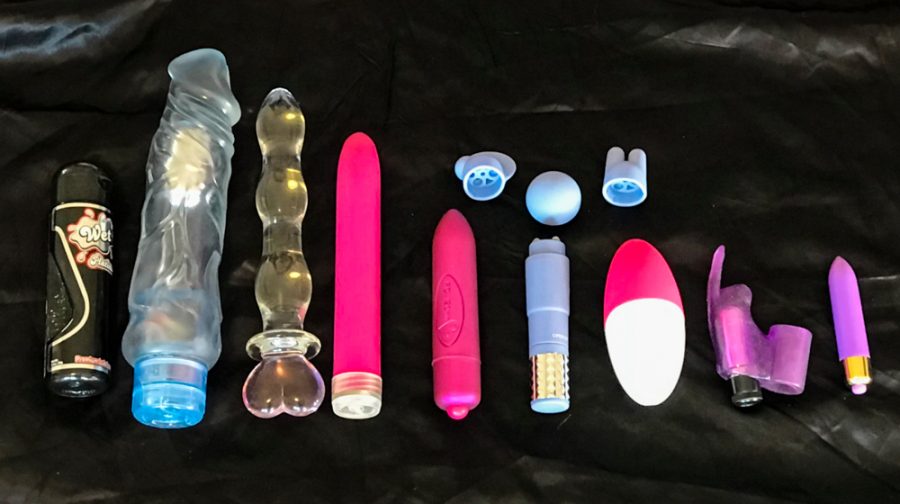 The serious money lies in private chat rooms, which charge an initial flate rate, and a minute-to-minute rate after. "I have a large array of sex toys that I'll just lay out, and I'll be like, 'Okay, tell me what to do.'" And, within limits, the user's wish is her command.
But the user's wish is rarely her true desire.
"A lot of it is guys will want you to do a certain thing – usually guys will be like, 'Pick your biggest dildo and fuck yourself with it as hard as you can.' And that is not what girls like in reality."
—
This disparity between what users want (or think she wants) and what she actually wants has been a recurring theme in Lawrence's work, and personal life.
Lawrence, and those studying the industry say the discrepancy reflects, in-part, the influence of porn's chronically inaccurate depictions of sex. Standard portrayals lack not only basic tenets like consent, but often misrepresent sexual acts themselves, exaggerating how long males last before orgasm, or modelling misleading techniques for bringing a woman to orgasm. Depictions of sexual violence and male-dominance are routine.
In "Growing up with Porn: The Development and Societal Impact of Pornography on Children," Wheelock College sociologist Gail Dines wrote that "online, free pornography is serving as the major form of sex education by which young people are learning about: the content and dynamics of sexual interactions; how gender is mapped onto sexual relationships; what constitutes sexual consent (or lack of); the normalization of gendered violence; and, sexual scripts that shape femininity and masculinity." In 2015, Pornhub.com received over 21 billion visitors, ranking it among the most frequently visited websites on the planet. Studies have shown that half of college-aged men saw their first online pornography before age 13. Studies have also shown that the vast majority of heterosexual porn scenes feature some form of aggression — verbal or physical — against women.
Robert Jensen is a prominent feminist who studies the porn industry at University of Texas-Austin, and has written numerous books and articles on the topic. He said in a phone interview that the porn industry itself has been extremely successful in labelling as prudish those who oppose its unchecked proliferation. He said what was once a lively debate over pornography that cut wide swaths through feminist circles has largely resolved into sex-positivism, which embraces consensual sexual expression. "We lost, flat out," he said of himself and other anti-porn advocates, in reference to the "Sex Wars" of the 1980s.
Brynn Louise, who is co-president of Whitman's Feminists Advocating for Change and Empowerment club and identifies as a "sex-positive feminist," told me that, in a recent discussion on pornography and feminism "people were pretty much on the same page." Sex-positive feminism, Louise said, "requires a different course of action [than doing away with porn altogether], which would be not having men entirely controlling the film-making process of porn, or maybe having actors or actresses on film sets making decisions about what scenes there are and how they do them."
Also here at Whitman, Emily Bauer is writing a thesis largely on how BDSM pornography's appropriation in mainstream porn have warped its nature. Tenets like "after-care," "pre-negotiation," and consent that she said are essential to the practice's true form, have been erased from mainstream depictions.
These problems are not lost on the porn industry. Bauer said Pornhub itself is developing a sex education curriculum, and there is a growing movement behind feminist pornography, directed by women, but this tends to be featured on sites with a paywall.
Lawrence's place among these debates is ambiguous. She said her work "definitely does show what at least these guys want to see. And a lot of it is not what I would choose to ever do. I definitely think that a lot of porn can be a really detrimental force to how people view sex." She first stumbled upon porn at age 11. "And I definitely had preconceived notions too of, 'Oh this is what I should enjoy, this is what a guy would do.' If I could go back and speak to my younger self about that, I would brush all of that away. None of that was true."
The discrepancy plays out in the real-world as well. When Lawrence has hooked up with other women, it's clear they are "on the same page," but she said males' sense of what women enjoy is often misguided. She said she knows women who accept this dynamic, who tell her they have faked every orgasm they have ever had.
"I'm very not about that," Lawrence said. "If a guy asks, 'What do you like?' I'll say exactly what it is, and if a guy is doing something I don't like – which very much will be things that I've seen perpetuated throughout porn – I have no qualms about setting someone straight."
She said her most pleasurable moments in camming – which is typically not nearly as pleasant as she makes it look to viewers – have been when users ask what she likes. "And I'll be truthful," she said.
"And those have been the times when I've actually enjoyed it. And there are people that definitely have been interested in that, and enjoy more seeing me have fun than me doing whatever they originally wanted."
But this is not the norm. Profits come when the viewer thinks they are the director. Profit comes when she acts the part that she believes her viewers want to see, which often entails playing into popular sexual fantasies. "I definitely had the whole 'in my Jewett dorm clearly in a college scenario' thing going for me," she said. She would play into compliments. Someone says she is cute over chat, and she'll giggle, say "Oh my god, thank you" in a high pitched voice, act coy: "The whole clueless schoolgirl bullshit."
—
The motives of viewers are not always overtly sexual. Some performers are asked to place their feet in front of the camera. Lawrence told me, "There are alleys you can go down where people will pay to watch you eat." She has been told she reminds users of their girlfriends, or someone who broke their heart. They'll "talk about their mommy issues, and crap like that," she said. "You definitely get to know some weird deeper level things about people."
One person went into a private room with her only to "fabricate a conversation." He didn't ask her to do anything but talk to him and laugh at what he said.
She set up an alternate gmail account for recurring users, who could set their Chaturbate accounts to receive an email whenever Lawrence was live. She ended up deleting her gmail account after one user – a girl who was also a cammer on the website – incessantly emailed her, asking when she was going to next be on, telling her about the coins she had bought to spend on her. "And then she wouldn't actually have any money," Lawrence said.
"I don't think these would ever be people that I would actually want to converse or interact with in real life," Lawrence said. "I think it's definitely a type of person who is craving some type of emotional intimacy … with another person, because it's much different from just watching porn. You are able to actually talk to the other person, and direct them and have them act like they're into you."
"It's definitely kind of manipulative," she continued, in reference to her acting. "You can definitely put on a face, acting like you care about this person and you want to be there listening to their problems, or doing what they want you to do, when in reality you're literally just here for the money. And I think playing off of people's kinks, peoples insecurities, people's wants and needs, is a huge part of it. It is definitely a way to up your income. I can see how someone would feel kind of fucked up doing that. But it's never really bothered me."
—
Bauer, who took classes on sex work when she was studying-abroad, said that in the context of sex-work, sexual activity is a job first. Pleasure can be authentic, but ultimately Bauer said the work is a "performance, because it's for someone else. It's not for you. But that could happen with any job in our system."
"If you're working 9-to-5 in a retail job for minimum wage, why wouldn't you choose to work in the windows of Amsterdam where you get to set your own hours and choose who your clients are?" Bauer asked. "If you have that option and that's something you enjoy, I don't think that should be any issue."
Lawrence is open about her work with her friends, and said she doesn't worry about judgement. But in light of her career ambitions, and other future aspirations, the concern of being publicly identified lingers. When she began in the panty business on Reddit, she said she took pains to hide her face or other identity-markers. Eventually though, especially once she began doing webcams where such logistics are more complicated and viewers prefer to see your face anyway, she gave up, "figured there's no way I can hide all this."
Mira Skladany, '19, who interned this summer at a law firm specializing in defending victims of non-consensual pornography, told me that there are sub-communities on the internet that dedicate themselves to publicly identifying anonymous performers online. Non-consensual pornography, a problem that Skladany said is particularly acute in the world of academia, has become a pervasive crime in modern society.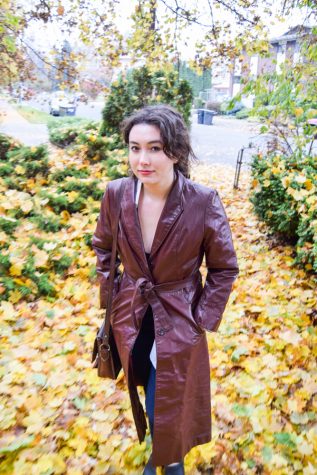 Technically on Chaturbate, users can only record videos in 'private rooms,' and can only access those videos though their accounts on the website itself. But Lawrence said screen capture technology could subvert such checks, and she knows girls who have been recorded and put on porn websites for all the world to see. "Their content that they made for money is basically being given out for free."
Sometimes, financial concerns trump personal concerns.
Skladany said high-profile non-consensual porn cases, like that between Blac Chyna and Robert Kardashian, in which Chyna's lawyers cited loss of revenue among their legal claims after he publicly shared her naked pictures, illustrate economic considerations in regards to a woman's ownership of her own body. Skladany said stars like Blac Chyna sharing their image on their own volition is a case of woman being "in control of the way in which their images have market value. Often times we don't have women who are the producers of porn," said Skladany, "and we don't have women who own their own images and are making profits off of them. Typically it is men who are doing that."
Lawrence said that her sex work has been empowering, not just in terms of the attention she receives, but because it places the agency firmly in her court. She said the fact that she "can choose to draw the line there is a big deal … Especially as a previous sexual assault victim, it's a very empowering thing to be like, 'Yeah, no I'm not gonna do that.'"
"When it comes down to the root of it," she continued, "I have never felt like I'm not one hundred percent in charge. And I think that the minute when I would feel like I'm not in charge is the minute when I would draw the line."