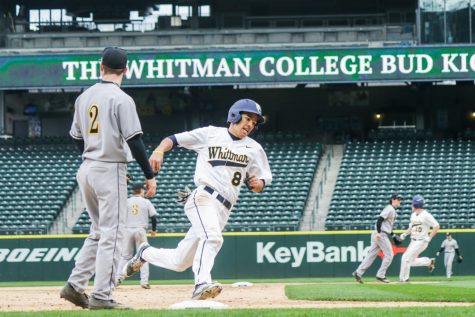 Mitchell Smith, Editor in Chief
March 9, 2017
Filed under Front Page Slideshow, SPORTS
The pitcher's mound at Safeco Field in Seattle contains a six inch by two feet slab of white rubber placed exactly 60 feet, six inches from home plate. In the 18 years of Safeco's existence as the home of MLB's Seattle Mariners, that rubber has hosted four no-hitters, two perfect games and coun...
POLLS
Loading ...
SPORTS SCORES
Sunday, April 16

Men's tennis

Whitman College 8 - Pacific University 1

Saturday, April 15

Baseball

Whitman College 2 - Linfield 7

Saturday, April 15

Baseball

Whitman College 1 - Linfield 4

Saturday, April 15

Women's lacrosse

Whitman College 15 - Linfield 5

Saturday, April 15

Men's tennis

Whitman College 9 - George Fox University 0

Friday, April 14

Baseball

Whitman College 3 - Linfield 12

Friday, April 14

Women's lacrosse

Whitman College 16 - University of Puget Sound 5

Sunday, April 9

Women's tennis

Whitman College 8 - Pacific Lutheran University 1

Saturday, April 8

Women's tennis

Whitman College 9 - University of Puget Sound 0

Monday, March 27

Baseball

Whitman College 3 - No. 18 Pacific Lutheran University 10