Rohan Press, A&E Reporter

December 12, 2019
For senior Miranda LaFond, dramaturge (i.e. literary advisor) for "Ripe Frenzy" — a play by Jennifer Barclay telling the story of a high school shooting in a small town in upstate New York — the violence of school shootings complicates our individuated understanding of "perpetrator" and encourages...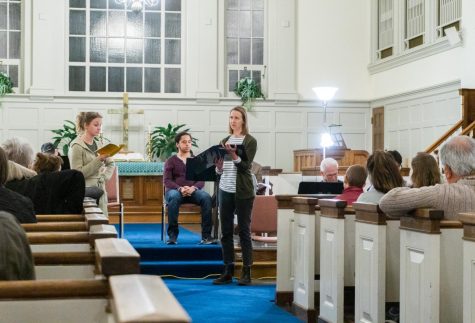 Kaitlin Cho, A&E Reporter

November 7, 2019
On Friday, Nov. 1, a mix of Whitman faculty, First Congregational Church members and Whitman and Walla Walla High School students stood before rows of pews at the First Congregational Church and performed Thornton Wilder's "Our Town," one of America's most produced plays, in a simple cold read. ...
Loading ...
SPORTS SCORES
Wednesday, September 25

Whitman College 3 - Whitworth 2

Wednesday, September 25

Whitman College 0 - Whitworth 3

Sunday, September 22

Whitman College 5 - Linfield 0

Saturday, February 16

Whitman College 96 - PLU 78

Saturday, February 16

Whitman College 73 - PLU 62

Saturday, February 16

Whitman College 4 - Trinity University (Texas) 5

Saturday, February 16

Whitman College 1 - Boise State University 6

Saturday, October 6

Whitman College 1 - Linfield 3

Saturday, October 6

Whitman College 2 - 1

Sunday, April 16

Whitman College 8 - Pacific University 1

Saturday, April 15

Whitman College 1 - Linfield 4

Saturday, April 15

Whitman College 15 - Linfield 5