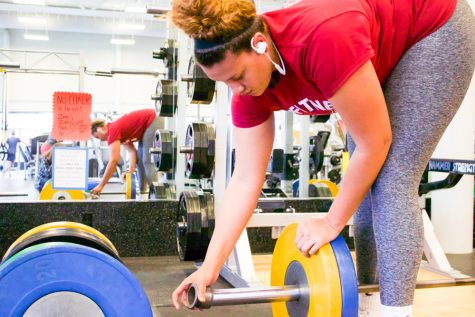 Gaby Thomas, Staff Reporter
April 6, 2017
Filed under Front Page Slideshow, SPORTS
On any given day, the Baker Ferguson Fitness Center teems with students, faculty and alumni looking to squeeze in a quick run on the treadmill, train for a varsity sport, crank out an abdominal workout or just tone up some bicep muscles with the dumbbells. Over by the squat racks, however, is a diff...
POLLS
Loading ...
SPORTS SCORES
Sunday, April 16

Men's tennis

Whitman College 8 - Pacific University 1

Saturday, April 15

Baseball

Whitman College 2 - Linfield 7

Saturday, April 15

Baseball

Whitman College 1 - Linfield 4

Saturday, April 15

Women's lacrosse

Whitman College 15 - Linfield 5

Saturday, April 15

Men's tennis

Whitman College 9 - George Fox University 0

Friday, April 14

Baseball

Whitman College 3 - Linfield 12

Friday, April 14

Women's lacrosse

Whitman College 16 - University of Puget Sound 5

Sunday, April 9

Women's tennis

Whitman College 8 - Pacific Lutheran University 1

Saturday, April 8

Women's tennis

Whitman College 9 - University of Puget Sound 0

Monday, March 27

Baseball

Whitman College 3 - No. 18 Pacific Lutheran University 10