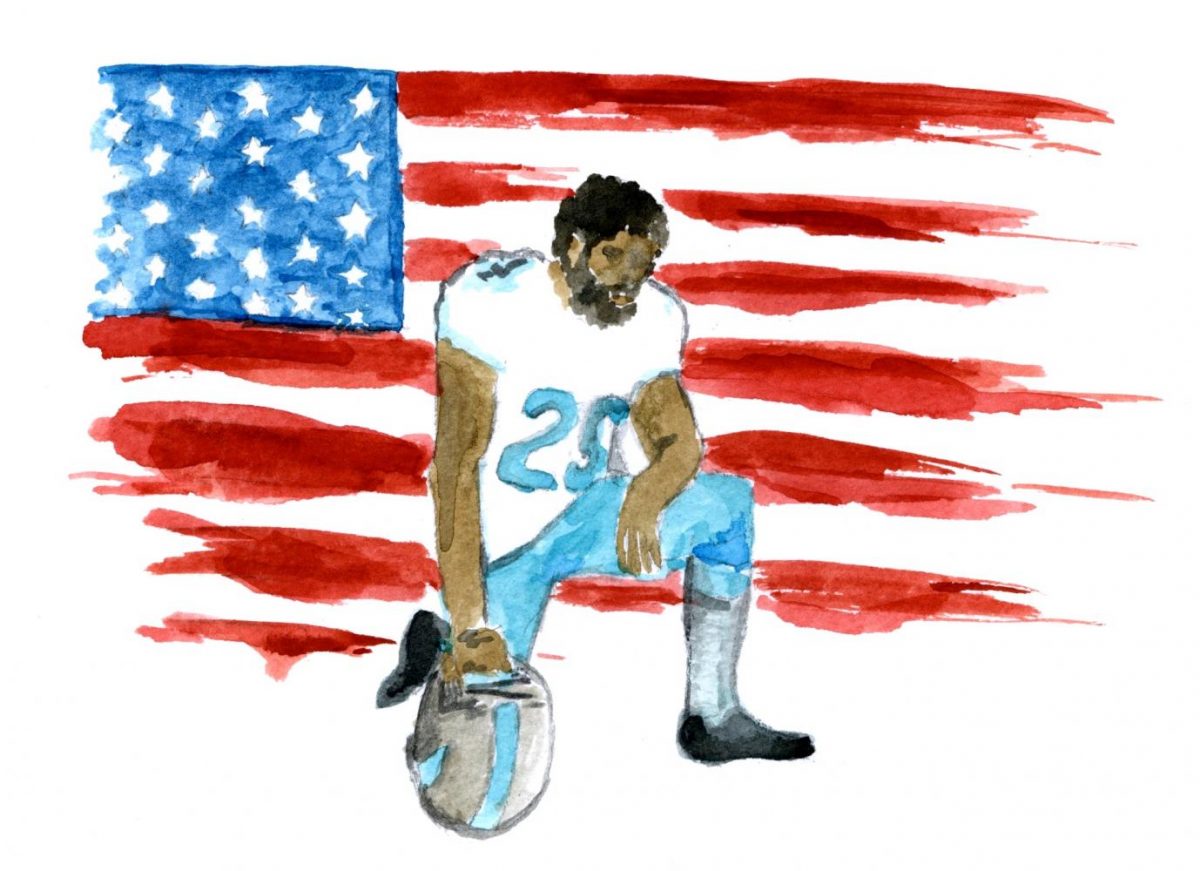 The world is fed up, and the sports world is catching up. Donald Trump's repeated message of racial intolerance is infuriating a large portion of the population, and athletes are using their public platform to take a stand.
The protests began last season, when then San Francisco 49ers quarterback, Colin Kaepernick decided he was going to kneel during national anthems. He received tremendous backlash, but also successfully brought attention to the ongoing racial inequality and police brutality debates.
"I am not going to stand up to show pride in a flag for a country that oppresses black people and people of color," Kaepernick said.
Inspired by Kaepernick and wanting to use her own platform for change, Cherokee Washington, a senior volleyball player here at Whitman, began kneeling during the national anthem at her own games.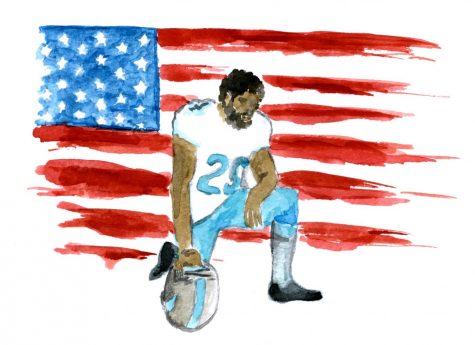 "I definitely slept on whether or not I should kneel, but in the end it just seemed like the right thing to do especially at a school like Whitman where we're taught to use our voices to change the world," Washington said.
Although a few more players began quietly sitting or kneeling on the sideline during the anthem this season, for the most part it seemed the sports world's protests of Donald Trump had settled down. That was until a couple of weeks ago, when the NBA Champion Golden State Warriors' point guard Stephen Curry told reporters he would not be attending the White House as is custom for champions in all major professional sports.
"We don't stand for basically what our President has — the things that he's said and the things that he hasn't said in the right times … by acting and not going, hopefully that will inspire some change when it comes to what we tolerate in this country," Curry said.
Donald Trump responded the only way he knows how: through a petty tweet.
"Going to the White House is considered a great honor for a championship team. Stephen Curry is hesitating, therefore invitation is withdrawn!" Trump wrote.
The most recent explosion of controversy came around the same days as the Curry incident, as a response to Trump's words at a rally in Alabama. During the speech, he commented on the NFL players protesting the anthem.
"Wouldn't you love to see one of these NFL owners, when somebody disrespects our flag, you'd say 'get that son of a bitch off the field right now. Out. He's fired,'" Trump said.
Week three of the NFL season was a tipping point in what has become an ongoing battle since before Trump was even elected. That same weekend, the first MLB player peacefully protested during the national anthem. Bruce Maxwell of the Oakland Athletics knelt in a series against the Houston Astros, and in his first plate appearance following, he received a standing ovation from the Oakland fans.
The NFL responded even more enthusiastically, as every team had some form of protest during the anthem. Many players knelt, other locked arms along the sideline, including Jacksonville Jaguars' owner Shahid Khan, a Trump inauguration committee donor, who stood arm in arm with his players. The Pittsburgh Steelers, Seattle Seahawks and Tennessee Titans did not even step on the field for the anthem, choosing to remain in the locker room until kickoff.
New York Giants wide receiver Odell Beckham Jr. is known for his highlight reel catches and touchdown celebrations, and he saved his best celebrations for the two touchdowns he scored that same day. After his first, he raised his fist in the air, a clear callback to Tommie Smith and John Carlos, two track athletes who raised their fists during their podium ceremony at the 1968 Olympics. His second celebration was a direct response to Trump's "son of a bitch" comments, as he got on all fours and lifted his leg like a peeing dog.
There is still a lot of work to do, but athletes using their public influence to stand up for those who Trump continues to oppress helps spark the national debate.
"All Kaepernick wanted to do was start a conversation through a simple action, and that's exactly what he's done," Washington said.
Let us all continue that conversation.