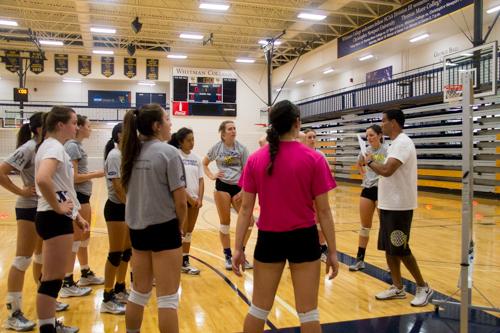 There are times during a volleyball match when perseverance takes precedence over talent, when grit defeats strength and when young can overcome old. For a Whitman volleyball team that regularly features three inexperienced first-years, the hope is that these times will come more often than not.
The team makes its intentions clear from the motto written on the back of their team shirts: "relentless pursuit."
"We really try to show that just by never letting a ball drop, and we've done that very well," said senior Captain Franny Gardner.
So far the results have been a mixed bag. After splitting the four games in their preseason home tournament, the Whit Classic, the team travelled to Boston for the UMASS Boston Invitational. There they played an unfamiliar group of teams and finished with a 1-3 record.
Now conference play has taken center stage, and the Missionaries have shifted their focus to teams from around the Northwest. They split their first weekend of play, beating UPS and falling to PLU, both in straight sets. The focus so far, according to Head Women's Volleyball Coach Matt Helm, has been on the process.
"We're trying to not look at the end result, but the things we do on a day in and day out basis," said Helm. "If we trust those things and take it one step at a time, the result will be great."
Sophomore Shae Kanakaole echoed this sentiment.
"We want to take every game one step at a time and focus not so much on where we end up at the end of the season," said Kanakaole.
This ability to focus on the present has been vitally important to the team, especially in their long preseason. After spending three weeks on campus before school started, the team's trip to Boston helped them bond both on and off the court.
"In Boston the level of competition was great. We were able to compete well against some very good teams," said Helm. "We know we can compete, if we can get to that consistency, then we'll be something good."
Even though the team's record on the trip (1-3) was less-than-perfect, Gardner also pointed to the importance of this preseason.
"We spent so much time together that we really got to know each other and our playing styles," said Gardner.
The preseason also serves as an important adjustment period for the first-years, which is especially important for this team that features three first-year starters: Jordan Ng, Anna Dawson and Kaileah Akker. The level of play in college is much higher than high school, and how quickly the first-years adjust will ultimately determine the success of this year.
"Those [early games] are huge for [the first-years]. It's such a different level of play and a different attitude about it. It's more of a job than it is in high school," said Gardner. "They've been awesome, though."
Regardless of the result of this season, the young talent on this team provides those on the volleyball court with high hopes for the future.
"I think anything's possible," said Kanakaole.