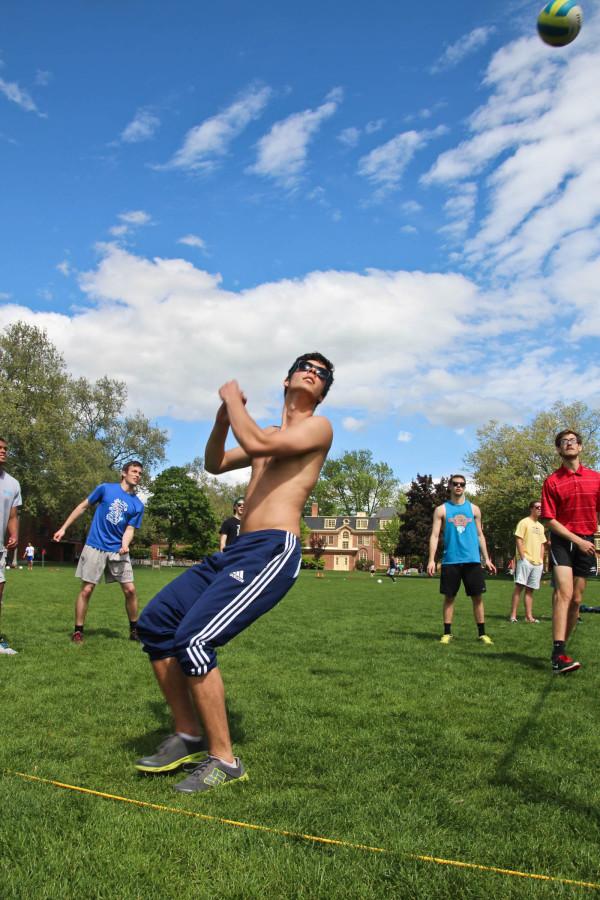 Participants of this year's Greekend events likely noticed one major difference from the festivities of years past––the sport played by the men's and women's fraternities changed from the traditional flag football to volleyball.
Both the Panhellenic Council and the Interfraternity Council made the switch. It was not an easy decision, according to IFC President junior Marshall Thomas, due to the variety of factors to consider.
"The number one reason was last year's turnout for football, which was abysmal. Nobody showed up," said Thomas.
This year's intramural flag football rules included a number of changes aimed at protecting the health of players. Because the Greekend sport would have to adhere to IM rules, Thomas pointed toward the low IM turnout for flag football as an indicator that even fewer people would play than last year.
"All the fraternities were very against the IM rules, but one in particular was vehemently against them," said Thomas, who declined to name the fraternity in question. "We felt they weren't going to show up if we did football."
Another factor to consider was that this year the planners of Greekend wanted to focus more on developing relationships between men's and women's fraternities. Thomas pointed to the more inclusive nature of volleyball as an important one in the decision to make the change.
"Logistically, nobody wanted to do a men's football team against a women's football team. With volleyball, that is something that could happen, so this year we had the coed game, which ideally would build some more bonding between the [men's and women's] fraternities," said Thomas.
While these reasons seem straightforward, the actual volleyball event included inconsistent participation and mixed reviews. Six of the eight Greek organizations on campus fielded teams and played on Saturday, but Sunday featured much less enthusiasm.
Only teams from Alphi Phi and Delta Gamma played on Sunday, while no fraternities came to play the men's championship. The coed game, one of the reasons for the switch to volleyball, was not played because nobody came. Despite the inconsistencies, some participants in Sunday's women's final felt that volleyball was a good change.
"I was glad that it was volleyball because we, [Delta Gamma,] did really well and won. I definitely feel like it was more enjoyable for me," said first-year Valentina Lopez-Cortes.
Lopez-Cortes pointed out that from her women's fraternity, there were likely more women playing volleyball than would have played football. In total, she estimated that around 30 members of DG came out on Saturday and Sunday.
Not everyone liked the change, though, as evidenced by the lack of interest in playing the men's final and several disgruntled fraternity members. Senior Sugarsuren Byambasuren played flag football during Greekend for his first three years, and wished it had not been taken away.
"[Football] is a lot more competitive I think," said Byambasuren. "I very much enjoy [football] because it brings a lot more people who are willing to play Greekend football than IM football just because you're representing your house during Greekend."
Byambasuren also brought up another reason for the change. The potential for a significant injury is much higher in football than it is in volleyball. This issue could be minimized though, according to Byambasuren.
"When we come out to play football, I think we realize the fact that we can be injured and hurt seriously. We can still play with the idea to not go too hard and not try to hurt anybody," said Byambasuren.
Whether volleyball will be the sport for Greekend 2015 next year remains doubtful. Whether or not a switch is made, according to Thomas, depends on how motivated people are to voice their opinions. If the immediate reaction to volleyball holds true, next year's sport will be difficult to select.