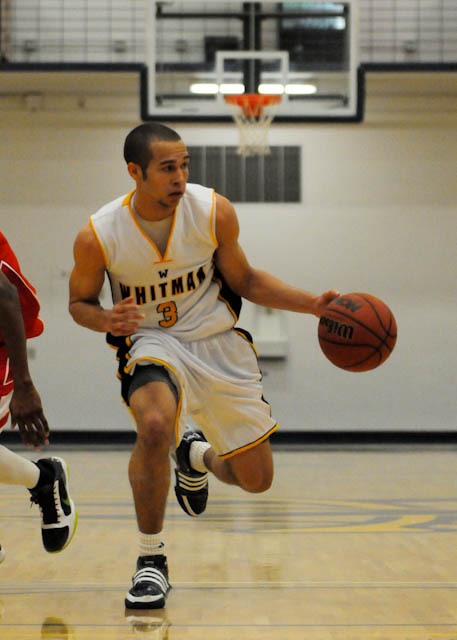 The last time the Missionaries' men's basketball team finished with a winning record, it was 1998; Michael Jordan was still playing for the Bulls, Bill Clinton was fighting off impeachment and Barack Obama had just been elected to the Illinois State Senate. Needless to say, it has been a while. However, 2009-2010 brings new hope for Whitman basketball.
Whitman's transformation began in the summer of 2008 with the arrival of Head Coach Eric Bridgeland from NCAA Division I school Pepperdine University. Bridgeland brings big school experience as well as local knowledge. He coached Whitman's Northwest Conference rival University of Puget Sound to three consecutive conference titles from 2004 to 2006, taking the Loggers all the way to the Division III Sweet 16 in each of those seasons.
After taking over for Skip Molitor, who now serves as Assistant Athletic Director, in June 2008, Bridgeland went about revamping the Whitman basketball program both internally and externally.
In his second season at the helm, Bridgeland has attracted an impressive combination of players.
"[This is] the best [recruiting] class I've been associated with in my eight years at the Division III level," wrote Bridgeland in a June 4th news release.
Last spring Bridgeland and his staff signed seven new talented "impact players," including five first-years and two transfers, many of whom will immediately take on active rolls on a Missionary team, which will feature nine underclassmen on their roster this season.
On paper it appears that the young Missionary team might be lacking leadership but sophomore point guard Brandon Shaw is excited for the challenge.
"Being on a young team is great; it means we have a lot of room to grow. With our [new] philosophy, we don't have captains, so everyone leads in their own way which makes us a more confident team. All 14 guys are equally important in what we are trying to do," said Shaw.
Whitman's talented underclassmen stole the show last Saturday, Nov. 7, in the newly-renovated Sherwood Center as the Missionaries closed their preseason play with a 120-100 victory over the visiting Northwest Elite All-Stars, a semi-pro team made up of former college players from all NCAA divisions. The Missionaries were led by Shaw, who led all scorers with 29 points, and first-year wing Peter Clark who finished with 27 points, hitting eight out of ten from three-point range.
Shaw, who led Whitman in free throw attempts last year, thrives in Bridgeland's fast-paced dribble drive offense. His quickness enables him to penetrate the paint, drawing fouls and double teams which lead to trips to the stripe and open looks for sharpshooters like Clark on the perimeter.
Throughout the season Shaw will share the creator role with senior Jordan Wheeler and first-year LuQuam Thompson.
Wheeler noted the different strategy that Bridgeland has brought to Walla Walla.
"Both our offense and our defense are a lot different [than they were under Molitor]; we are really working the dribble drive and press most of the game; basically we try to keep attacking the other team on both ends of the court," he said.
On Saturday the Missionaries were able to keep a frenetic pass throughout most of the game, tiring out their older opponents by pressing often and always pushing the ball up the court on offense.
Offensively, Whitman's pace of play proved to be a huge advantage against the older, slower All-Stars. However, the press may prove to be a liability in conference play as the All-Stars were able to break it easily with long passes, which led to early foul trouble: the All-Stars were in the bonus five minutes into the first half ­: and easy baskets.
The press worked most effectively when first-year Drew Raher was in the game; his incessant hustle made everyone else on the floor look like they were moving in slow motion.
After the game Bridgeland lauded Raher's efforts.
"A lot of coaches talk about guys playing hard. But, in my eight years as a head coach I have never seen anyone play as hard as [Raher]; hustle is [his] skill," he said.
Throughout the game Raher was very clearly the catalyst for the defense. He created four turnovers which led to points for Whitman. He will be fun to watch this year as he has the ability to change games with hustle and heart.
Whitman also ran into trouble in the paint where the larger and more physical All-Stars blocked a plethora of Missionary shots.
Bridgeland acknowledges his team is "built for speed, not size." A result Whitman may run into trouble against bigger opponents as they don't have any traditional back-to-the-basket post players on their roster. However, Bridgeland plans to take a page from Rick Pitino's playbook and combat size with full court pressure on defense, hoping to force larger, clumsier opponents into bad passes and turnovers.
Whitman will be put to the test next week as they open their regular season on the road in Cheney, Wash. against the NCAA Division I Eastern Washington Eagles.