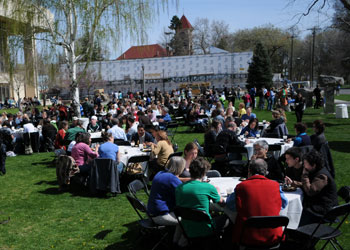 As spring temperatures approached 80 degrees, hundred of admitted students and their family members flocked to campus for Admitted Students' Day on Saturday, April 18.
The annual event, featuring tours, sample classes and information on programs such as study abroad, provided an opportunity for many high school seniors to get a better feel for Whitman.
"Getting to meet the faculty was pretty amazing," said Laignee Barron of Ojai, California.   "I talked to two of the professors here; they were really approachable."'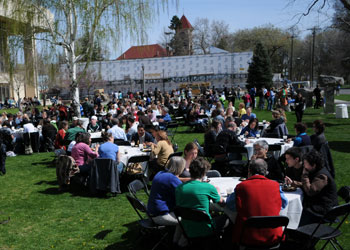 Seeing the campus was also helpful for students such as Robert Logan of New Orleans.
"One of the biggest things is just visiting the campus itself, because I've never even been up to the northwest," he said. "Not only is the area beautiful, but the campus itself is amazing.   I love it."
This year's Admitted Students' Day featured a more interactive approach than in previous years, based on feedback from last year.
"Even though these students are connected electronically through the [class of 2013] Facebook group, this [doesn't] translate to a smooth meeting and greeting of students when they [come] to campus," said Associate Dean of Students Barbara Maxwell.
With that in mind, this year's Admitted Students' Day featured a 'Get Whittie' segment aimed at getting admitted students to interact with each other. Parents were directed away from their students for this time, allowing prospective students to get to know one another in a more independent environment. Options for the segment included a game of ultimate frisbee, a trip to the organic garden and watching Whitman's varsity baseball game versus Pacific Lutheran.  
"These are real Whitman things that real Whitman students do," said Maxwell.
Megan Horowitz of San Diego favored the more interactive schedule.
"It's been really neat to talk to everybody and see what people's majors are going to be, just meet people with the same interests," she said as she was weeding in the organic garden. "People with the same interests tended to find the same lectures or classes or activities."
Although she hasn't made her mind up yet, Horowitz believes that attending Admitted Students' Day will help her reach her final decision.
"I really, really like Whitman a lot," she said.   "It seems to be a good fit for me."
There were also students who used the day to confirm that they wanted to go elsewhere.
"I think I'm actually leaning towards Reed College," said Kaslin Daniels of Vancouver, Washington. "I visited there last week [and] honestly, I think I just had a lot more fun there.   I felt like I really connected more with the students there."
Daniels wished she would have had the opportunity to see a regular Whitman class or stay in the dorms to get to know the campus better, neither of which was feasible on Admitted Students' Day due to the number of students in attendance.
While students like Daniels have found that they'd be happiest elsewhere, Admitted Students' Day helped others decide that they would prefer to be at Whitman.
"I think it's just solidified my choice," said Kiran Aujla of Everett, Washington, who had been considering Seattle University and the University of Washington.   "I think I'm pretty certain on this school now."
"Me, too," chimed in her friend, Lucia Osei-Shearman. "I wasn't expecting it to be like this, but it's really pretty and everything's great.   I'm definitely coming here."
In the coming weeks, the Admissions Office will find out which students will be joining Aujla and Osei-Shearman to form the class of 2013.   Admitted students have until May 1 to decide whether to accept their offer of admission at Whitman.