President Trump's Executive Order to Protect Free Speech on College Campuses
President Trump signed an executive order last month protecting free speech on college campuses by threatening their federal aid unless they show that their policies support free expression, sparking questions over who — administrations or students — is curbing free speech, and who is responsible for protecting it.
The president announced the order during his speech at the Conservative Political Action Committee (CPAC), prompting the loudest cheer of the night from conservatives who feel campuses are increasingly hostile against conservative and controversial voices.
More specifically, the Executive Order might curb federal money for research and other grants, but does not threaten operational funding or financial aid for student tuition. The order also promotes more transparency in colleges' grievance policies and in the student loan and tuition payment process.
How the administration would enforce the ideas in the six-page order is still unclear.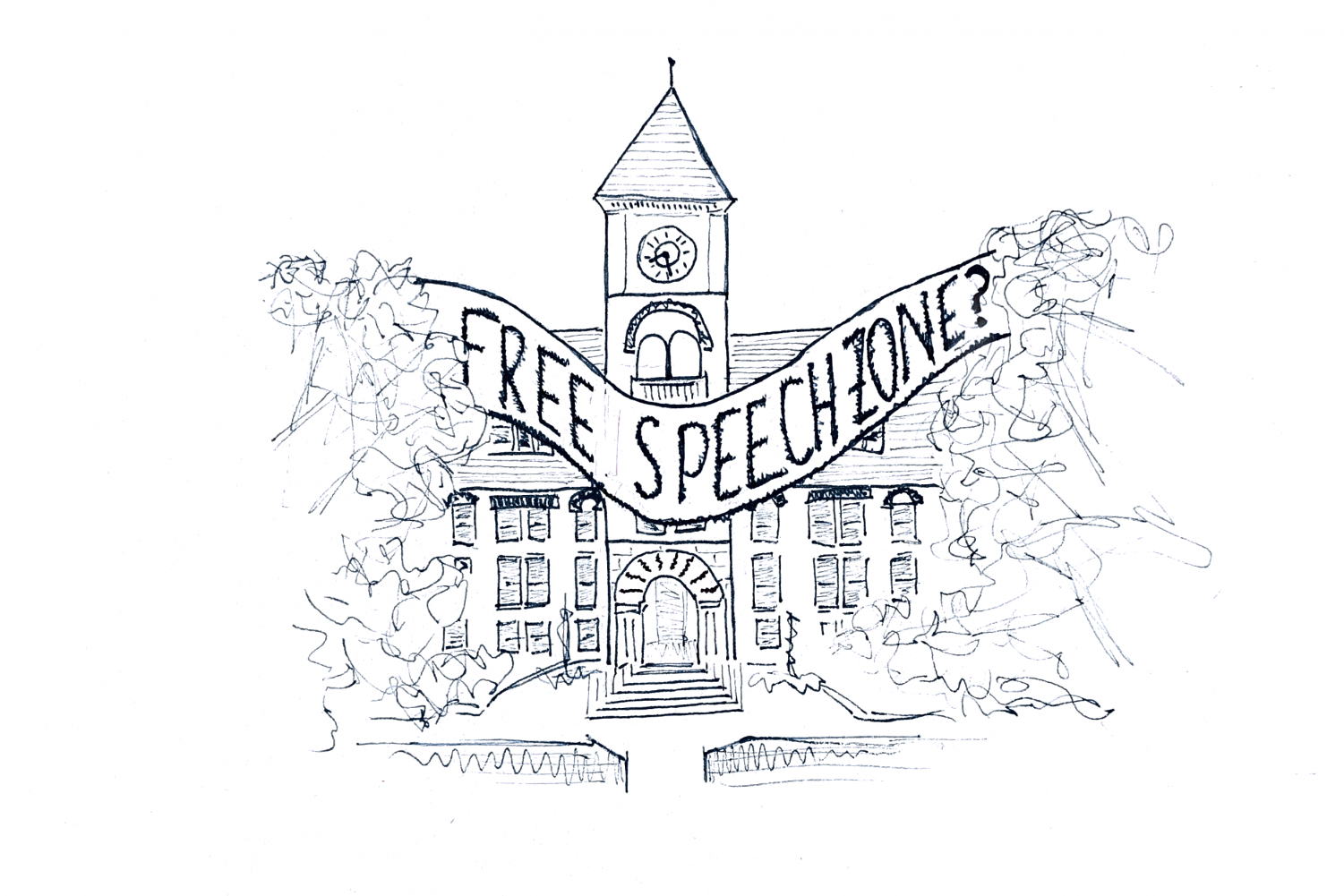 The Foundation for Individual Rights (FIRE), a nonpartisan organization that promotes free speech on campuses, issued a statement on the order's ambiguity: "We note that the order does not specify how or by what standard federal agencies will ensure compliance, the order's most consequential component."
However the executive order is enforced, it will have an uneven impact on colleges across the country. Public universities, who are federally funded and often research-focused, will face heavier consequences for violating the 1st Amendment they — as a public institution — are legally required to respect.
Private colleges like Whitman, who have no such requirement, will instead need to prove they are following their own free-speech policies to receive federal grants.
In an email to The Wire, Provost of Whitman Faculty Alzada Tipton said, "we are currently taking a closer look at those policies to be sure we fully understand our obligations under the new executive order as we await more about implementation."
On paper, Whitman is clearly committed to protecting and promoting free inquiry, as stated in Whitman's Grievance Policy:
"It is not the proper role of the College to attempt to shield individuals from ideas and opinions that they find unwelcome, disagreeable or even deeply offensive. The College neither censors nor censures speech simply because it is offensive or uncomfortable."
But these words contrast the widely-held view that this campus is generally inhospitable to conservative opinions, favoring more progressive and agreeable views. Kevin Faeustle and Emma Philbrook, member and president of College Republicans respectively, belong to this school of thought.
"I feel like there's a big bias against conservative opinions," said Faeustle, who identifies as more of a libertarian than a conservative. "And regardless of what teachers say, if someone hears a conservative opinion they'll kind of shut off hearing anything else."
Philbrook agrees, and keeps her "mouth shut a lot of the time" in class after seeing students verbally punished by their peers for offering contentious opinions or even misunderstandings.
Although the president's executive order pins school administrations as the antagonists of free speech on campuses, Philbook believes the Whitman Administration has encouraged challenging talk and enforced their policies fairly.
"Whitman's administration has actually been great with this," Philbrook said. She later praised the administration for offering to help bring Representative Cathy McMorris Rodgers — the Republican opponent to Democrat Lisa Brown — to campus for a town hall (Rep. McMorris Rodgers declined the offer). And after an infamous incident where a professor did nothing to stop students from chastening a peer in a rhetoric class, Philbrook believes the entire department "has taken measures to avoid doing that again."
Instead of the institutionalized top-down censorship that President Trump's executive order imagines, Philbrook (and Faeustle) believe "it's more of a cultural thing" on campus, referencing Whitman's progressive student body and culture.
If is true that students themselves are regulating speech, not so much the administration, does the administration then have a heavier responsibility to encourage the free inquiry some students seek to prevent?
As a recent example, the Power and Privilege committee rejected College Republicans' request to lead a session at this year's symposium, "Attacking Apathy." After well-received sessions at former Power and Privilege Symposiums, College Republicans President Philbrook was surprised that their session idea — an informational panel about the often misused phrase "the alt-right" — was denied. At first, she suspected it was because their session idea didn't fit the theme of attacking apathy. But after reviewing the symposium schedule, she felt their idea was no less relevant than other sessions that were accepted. Upon inquiry, no explicit reasons for the denial were given.  
Some students may argue the Whitman administration should have ensured College Republicans a chance to discuss a debatable topic at Whitman's preeminent political event. Some may believe it's even part of Whitman's responsibility to overrule the student-run Power and Privilege in search of the political diversity the administrations says it promotes. But for others, all they ask for is an administration that does not crack down on students' rights to free expression.