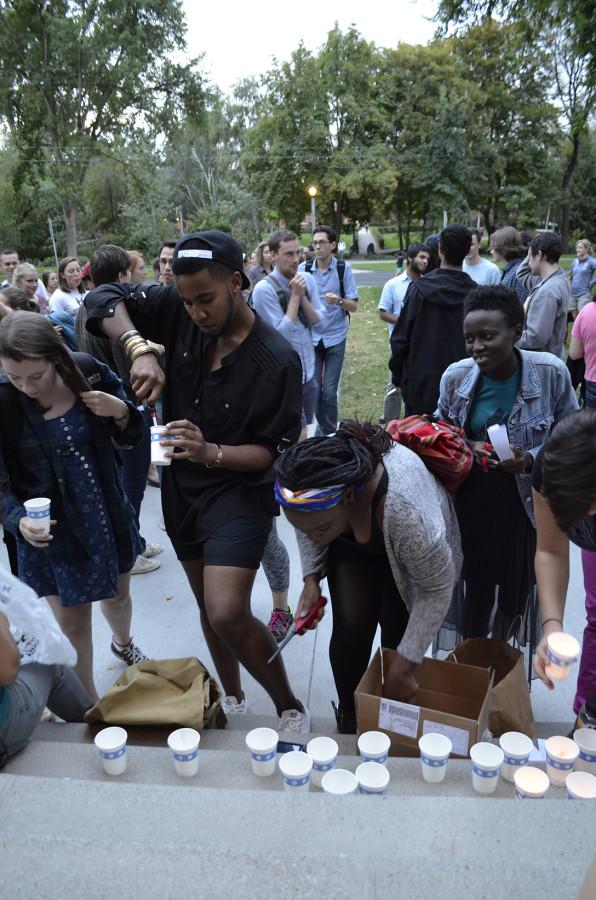 The Black Student Union (BSU) held a march and vigil to call attention to racist police brutality on the steps of Memorial Hall on Wednesday, Sept. 24. The event, entitled "Hands Up, Don't Shoot!" was inspired by the now-infamous July shooting of Michael Brown, a young black man, by police in Ferguson, Mo., and further violence by police during the protests which followed.
The event began with a brief speech by sophomore BSU President Sean Hannah, in which he discussed the shooting and America's long history of race-related police brutality.
"I don't know about you guys," said Hannah, "but I'm tired of being looked at by a security guard in the store, driving by a police car wondering if it would stop me, and when I'm walking down the street with my cousins, walking by a policeman not knowing what he or she is thinking and only assuming the worst, just because we're black."
The speech was followed by a silent march around Ankeny field. Participants held candles and slips of paper with the names of African-American victims of police brutality or neglect. When the marchers returned to the Memorial steps, a small choir sang gospel singer Richard Smallwood's song "Total Praise."
"We just thought that this was a good way to help people to release their feelings of frustration or sadness," said Hannah. "When [Brown was shot], I knew that I wanted to have a vigil like this as soon as possible, and this is as soon as possible."
Sophomore Miriam Zuniga, who attended the event, was impressed by the turnout, which appeared to reach the BSU's goal of 90 participants.
"There was a nice, diverse set of people," said Zuniga. "It wasn't just the people that usually come to things that involve race or anything like that."
Senior BSU member and organizer Alisha Agard hopes the event will help to keep Ferguson in the minds of the Whitman community.
"We need to do something to make sure that the Ferguson issue doesn't die down, because the media hasn't done a great job of keeping up with the story, so people can easily just forget about it," said Agard. "But it's still happening, things are still going on, and so we wanted to bring up what's going on by having the march today … We're trying to keep the conversation going throughout the semester and throughout the year."
The conversation will continue Thursday night with a presentation from filmmaker Dream Hampton regarding her experiences in Ferguson after the protests.
[portfolio_slideshow]