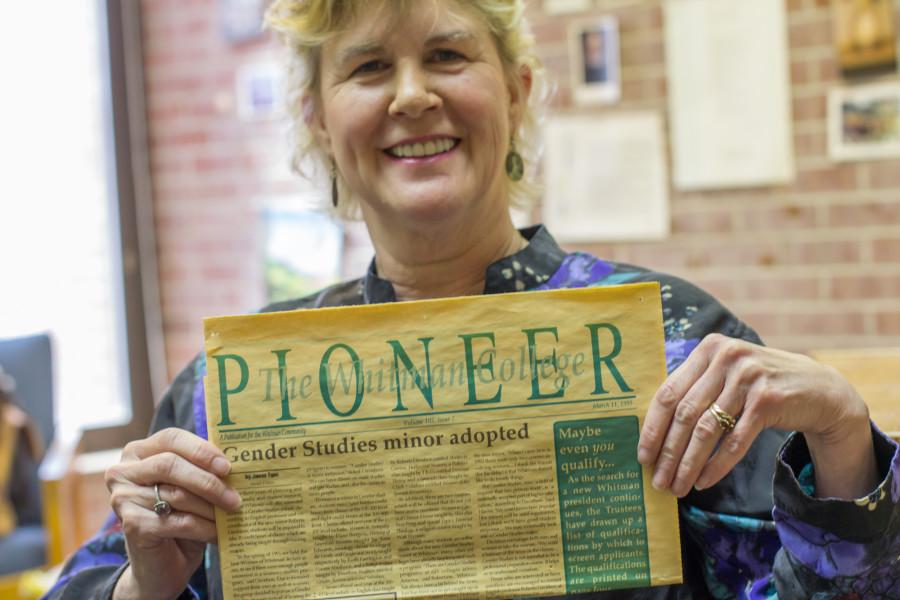 Professor of English Roberta Davidson will bring her 26-year career at Whitman to an end at the end of this year in order to move to southern California to write fiction. This year, Davidson has been the most senior faculty member in the English department, but she acknowledges that her passion to pursue other creative pursuits draws her away from Walla Walla.
"[Writing fiction] is a very-time consuming and creatively demanding activity, and so is teaching, and I don't want to do anything but my absolute best in the classroom," she said. "I like to leave things while I'm on top of my game as opposed to on the decline."
Davidson has carved out a role for herself at Whitman as a respected and innovative mentor to both faculty and students. Her presence in the classroom and as a part of the English department community has left its mark in ways that current students may not even recognize.
"Roberta's legacy at Whitman is the degree to which she really modeled the faculty's commitment to doing what's needed, that is, finding a gap, finding something that's not there and working to make it come true," said Gregory M. Cowan Professor of English Language & Literature Theresa DiPasquale.
Students also comment on Davidson's ability to fill gaps in class to create a relaxed and inclusive teaching style, which precipitates class discussion and communication.
"There's some chatter when you're going into classroom and some professors will sit there in the silence, but Davidson will engage in what the students are talking about and it relaxes the atmosphere," said senior English major Philip Dickinson.
Davidson was the only full-time woman professor in the English department and the eighth woman hired as a full-time professor when she was hired in 1988. She describes the department as being full of "wonderful teachers," but nonetheless it felt like she was surrounded by "tall, grey-haired trees."
"I was hired to be diversity at Whitman. They wanted a woman and someone to do feminist criticism. There was a little bit of a sense of isolation in that respect, but the two other Medievalists completely took me under their wing," she said.
One of her first additions to Whitman was her creation of the gender studies minor in 1993.
"We junior faculty, as we started to gather in numbers, brought a lot of new kinds of programs," she said. "Gender Studies, Asian Studies, really anything with 'studies' at the end of it, we were ones who brought that from our own graduate school interest."
Despite her specialty in medieval studies, Davidson has taught various classes ranging from Shakespeare, Jane Austen and the Brontë sisters, narratives of masculinity and magicians as creative artists. Being able to teach these classes within the liberal arts setting is what brought her to become a professor.
"I find over the years that I've learned as much about the texts that I teach from in conversations that I've had with them. Particularly because Whitman has let me teach various things in areas out of my area of specializing, so it's been a growing experience for me," she said.
In addition to teaching here at Whitman, Davidson has learned a lot about education through her involvement with the Walla Walla Penitentiary. For seven years in the 1990s, Davidson taught classes such as Shakespeare, American literature, gender studies and classes on the family. She co-authored a book with her now husband entitled "Macbeth for Murderers" in 2005, commenting on her experience and lessons she learned from the offenders she taught.
"To this day I draw on some of the things [my students at the penitentiary] told me about Shakespeare's characters, and the way those characters related to their own lives," she said. "They were older for the most part, had a lot of life experience, but often had a seventh grade educational reading level. Murder crosses education lines."
Her involvement with the penitentiary was cut off when she became department chair and her plate became too full with on-campus tasks.
Davidson also became involved in the I Have a Dream program, an organization that offers inner-city high school kids to come to Whitman in the summer to experience the college lifestyle. From her involvement in this program, she took part in creating a documentary about the kids, "Dreamers," which was featured on PBS.
Through her involvement in the community and engagement with students, Davidson has found a teaching style that she shares with her fellow colleagues and that will imprint her influence into Whitman's English department even after her departure.
"A big part of teaching is listening. Bring your authenticity, bring you passion. Be honest, be respectful and that's generally what you'll get in return," she said.