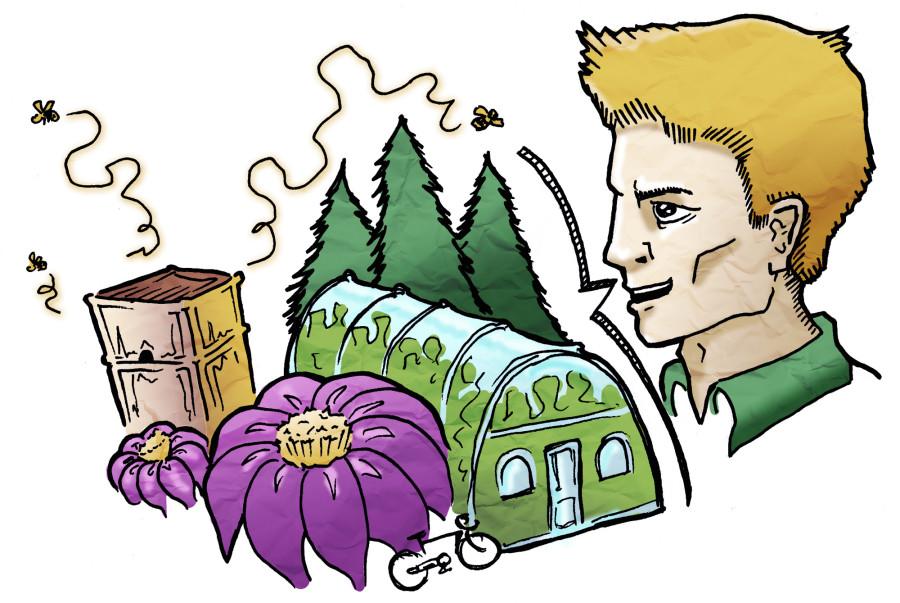 In an effort to find a way to focus and better coordinate Whitman College's sustainability project, Campus Sustainability Coordinator Tristan Sewell will lead a delegation of five students to the Washington Higher Education Sustainability Conference. The conference, which will be held on Feb. 6 and 7 at Western Washington University, is being co-sponsored by Whitman.
Members of the Whitman delegation will attend workshops, panels and focus groups to learn about other colleges' and universities' sustainability initiatives. Sewell hopes to discover how other institutions form a united vision for sustainability and unite disparate projects run by students, such as the divestment campaign, composting and the recycling program.
"[We're interested in] colleges' and universities' stories and what sustainability means to them," said Sewell. "There's a lot of great motivation and energy behind the sustainability issue [at Whitman], but it's a little at a loss of direction, so we're hoping to learn some of those lessons and find ourselves a little bit better off after this conference."
In addition to attending the conference, sophomore Linnaea Weld and junior Collin Smith will lead sessions at the conference. Smith will be presenting on the moral and financial arguments for divestment alongside students from the University of Washington and Western Washington University. Weld will lead a discussion of the sustainability of the self and a workshop on different definitions of sustainability during the student summit, which will take place the morning before the conference.
"I think sustainability can be defined in a lot of different ways. Sustaining yourself traditionally means having enough, but now it seems to [mean] having as little as possible. I am really interested in both looking at that definition … and talking about how we as individuals can find definitions of sustainability that work for ourselves as students on college campuses," said Weld.
To demonstrate Whitman's commitment to improving its sustainability programs, the Office of the President provided funding to make Whitman a co-sponsor of the event. Whitman is the only college in eastern Washington to co-sponsor the conference.
"The point of [being a co-sponsor] was to show our collaboration and our willingness to stand there on this issue in solidarity," said Sewell.
While the administration is taking steps to appear more supportive of sustainability programs, divestment activists feel that it has remained unresponsive to their movement's demands. An ASWC resolution calling for the administration to consider divestment and formally respond to students' demands has gone ignored for over eight months. Smith hopes that this conference is an indication that the college is ready to take action on various aspects of environmentalism.
In addition, Smith and other members of the divestment movement plan to deliver letters in support of divestment written by alumni to the Office of the President over the next week, in hopes that the Board of Trustees will finally make a formal statement about divestment when they meet on campus between Feb. 5 and 7.
"What I see from the alumni is they're looking for the college to lead," said Smith. "Whitman is a very conservative liberal institution––we all have these fairly progressive liberal beliefs, but very rarely do we act on them in a strong manner. And what I see from alumni is they want the college to lead. They want to be able to say 'I'm proud of my college for doing something which was not what everybody else was doing.'"