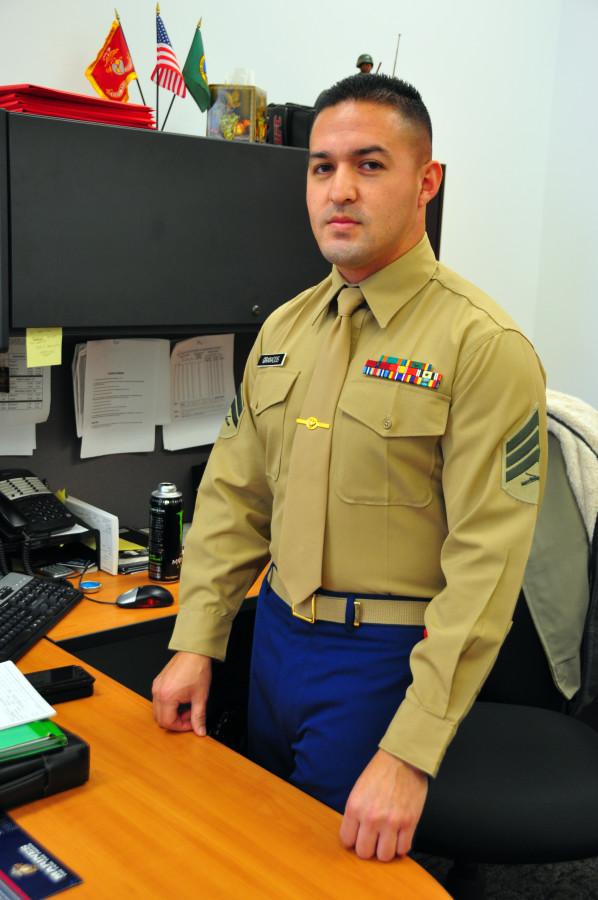 With the repeal of Don't Ask, Don't Tell signed into law on Dec. 22, 2010, the U.S. Military is now expected to end its longstanding policy barring lesbian, gay and bisexual servicemembers from serving openly. Once the policy change is official, it will also end the Associated Students of Whitman College's (ASWC) 2005 resolution strongly discouraging the U.S. Military from recruiting on campus, and severely limiting their access.
Under ASWC's Restricting Unjust and Discriminatory Employers Act of 2005, the U.S. Armed Forces are prohibited from recruiting on most of the Whitman campus on the basis that LGBT servicemembers cannot serve openly. An exception was made for recruiting at the Career Center: now the Student Engagement Center: to ensure compliance with the Solomon Amendment, a 1996 federal law stating that only educational institutions that allow military and ROTC recruiters on campus are eligible for federal grants.
At the time of passage, the military routinely had recruitment tables in Reid Campus Center and at campus career fairs, according to the ASWC resolution.
Although DADT has been repealed as law, it still remains in effect as a policy. Once the policy ends, the ASWC resolution does too, allowing the military full access to campus–something President Barack Obama called for in his State of the Union address on Jan. 25.
"Starting this year, no American will be forbidden from serving the country they love because of who they love," he said. "And with that change, I call on all of our college campuses to open their doors to our military recruiters and the ROTC."
Sergeant Zachary Dyer, marketing and public affairs representative for the U.S. Marine Corps Recruiting Station in Seattle, said in an e-mail that "it would be premature to speculate how recruiting practices would be affected at any level." However, he added that he expects the Marine Corps to continue to recruit Whitman students.
"The Marine Corps Officer Selection Team in Spokane has always had a good relationship with Whitman College and we do not see
this changing with the repeal of Don't Ask, Don't Tell," he said. "At least one student from Whitman has gone to and completed Officer Candidate School each year. We look forward to our continued relationship and to getting quality young men and women from Whitman to join our officer ranks."
John Loranger, ASWC vice president and student affairs chair, said that ASWC plans to let its resolution become void once DADT officially ends as policy. Whether intentionally or unintentionally, ASWC's 2005 resolution has not just upheld Whitman's non-discrimination policy for job recruiters but also eliminated nearly all military recruiting presence from campus during two unpopular wars.
"We're happy that Don't Ask, Don't Tell was repealed, but we don't feel like it merits any action on behalf of the Whitman student body at this point," he said. "If students came to us and wanted to do something, that's another thing entirely, but right now we have no plans to do anything."
In the past, the Student Engagement Center has told the military representatives that recruiting on campus is unlikely to be a positive experience due to students' liberal political orientation, something Loranger expects to continue even when DADT is no longer policy.
"Most Whitman students' rejection of the military recruiting on campus [was related to] Don't Ask, Don't Tell. [But] a lot of it is what the U.S. military is being used to do in the first place; it's a lot bigger issue than the service of GLBTQ people," he said, referring to the wars in Iraq and Afghanistan. "I don't really see the student body's attitude changing toward the military recruiting on campus because there's so much more than Don't Ask, Don't Tell wrapped into that."
Furthermore, while the ASWC resolution bemoans "a policy expressly forbidding the service of openly gay, transgendered, lesbian or bisexual individuals," it becomes nullified with the end of only DADT as policy. The repeal of DADT allows lesbian, gay and bisexual: but not transgendered: individuals to serve openly.
Whitman's non-discrimination policy and Washington state law: which the military is not bound by: both bar discrimination in employment based upon gender identity.
Liam Mina, GLBTQ intern and co-president of Coalition Against Homophobia, said that excluding transgender people in the ASWC resolution didn't surprise him.
"The major issue here has been Don't Ask, Don't Tell, and I don't think most people realize that transgender people can't serve," said Mina, who is transgender. "If straight and gay people can serve, I think openly transgender people [should be able to] serve as well."
Gender Identity Disorder: being transgendered: is controversially included in the   Diagnostic and Statistical Manual of Mental Disorders (DSM-IV-TR), which Mina explained leads the military to classify transgender individuals as unfit to serve.
Though Mina seemed glad that a barrier had been broken with sexual orientation, his view looked beyond recruiting policy to the military's actions in war.
"I don't think that there's any reason gay people can't serve in the military if straight people can," he said. "But at the same time, [allowing recruiters on campus] feels like we're promoting the military, and that's not something I agree with."