From Baja Blasts to "Smash" Burgers: An introspective analysis of local fast-food aphrodisiacs
As American as McDonalds' apple pie pockets, the drive through date is a rite of passage for young and old Walla Wallans alike. On any given Friday you're liable to see queues of cars from all walks of life looking to set the mood with some preparatory hot meats and tasty treats.
A&W/KFC, Rose & 7th
Though overpriced, this mashup sets the mood better than "Bohemian WAPsody." Much of an aphrodisiac's libido boosting quality comes from its heat, slurpyness or both; which makes the grease in the bottom of your 20 piece KFC chicken bucket more sexual than N-SYNC era-Justin Timberlake. Best to avoid A&W (except the rootbeer float) as their menu hasn't changed since they opened in 1956. Along with an unchanging menu comes an unchanging clientele as evidenced by the mean age of their customers sitting just shy of triple digits. 
Arby's, Issacs & Wellington
Their slogan, "we have THE MEATS," sets a distinct mood but this aggressive innuendo comes at a cost: all meat-based menu items have been known to induce rumbly tummys and a mid-coitis rush for the restroom. A safer order is the Jamocha shake and Mozzarella sticks. The delicious shake will bloat you like a road-kill elk in summertime but the Mozzy sticks will have you feeling like you're in the Italian Riviera with a young Matt Damon.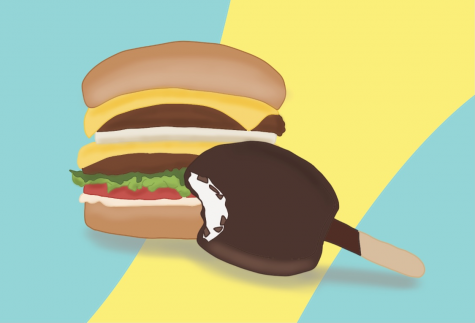 DQ, Plaza & Tietan
If the "Dilly Bar and toast" order you swore to at age 9 doesn't excite your boo-thang there's still hope for the date. A surefire fall back is to unbuckle your seatbelt, lean out the window and with the confidence of your old little league coach, order a daddy size peanut buster parfait with only yellow sprinkles on top.
Taco Bell, Rose & 9th
The asexual diction of "crunch" themed foods would seem to rule out most any menu item but the P.R. department saved themselves by making even their corn chips "Supreme." From a culinary perspective, the menu was designed by a toddler on crack watching Dora the Explorer. The only safe bet is a blended baja blast, it tastes like you imagine turquoise oceans should taste and is supremely slurpable. 
Cleveland "Cleavage" Commons, Otis & Linden
The only option is the smash burgers, as they are the most sexual food in the world. Whitman's potentially criminal decision to introduce them during the sexless confines of a pandemic will certainly pay dividends when prospective students experience the powerful promiscuity of crispy onions on two oddly sized patties