Local Beer Die prodigy awarded first ever athletic scholarship
Whitman College has awarded its first ever purely athletic scholarship to a most unlikely recipient. Sixteen-year-old DeSales High School junior, Timmy Briews, Whitman class of 2026, has been offered a full-tuition scholarship to play a Varsity sport for the college. Briews has no discernable athletic talent but is, as one sophomore baseball player put it, "the best Beer Die player to ever grace a Walla Wallan lawn," and has been awarded the scholarship for the invaluable contribution these skills will make to the athletics community. 
Whitman's exalted athletes have taken to celebrating the miraculous achievement of partially dressing themselves each morning with raucous rounds of, as one junior soccer player calls it, "the Lord's game." Briews began playing Beer Die this past January after he spotted baseball players tossing dice while on his morning walk to school. He has been a constant force to be reckoned with at Whitman's die tables ever since, and the athletic teams have taken notice. In an open letter to the school they demanded he be admitted with a full ride so that, as the letter reads, "Whitman can stay competitive with the East Coast colleges it loves to compare itself to."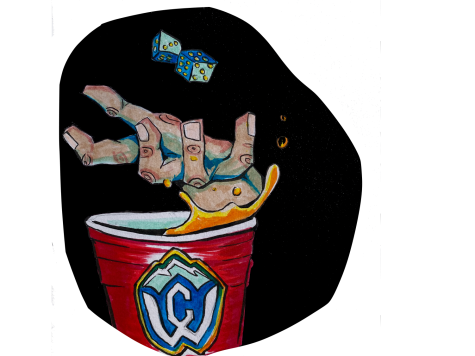 As Briews's well-curated 0.69 GPA negated the usual protocol of awarding  "merit" based funding to athletes, the college was compelled to create its first "athletic" scholarship. In an exclusive interview, Athletic Director Scott Shields told the Wire, "I was hesitant to award him a scholarship until I played against him and he put the goshdarn work on me." Shields declined to describe the conditions under which he awarded Briews the scholarship. Though passersby recall hearing him wager an athletic scholarship along with, "the family dog and a naked lap" at 4 p.m. last Thursday. Shields was later spotted, naked, chasing a miniature goldendoodle through campus.