A toast to Whitties working in wine
Whitties have discovered that the high quality and distinctive wines of Walla Walla hold a world of possibility. From winemaking to marketing, there are opportunities to get involved in the growing popularity of Walla Walla's wine region.
Student Noah Dunn and two alumni, Madelyn Hofbauer and Claire Pinger, offered their perspectives on working in the wine industry today.
"The industry is a fascinating blend between agriculture, food science and luxury products creation," Claire Pinger said.
Pinger is a recent 2020 graduate with a Politics and Environmental Studies degree. Her internship with the Blue Mountain Land Trust opened her eyes to environmental resource usage in the context of the Walla Walla community. Walla Walla's unique environment and kind people make it a very special place to work, especially for Pinger, who comes from an urban background.
She was aware of the vibrant Walla Walla wine industry throughout her time at Whitman, but it was not until her senior year that she was inspired by friends to enter it. She worked at two tasting rooms, The Walls and Castillo de Feliciana. 
"I learned pretty much everything I know about wine through this work, and it's ended up sparking a passion in gastronomy and the dining industry more broadly for me that I definitely would not have if it weren't for the jobs I've had here," Pinger said.
Her previous jobs in the wine industry were more in the area of sales. This year she decided to focus on winemaking itself. She found a position as a harvest intern at the Tranche Estate through a former housemate with whom she now works.
"While our days can get pretty busy, it's really awesome to work with a dedicated team and know that the wines we're producing will be of a high caliber and will be enjoyed by people for the next several years," Pinger said.
Pinger's team processes grapes from across Washington State into wine. Her job requires a variety of tasks, from pressing and crushing the grapes to mixing chemicals and cleaning. Most recently, she has been learning the intricate process of making red wine.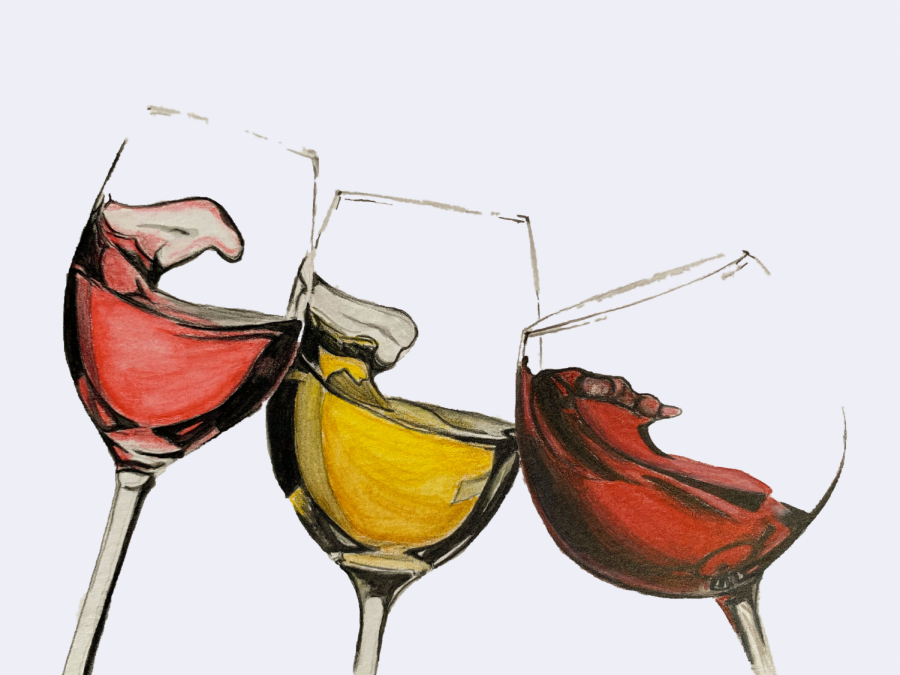 In the future she would like to continue building her connections within the wine industry. She is interested in learning more about sustainable winemaking, which uses fewer chemicals in production. These techniques are growing in worldwide popularity and are in effect even as close as the Willamette Valley. She also wants to investigate some other career interests, such as nonprofit and resource management work.
"I would absolutely love to be involved in the process of bringing these more environmental-friendly techniques to the Walla Walla Valley as well," Pinger said.
Noah Dunn, class of 2021, is an Environmental Studies and German Studies double major currently taking a leave of absence.
His job as a tasting room associate at Long Shadows Winery allows him to be part of an engaging atmosphere. He appreciates that he is able to meet new people every day, even from six feet apart and with masks. For safety, the front house staff does not go into the warehouse in order to limit crossover between staff and to protect production. The days can be long, but the work is highly enjoyable. 
"Everything that's happened in a place for hundreds, if not thousands of years, goes into this bottle," Dunn said.
His friends and housemates inspired him to work in the wine industry, and at first had a neutral outlook. Wine, though, has come to have a much deeper meaning for him.
"I'm an environmental studies student, environmental humanities specifically, so [I'm] thinking about the stories we tell about the places we live and how we live in them. And once I started thinking about it, that's kinda exactly what wine is about," Dunn said.
Dunn credits the Environmental Studies Department for informing him about the Walla Walla area. This has been helpful for making conversation with tourists about the landscape and history. By virtue of Whitman being a liberal arts education, he also feels that his skills are well rounded to have solid conversations with all types of professionals who visit for tastings. He's had the pleasure of serving people from both the Walla Walla and Whitman community.
"It made my day to be able to see people that I know and care about and be able to provide them with this experience to pour them wine. The little person-to-person coincidences are always my favorite," Dunn said about a recent visit from a professor and their partner.
Madilyn Hofbauer graduated this spring and is currently waiting for the wine industry to revive itself before returning. She has been working in the wine industry since she turned 21 years old. Her first job was at the smaller Palencia Wine Company, which gave her the opportunity to build introductory knowledge of the industry. 
Before the pandemic, she worked as a tasting room associate at àMaurice. She had planned to transfer to their Seattle location after graduation, but her plans are currently on hold. 
"My plan is to eventually get into wine in a bigger capacity than I was before. It's just so hard to know when or what that would look like. Tourism isn't exactly booming right now," Hofbauer said.
Wine can be a difficult industry to enter without a previous background in it. When she first started, she was not familiar with wine, and it was an extended family member in the industry who was able to give her direction and advice.
"It can be a really scary and intimidating industry to engage with, even on a consumer level," Hofbauer said.
To resolve this issue, she has thought about starting her own winery someday targeted towards people new to wine. She helped a winery move locations to the Tri-Cities that was just starting to grow grapes in incubators. She enjoys the Walla Walla wine legacy, but seeing the next generation of wineries come into being is fascinating to her. Although she would like to stay within hospitality and sales, she would enjoy collaborating with winemakers. 
Every winery has different needs and values, she explained. For those interested, Hofbauer recommends researching and emailing a long list of potential employers to find a job, or even just walking in to establishments. It can be a highly enjoyable and rewarding job for those who try it.
"And honestly no one is ever having a bad day when they're wine tasting, so everyone just wants to talk," Hofbauer said.
People want to talk about wine — as an industry or a passion. Especially now, when the industry is evolving and growing, the wine industry holds much to appreciate for Whitman students and alumni alike.
Some wine terminology:
Terroir: noun. the environmental conditions in which grapes are grown and that gives a wine its unique flavor and aroma.
Viticulture: noun. The growing of grapes.
Gastronomy: noun. The study of the relationship between culture and food.