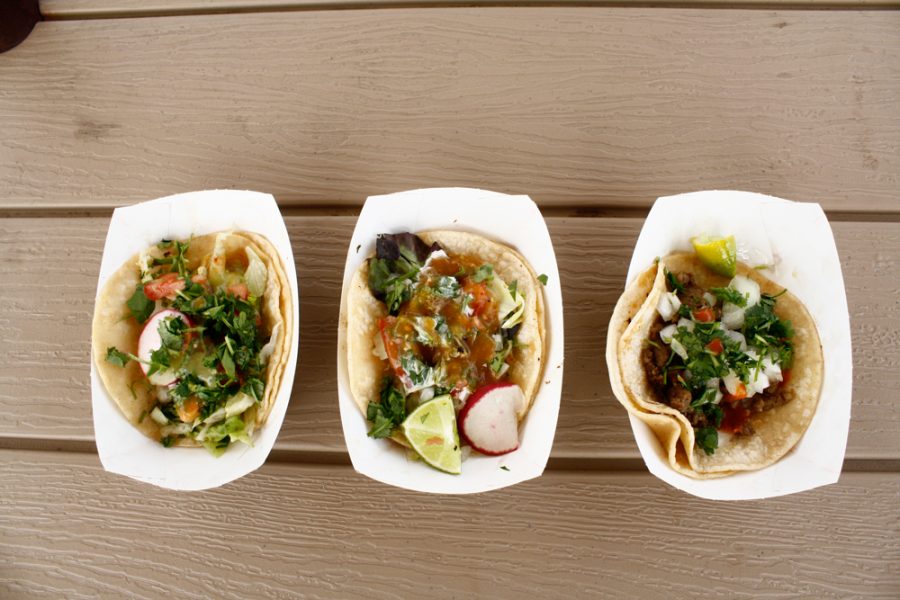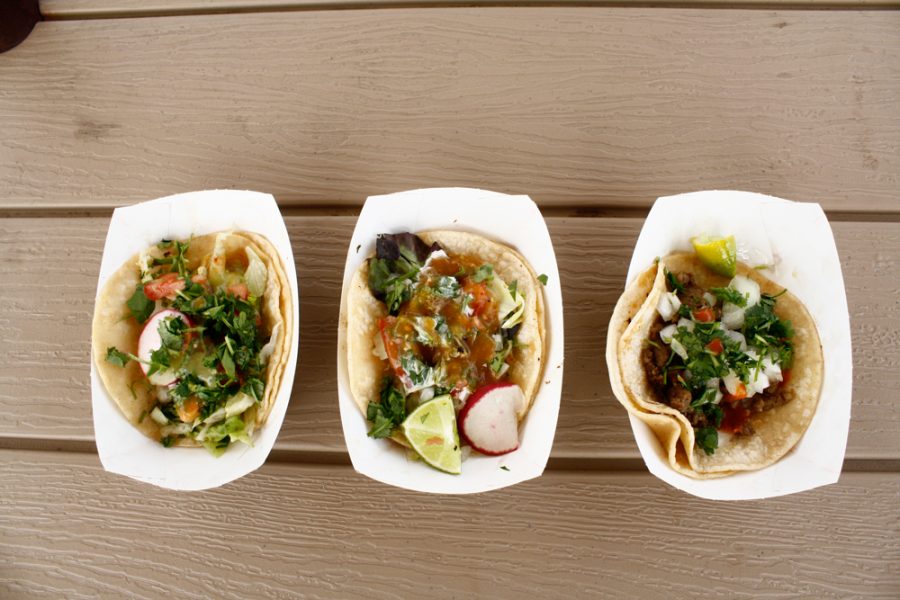 "I can never eat another taco."
After a sunny Saturday of what can only be described as a Walla Walla taco challenge, three senior writers for The Pioneer admitted defeat. Battle scars accompanied their last article assignment ever: guacamole smears on shirts, chip crumbs in pant crevices and bodies so full of tortillas and beans that even Beyonce's new album couldn't inspire movement from the couch.
We embarked on a mission to find the best tacos in Walla Walla. After visiting five locations, we discovered that this great town is host to a sublime variety of Mexican food options beyond the two taquerias favored by Whitman students, Mi Pueblito on Isaacs Avenue and Yungapeti on Ninth.
Our respective dietary restrictions enabled a full and complete taco-tasting profile. Among us, we had a carnivore (Hannah), a vegetarian (Ellen) and a vegan (Sarah). Hannah would pay special attention to meat quality and taste, Ellen would scrutinize cheese and Sarah would interrogate lettuce crispness and bean flavor.
We began at a purple food truck on the road to Milton-Freewater called Stateline Trio Food Court, lured by a rumor of one-dollar tacos. The "trio" referred to the bright truck's three cuisines: there were tacos and burritos, Indian curries and standard "American" fare in the form of burgers and dogs. Its owner, Mandy, told us that the truck had been operating for two weeks.
"A new business takes time," Mandy told us. "We want to serve quality food."
Though Mandy really talked up their curries, we went for the 1.50-dollar tacos. As we began to chow down, a man in a sailor hat who owned what appeared to be a food truck that sold halibut and seabass approached us.
"You won't die if you don't … eat it," he said, eyeing our tasty fare. "Have you heard the news lately? Everybody dies."
We refused to be dissuaded by his honest yet nihilistic wisdom, and dove into our first tacos of the day. Stateline Trio Food Court earned high marks for low cost, great service, casual ambience, salsa flavor and veggie quality. But the tortillas and meat were a tad on the greasy side.
Next, we headed north towards College Place to an even stranger stop: a bait and tackle shop called Worm Ranch that doubles as "Dora's Deli." It wasn't our first time here, but we took our task seriously in ordering a variety of taco options.
Though the tacos were slightly more costly at 2.75 dollars, the tortillas were handmade and wonderful. These were serious tacos: just one pretty much took up the whole plate. It appeared that at least half an avocado topped the veggie options. These tacos were the real deal. The store also sells a variety of Mexican specialty treats and candies: definitely worth a visit not only for fishermen, but also for epicureans. They even offer college students a free horchata with purchases above 6.50!

After Dora's, feeling full but in the zone, we headed to a local favorite: Andrae's Kitchen. Though tacos aren't their specialty, the creativity of selection on their menu and recent fame (the business was recently rated Food Truck of the Year by Mobile Cuisine) inspired a visit.
The place was bumping at 1:45 p.m. Andrae's occupies space in a Cenex gas station on Ninth, yet there's a surprisingly extensive menu and seating area. We sampled two fish tacos and one veggie taco.
While the concepts were compelling (pickled daikon, shrimp, and serrano aioli) the products themselves fell a little short. The aioli was piled on thick, and the vegetables seemed like they would be better suited to a Banh Mi. And at four dollars, our selections weren't all that impressive compared with our earlier trips. When you do go to Andrae's, we'd recommend sticking with their well-loved meat favorites and Sunday beignets.
By this time it was 2:30 p.m., and we were needed some hydration and exercise. After a short break, we made our last stop at Grandma's Kitchen on Colville Street.
Grandma's Kitchen is well-known to many a Whitman student–it's just a short walk from campus. Its extremely friendly owner runs the restaurant with his mother, and it boasts a more intimate setting suited to a date night or a family visit. We went on a particularly hectic Saturday evening. While it took a while for our tacos to reach the table, the wait was well worth it–our plates were piled with handmade tortillas and salsas with extremely generous portions and fresh and tasty veggies.
As an added bonus, our guacamole order was both handmade by the owner and the size of two of our heads combined. It came in a giant clay molcajete. We ate the whole thing.
Full of avocado and corn tortillas, we crawled back to our house at 9:00 p.m., bellies extended and hearts full. We are by no means experts. But we hope that our challenge and thousands of consumed calories will aid you in your next Walla Walla excursion. We challenge YOU, our dedicated readership, to create your own taco challenge – this list covers only a sliver of Walla Walla's Mexican cuisine. Godspeed!
Stateline Trio Food Truck – A Trendy Blend of Mexican, Indian and American food
Price: $1.50/taco
Taste: 3.5/5 – Delicious meat
Ambiance: 5/5 – You might run into some quirky eating partners
Breadth: 5/5 – Mexican, American AND Indian
Service: 5/5 – Two kind and accommodating women
Recommended eating scenario: This setting would fit a casual friend date that involves a beautiful and brief ride through the grape growing region of Walla Walla. It could also be a quick stop on your way back from buying alcohol in Milton-Freewater.
Dora's Deli – Take note: This is not the Worm Ranch
Price: $2.75/taco *if you buy at least $6.50 with a Whitman ID you get a free Horchata (!)
Taste: 4.5/5 – Veggie/vegan tacos are enormous
Ambiance: 2.5/5 – But you can buy beer and obscure candies
Breadth: 4/5 – A good range of Mexican food and subs
Service: 3/5 – I couldn't find the bathroom key
Recommended eating scenario: This is a good study break spot. It was fastish, cheap and a good amount of food. Splurge! You work hard!
Andrae's Kitchen – They give out free stickers
Price: $4.00/taco *3 tacos for $10
Taste: 4/5 – A specialty taco that might have been better if we hadn't been eating tacos all day but the grease and heavy aioli was too much for us
Ambiance: 4/5 – VV hip for being located in a gas station
Breadth: 5/5 – Large breakfast menu (beignets!), specialty burgers/sandwiches and hot dogs
Service: 4/5 – Took a long time but you watch the trendy men (did I spot dreads?!) working hard to get all of the orders out
Recommended Eating Scenario: Keep in mind that they also have a drive-in, food truck and catering business and were recently rated the Food Truck Restaurant of the Year by the website Mobile Cuisine. These high accolades make it seem like a good destination for a picnic break from wine tasting with the rents – a casual but tasty treat to show off Walla Walla's Portland-esque cuisine style.
Grandma's Kitchen – Where a literal grandma prepares your food
Price: $4.00/taco *they are large
Taste: 5/5 – every ingredient is mmm
Ambiance: 5/5 – an intimate meal that is just as much about the experience as the fulfillment
Breadth: 5/5 – a variation on a perhaps more traditional Mexican meal
Service: 5/5 – despite the intensity of preparing meal after meal with a 2 team staff, our waiter (the son of said grandma) had the lightness to dish out a couple of jokes in addition to the free chips
Recommended Eating Scenario: This is a good place for a third date; you know the person well enough to feel comfortable getting into the more intimate conversation over a (possible) hour wait, and don't feel the need to rush onto your next engagement.