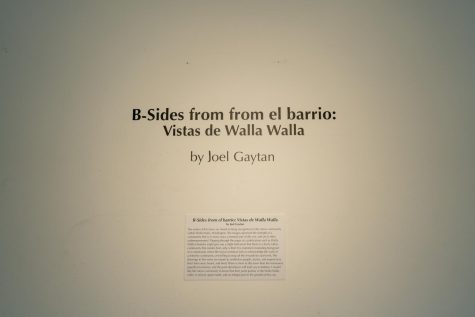 Identity, community and heritage featured prominently in a new exhibit by Joel Gaytan, an Archive Assistant at Whitman College, who displayed his work at the Stevens Gallery in Reid this week. 
The exhibit, "B Sides from el barrio: Vistas de Walla Walla," consists of five drawings and one acrylic painting, and draws from the aesthetics of '60s Chicano poster art while grounding itself in contemporary life. His work explores the complicated dynamics of Latinx identity in Walla Walla, and the erasure his community faces in projected images of the town.
Gaytan wanted to start this project years ago, but found himself too pinned down by other responsibilities. But recently, a confluence of factors gave him both the time, and the push, he needed to finally finish his work.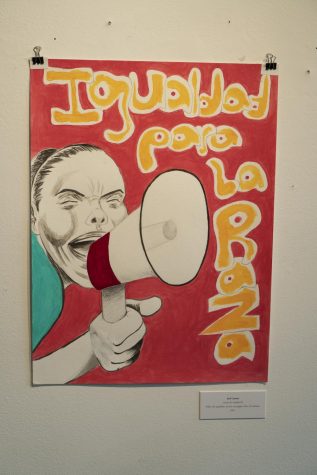 "There was another project called the "Walla Walla Coronavirus Stories" that the archive took part in… Just being part of that project and listening to some of those interviews recharged that battery for me and made me think that this is something worth pursuing, " Gaytan said. 
These stories drew Gaytan back into the experience of his community in a time of isolation, and motivated him to fight through the malaise that the pandemic had originally afflicted upon him. He found the struggle of Latinx people in Walla Walla more pressing than ever, as the impact of the coronavirus hit his community hard. 
"With COVID, a lot of people within the Latinx community were very much at risk, especially when there aren't many options; you kind of have to keep working, even if you are at high risk. That was a big reason for me continuing the work," Gaytan said. 
On an administrative side, Elie Flanagan worked closely with Joel to put on the project. Flanagan hopes the gallery can provide space for the important work Gaytan is doing, and give students a chance to engage with the material.
"Joel is essentially treating it as a personal exploration and celebration of Latinx life in Walla Walla. That's such an important part of the community, that is so underrepresented, especially in tourist information," Flanagan said.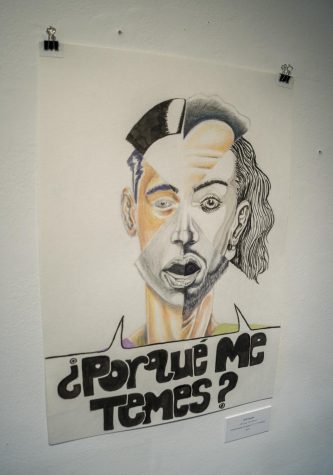 Gaytan has been living in Walla Walla for almost thirty years, and has watched the town transform, mostly in the past decade, toward a more touristy-driven model, which advertises itself as a destination in wine country. But this image has never been a major part of Gaytan's experience in Walla Walla, and he says that he sees the town in a very different way. To Gaytan, this work is not just an acknowledgement of the people in his community, it is an attempt to draw attention to Latinx people and their experiences.
In an email to The Wire, Senior Adjunct Assistant Professor of Art Charly Bloomquist contributed to this discussion of artistry and conversation: "The role of the artist is to do what the artist needs to do. Sometimes that is addressing global issues, or regional issues, or personal issues. Sometimes it is just about getting the thoughts and visions in the artist's head out to see what they look like in the real world, or out so the rest of the world can see them."
Gaytan's work is a testament to the ways in which art can celebrate identity and encourage further conversation and action.
"The biggest takeaway I wanted people to have from viewing the show was hopefully to create a conversation regarding these issues in Walla Walla. I just think that showing people in the Latinx community and showing that kind of representation is very important. It's important to acknowledge that we exist in the community, and we are very important to the community, even if that isn't always reflected in what is shown," Gaytan said.