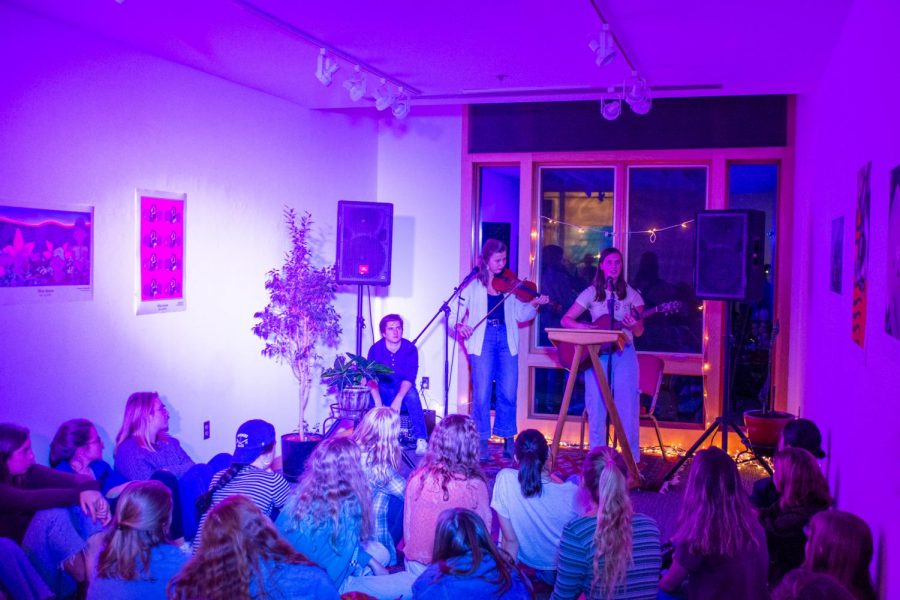 Carson Jones
On Thursday, Oct. 24, Stevens Gallery was flooded with deep blue light, tinting everything in the gallery: the art hanging on the walls, the mason jars full of raffle tickets and the crowd packed into the narrow space. At the far end of the room, various Whitman students performed their talents (ranging from reciting odes to fiddling) to an attentive audience.
The blue moon pop-up was Whitman's annual arts and literary magazine's first event of the semester.
The event was not always known as the blue moon pop-up, however. It was not always hosted in Stevens Gallery, either. It was formerly called Big Art, and last year, it took place in Baker Center. 
Senior Olivia Waltner, one of blue moon's editors-in-chief, described the premise of Big Art.
"Big Art was really similar to the pop-up," Waltner said. "It was an event to bring awareness of blue moon as a magazine and also an outlet for student art." 
However, last year, Big Art did not have much attendance, "so we wanted to switch things up," Waltner said. 
One of the changes made was making and promoting the blue moon pop-up as more of an exhibition for student art. A couple of days before the pop-up, artwork from the 2019 issue of blue moon was printed and showcased in Stevens Gallery. They were not just for display; during the pop-up, the posters were raffled off to audience members, another difference from Big Art. 
Sophomore Tamzen Shissler, who went to the event last year, spoke about the difference between this year and last year.
"Last year, there was a raffle too, but the prizes were paintings," Shissler said. "Now, it's artwork from student submissions from last year." 
Another point of contrast Shissler noticed between Big Art and the blue moon pop-up was in the kinds of performance.
"Last year was mostly poetry, and this year there's more music," Shissler said.
Eight acts performed at the blue moon pop-up: four of them read out poetry, and the other four played music.
Senior Stewart Lyons, who played the guitar and sang in a musical trio at the event, spoke warmly about the atmosphere the pop-up provided for its performers.
"It's intimate, so it felt like people were forgiving and ready to receive it and not be judgmental," Lyons said.
Senior Sami Braman played the fiddle and sang in a musical trio at the event as well.
"blue moon does a great job of putting music and literature together," Braman said. "Their book has both prose and poetry, and also [online media]. I think tonight is a good representation of that because there's both people presenting poems and there's music, too."
Through the diversity of artists performing and the new inclusion of student art, the blue moon pop-up encompassed the best of the blue moon magazine: a multimedia celebration of art.