A Talk with Artist Paul Valadez
"Selections from The Great Mexican-American Songbook" by Paul Valadez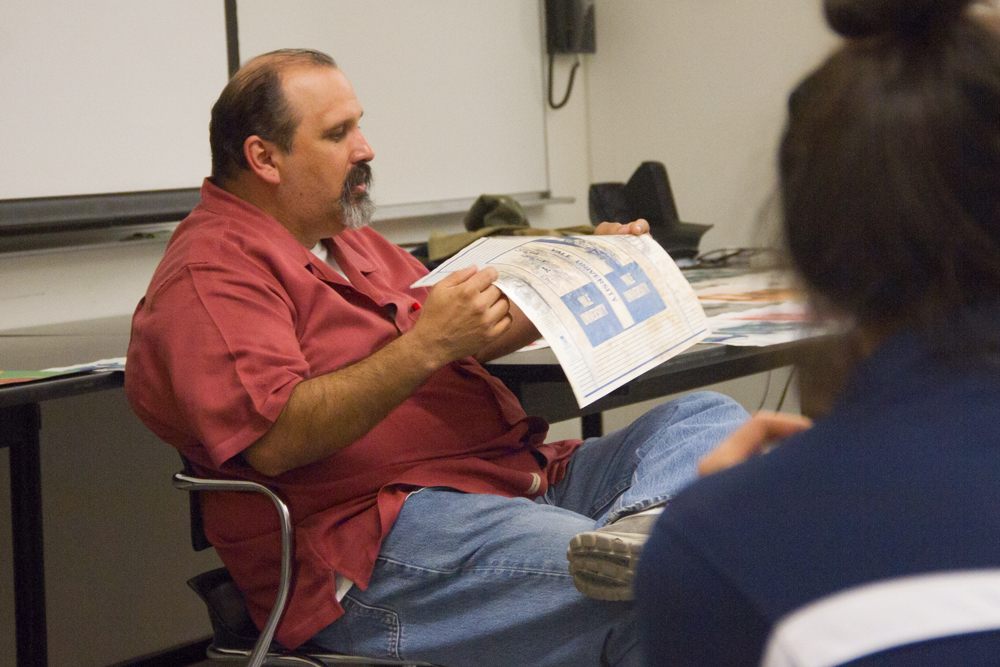 "Selections from the Great Mexican-American Songbook" by Paul Valadez graced the walls of the Stevens Gallery from July 17 to September 16. The exhibit consisted of a series of collages printed on music sheets with layers of images and language that explore the presence of Mexican-American culture in American history. It was the third annual exhibition installed in conjunction with the Whitman Summer Read Program. This year's novel is "Make Your Home Among Strangers" by Jennine Capó Crucet. Both Valadez and Crucet explore the theme of American identities not represented in popular culture and mainstream media.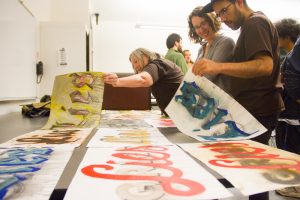 One of the inspirations for the exhibit was the idea of "The Great American Songbook," which is a collection of notable music that claims to represent popular American culture of the early twentieth century. Valadez explained why he was drawn to this idea of creating a new take on that traditional notion. 

"It was this idea of these songs that represent this great American culture and I thought, there's so much more layers, there's so much more," Valadez said. "What about the Mexican-American songbook, what would that be like?"
The exhibit illustrated Valadez's, and many other Americans', experiences as members of multicultural or racial minorities in the United States. Valadez grew up with a Mexican father and an Anglo mother. His work was inspired by his experience navigating his Mexican-American identity and never fully identifying with either group.
For viewers living in the present political climate, the political message behind Valadez's work is undeniable. Colleen Boken, a junior Art History and History double major at Whitman, spoke to this aspect. 

"Music is like a revolution," Boken said. "There is a political message and underlying meaning to everything."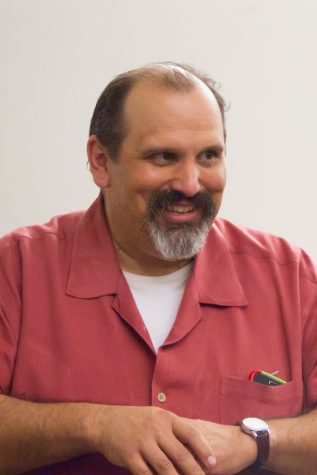 That political message is found in the of Valadez's artwork, which speaks about the role of immigrants in American society.
"This came out of this idea of trying to create this history of, or re-contextualizing the history of peoples that have always been here," Valadez said. 

More broadly speaking, Valadez explained art's ability to resonate with viewers in a way that is unlike other means of communication. For him, the viewer's interpretation is more important that the author's message in displays such as "Selections from the Great Mexican-American Songbook."

"If I wanted to tell a story, I would write it down so there would be no mistaking," Valadez said. "But instead, I don't write it down. I want the mistakes. I want you to see it, think it, respond to something."
Daniel Forbes, director of the Sheehan Gallery, helped organize the display and also commented on the way artwork, specifically Valadez's, can serve as a way to communicate. He praised the way the exhibition's title captures much meaning.
"One of the things that I love about his title, 'Selections from the Great Mexican-American Songbook,' is essentially he was using that as a way of talking about how you can't really canonize music because it's so broad and it exists in so many different ways within so many different groups," Forbes said. "I think for me that's kind of the same thing when we try to determine what an American looks like."
Valadez characterizes his discovery of Whitman College as serendipitous. He encountered several people who mentioned Whitman over short period of time and ultimately decided to reach out donate "Selections from the Great Mexican-American Songbook" series to the college's collection.
Valadez is a professor in the Art department at the University of Texas, Rio Grande Valley, located at the U.S.-Mexican border. Thanks to his generous donation, and funding from Reid Campus Center and Whitman's Office of the President, "Selections from the Great Mexican-American Songbook" will be a permanent part of Whitman's art collection.