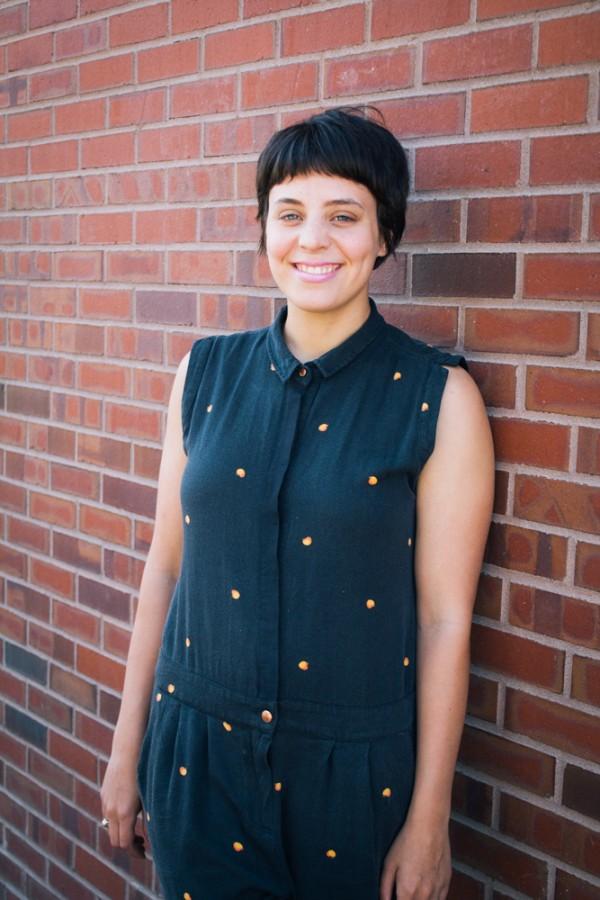 There is a commonly held notion that style is an expression of one's personality — however, sophomore Catherine Fisher's style is an expression of exactly the opposite.
Fisher, who is an English major, likes her style to juxtapose her personality.
"I dress in sort of a serious way and I like fashion, so that makes people think I'm a serious person but I'm actually a really goofy person," Fisher said.
"I think sometimes people meet me and I wear a lot of black and these baggy, weird things and they think 'that girl is crazy' … Maybe that is my personality: that I like to shock people or I like to put people on guard so they don't know what is coming up next."
When it comes to fashion, Fisher does not like to put herself in a box. Her favorite item of clothing is baggy, ripped leather pants — but she also loves wearing dresses. For the interview, she is wearing a striped turtleneck and a sweater vest with bright pink lipstick.
"I really like to play with things … I don't have a cohesive style. I like to play with masculine and feminine pieces, fun and serious stuff"
Fisher's fashion sense is not influenced by traditional style icons or trends. Instead, she is inspired by the everyday people she observes.
"I am an avid people watcher … I live in Seattle so if I'm home, or I travel a lot, I love to just watch people. That's probably where I get most of my ideas about style and things to try."
After coming to Whitman, Fisher's fashion sense has been a way to stand out and differentiate herself from the crowd.
"I like to do crazier things at Whitman, just because I think a lot of people dress very similar … There's not a lot of focus on how people dress here so I like to be crazier because of that to mix it up … I also think Whitman taught me to be more provocative with my style because I think people start feeling almost too comfortable here and one of the ways I like to challenge that is with what I wear."
Additionally, some her favorite pieces come from the least expected places — pieces she herself didn't even pick out.
"My mom loves to pick me out clothes for my birthday or Hanukkah. Some of my favorite stuff are things that people have picked out for me."
Style is a large part of Fisher's identity — it speaks to a larger truth about her passion for art and visual art in particular. She calls fashion an "aesthetic experience." Nonetheless, fashion is never something that holds Fisher back.
"The utility of Seattle style has influenced me. I don't like to wear things that you can't do a lot of things in," she said.
Fisher's untraditional, ever-morphing style is the best of both worlds: fashionable and practical.